UPDATE 5! May The Fourth Be With You! Behind the Scenes of The Force Awakens. More Photos Revealed! Interview with J.J. Abrams.
The most famous Star Wars fan holiday has arrived, and word on street is that some interesting information about Star Wars: The Force Awakens (and possibly other Star Wars news) will be making the rounds to celebrate the occasion!
…And, by "word on the street", I mean that a pretty blunt implication that stuff is about to go down tomorrow from the Keeper Of The Holocron himself:
If you thought that once #swca was over, breaking Star Wars news would slow down for a bit, think again. #StarWarsDay

— Leland Chee (@HolocronKeeper) May 3, 2015
Leland Chee is a high-ranking individual in the Lucasfilm Story Group, so if he's saying something important is bound to happen, then… Well, hold on to your butts. Especially if it's anything on par with what they revealed at Celebration Anaheim. Stay tuned as we find out what news the day brings with it.
UPDATE!
Vanity Fair updated their article about The Force Awakens with some behind the scenes footage. We can confirm now that Adam Driver is Kylo Ren and Lupita Nyong'o is playing a mo-cap character as previous rumors suggested:
Excerpts from the article:
Sitting in an edit bay at his Bad Robot production office and pointing to a frame of Star Wars: The Force Awakens, Abrams told Vanity Fair contributing editor Bruce Handy, "I have a thought about putting Jar Jar Binks's bones in the desert there. I'm serious! Only three people will notice, but they'll love it."
Abrams screened a footage for him (VF editor), including a scene that featured a Jawa-like creature popping up out of the desert. Abrams called it "a classic, old-school seesaw puppet. We just buried it in the sand, and Neal Scanlan, the creature guy, pushed down on one side and the thing came up on the other side." When his team offered to smooth out the effect digitally, Abrams responded, "It's so old-school and crazy. We could improve this thing, but at some point do we lose the wonderful preposterousness?"

Abrams himself was surprised by Harrison Ford's performance and said that Ford "was excited to get back in those shoes again, which was really interesting because I thought he hadn't been a fan. I kept hearing those rumors when I was a kid." Abrams did have one specific note for the veteran actor: "I knew that he had done in some movies a kind of more growly thing, and I didn't want Han to be growly." Whatever Abrams said must have worked because, as the director himself put it, "There was a fire in his eyes that you see in the movie."
Full article HERE.
A confirmation that it's Peter Mayhew in the Chewbacca costume:
@TheWookieeRoars Incredible to see you back in the Falcon, Peter. Happy #StarWarsDay !

— Star Wars UK (@StarWarsUK) May 4, 2015
Thanks to Cantina member Jake Wolfe for the screencaps: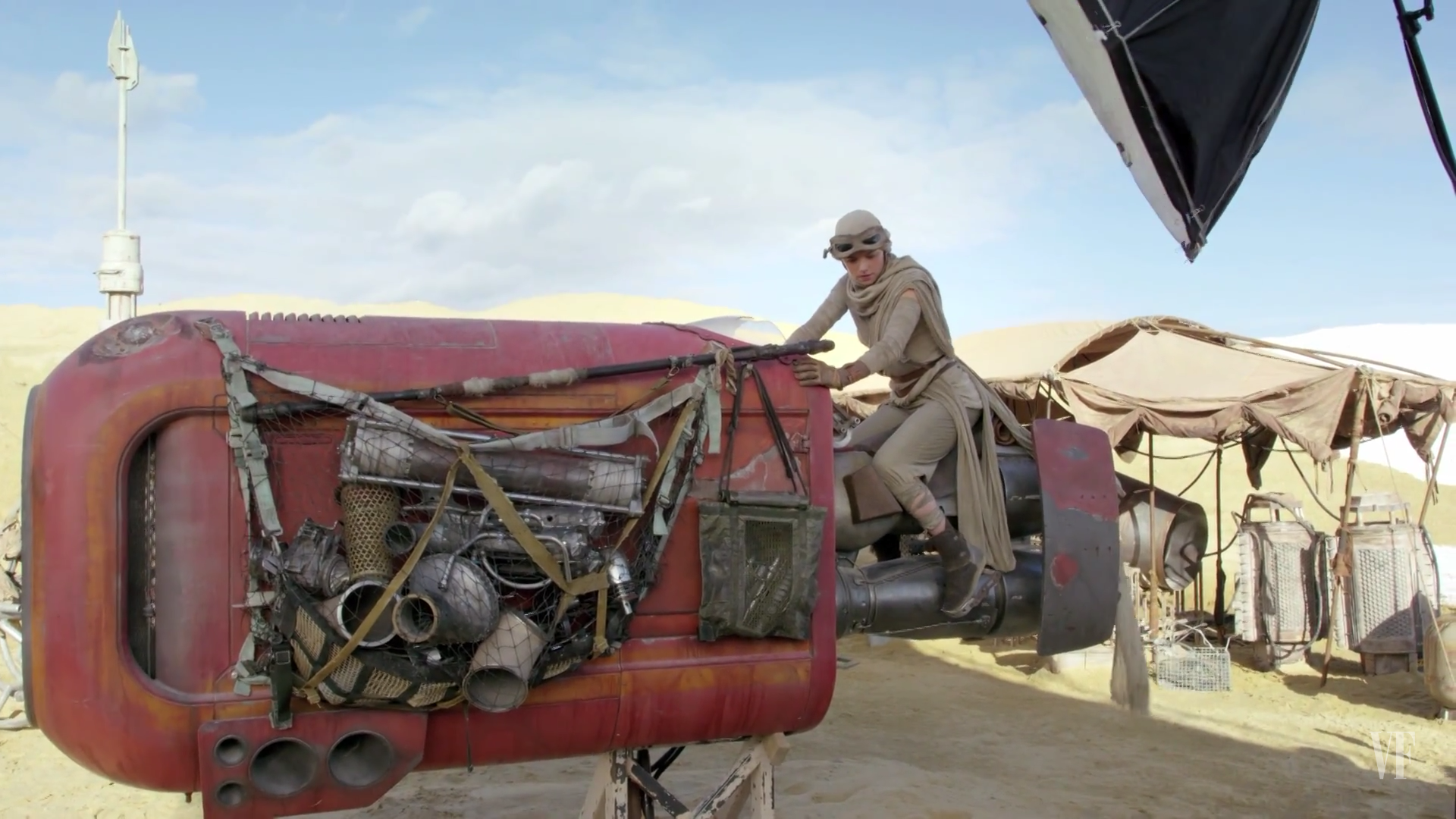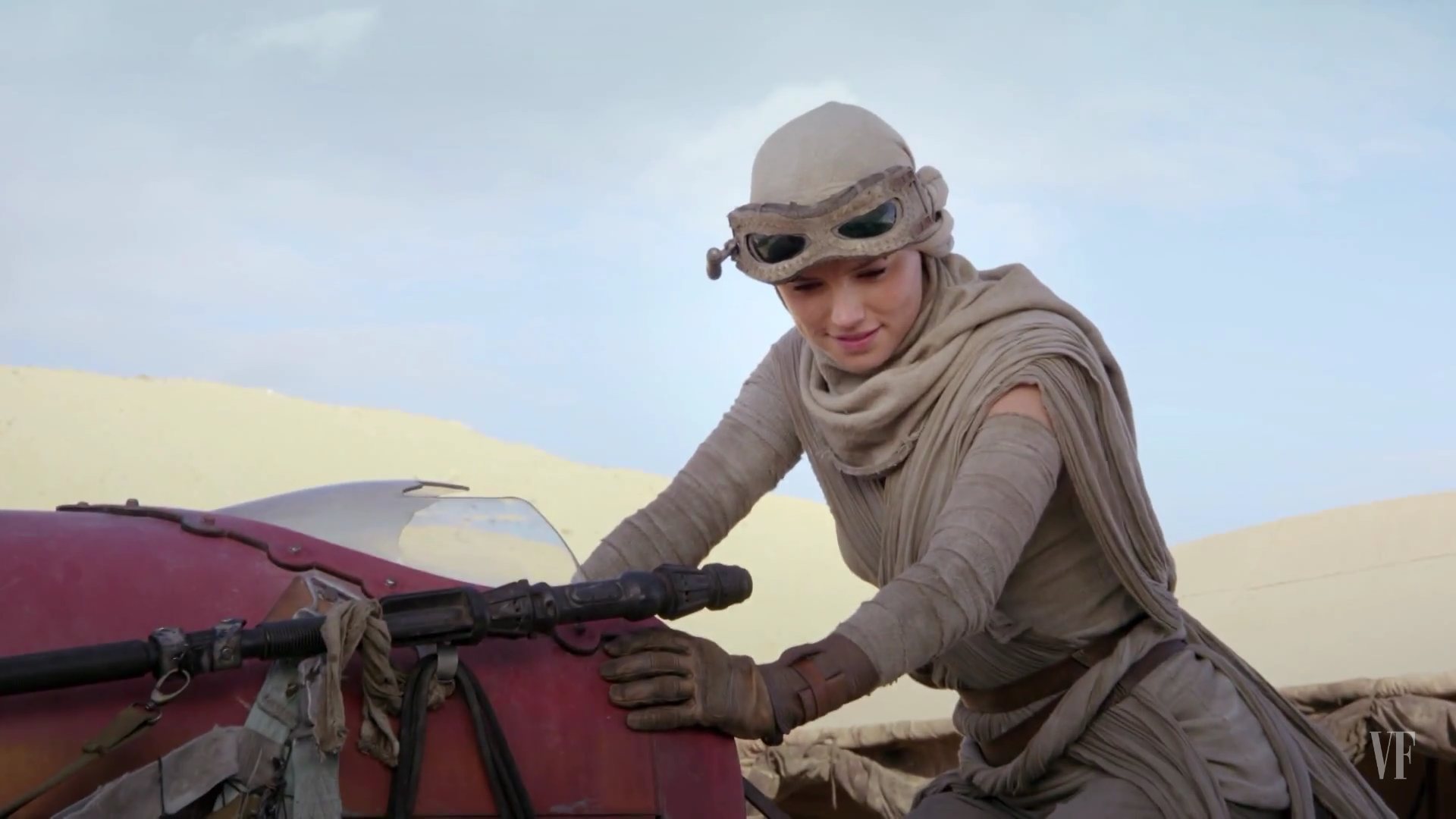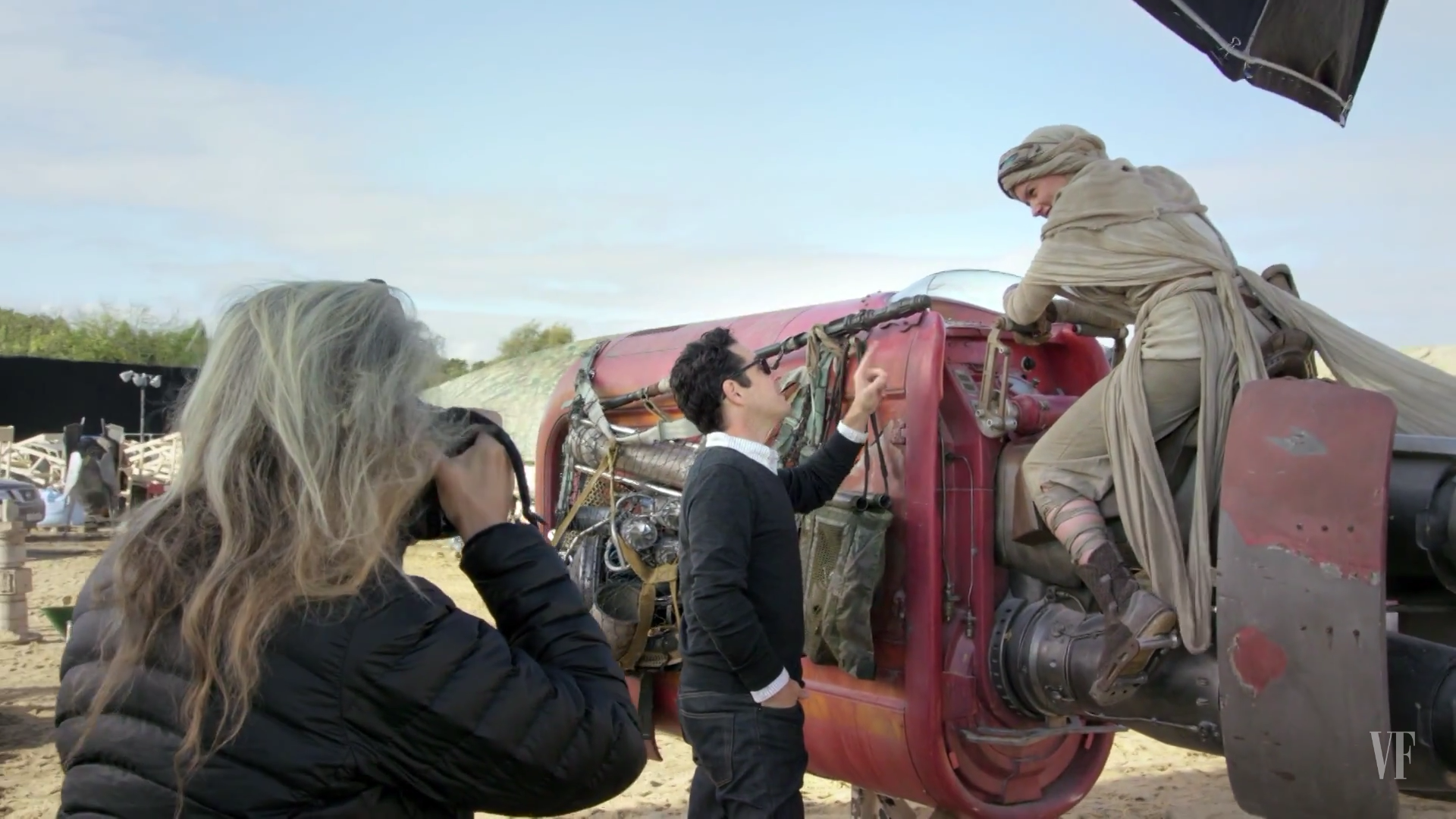 UPDATE 2!    
Chancellor George Osborne announced on Twitter that Lucasfilm invested about £100m in TFA, creating 3,000 jobs. Also he revealed that Episode VIII will be the fourth Star Wars sequel to be shot in the UK.    
Pleased to announce #StarWarsVIII will be filmed here in UK @PinewoodStudios – great news for @starwars fans & our UK creative industries — George Osborne (@George_Osborne) May 4, 2015
Episode VIII to be #MadeinBritain, bringing 100m investment and 3,000 jobs here. #MayThe4thBeWithYou

— George Osborne (@George_Osborne) May 4, 2015
UPDATE 3!
And even more photos from Vanity Fair:
And while we may not know which side of the Resistance (the film's new term for the Rebel Alliance) Lupita Nyong'o's C.G.I. character, Maz Kanata, is on, we do know from the caption on this eye-popping rogue's gallery photo that she's a pirate.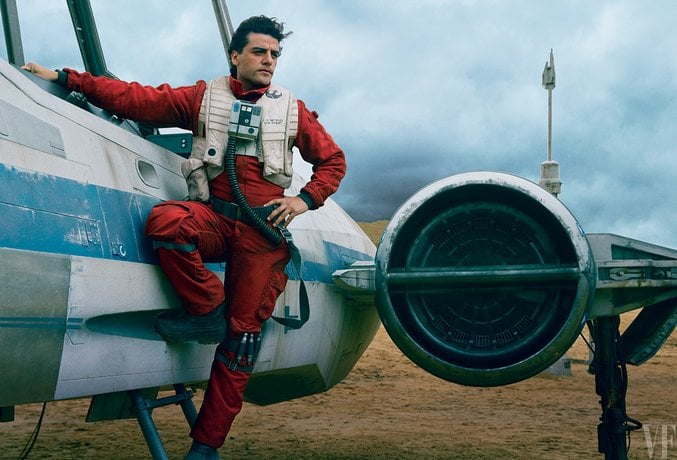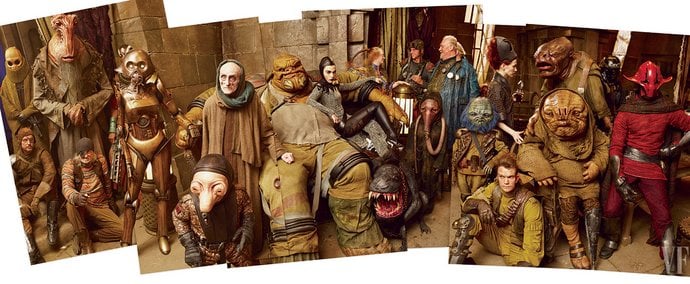 This behind-the-scenes shot of J.J. Abrams directing Daisy Ridley's Rey on her trusty speeder gives us another look at the strange creatures inhabiting the desert planet Jakku. We still don't know her character's last name, but fans suspect that it's one Star Wars fans know well.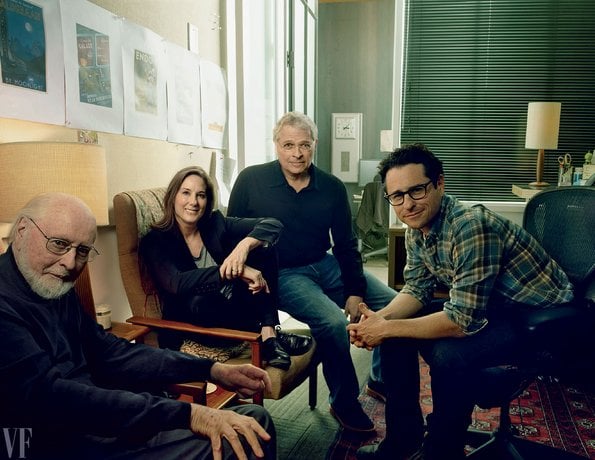 UPDATE 4!
And the official confirmation that Gwendoline Christie is Captain Phasma, an officer of the First Order! (via starwars-universe.com)
UPDATE 5!
As promised Vanity Fair shared with its subscribers another interesting story from the galaxy far, far away. This time an interview with J.J. Abrams.
Bruce Handy: Your movie is taking place 30-something years after Return of the Jedi. Are you going to give it some of that fill-in-blanks quality, in terms of whatever's happened in the Star Wars galaxy across those decades?

J.J. Abrams: Well, what's cool is we've obviously had a lot of time [during the development process] to talk about what's happened outside of the borders of the story that you're seeing. So there are, of course, references to things, and some are very oblique so that hopefully the audience can infer what the characters are referring to. We used to have more references to things that we pulled out because they almost felt like they were trying too hard to allude to something. I think that the key is—and whether we've accomplished that or not is, of course, up to the audience—but the key is that references be essential so that you don't reference a lot of things that feel like, oh, we're laying pipe for, you know, an animated series or further movies. It should feel like things are being referenced for a reason.

Bruce Handy: Tell me about what it was like working on the new film both as its writer-director and as a hard-core Star Wars fan going back to your childhood.

J.J. Abrams: Maybe the weirdest moment, which came months after production, was the first time I sat down with John Williams to show him about a half an hour of the movie. I can't describe the feeling. All I will say is, just to state the facts of it: I am about to show John Williams 30 minutes of a Star Wars movie that he has not seen [and] that I directed. That's probably as surreal as it gets in my professional life experience.

Bruce Handy: The first three Star Wars movies had a certain knowingness, because of the way the characters are, so archetypal, and the way they reference a lot of film history, like Luke gazing out at the two setting suns the way someone would in a John Ford Western. That was such a part of the whole "movie brat" thing in the 70s, that George Lucas was a part of. Did you fool around with any of those kinds of nods at movie history?

J.J. Abrams: There are a few specific references that are kind of my own little stupid, secret ones. But what I realized early on was it was all about point of view—meaning it's not like you just objectively throw in a star field or a spaceship or a desert planet or whatever the thing. The question is, who is that person in that experience? Why does it matter to them? What are they desperate for or afraid of? For me, you could reference all the stuff you want, but the experience of the audience in this is that they've got to be sitting with someone who happens to be on-screen going through these experiences. And then that's not just a desert planet; it could be the most desperate place in the world. Or that's not just a spaceship flying by; it could be the greatest, most heroic moment of your life. That, to me, has been the constant struggle: to make sure that none of these things are treated like either they're a museum piece and we're trying to honor them or they're gratuitous and thrown in because, well, it's a Star Wars movie so you've got to put these things in. Everything has got to be essential to the characters in the film.

You'll geek out over this, too.
Special thanks to Vanity Fair for making this May the 4th, really something special with lots to remember. 🙂
Grant has been a fan of Star Wars for as long as he can remember, having seen every movie on the big screen. When he's not hard at work with his college studies, he keeps himself busy by reporting on all kinds of Star Wars news for SWNN and general movie news on the sister site, Movie News Net. He served as a frequent commentator on SWNN's The Resistance Broadcast.