UPDATE 2! Billie Lourd Confirms She's NOT Playing Leia in a Flashback. More Hints from Lourd About Her Character.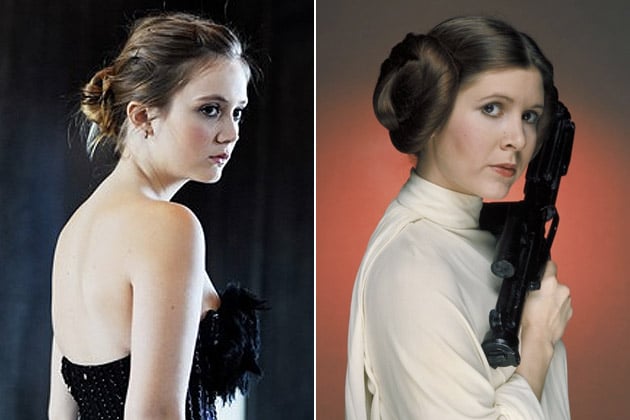 Looks like we're going to have to go back to the drawing board on speculating Billie Lourd's character: according to the rising star, who is the daughter of Carrie Fisher, she will NOT be playing her mother's part in a flashback sequence.
Lourd recently promoted her new show Scream Queens (which will also serve as her acting debut) in an interview with ET Online. While she only talked about Star Wars briefly, she did answer one question that a lot of people have been asking about her for a while (she shows up about 1 minute and 30 seconds into the video).
ET: From what I understand, you play a young Princess Leia…?

Lourd: That's a lie. That's a rumor. I wish I played a young Princess Leia. Disney, I'm available.
Bear in mind that, in spite of the last part of her statement, she is still involved in the film in an unspecified role. It's just that she's not playing Leia. Her role seems to be significant enough to be more than a cameo or an extra, though. While we probably won't find out who she's playing for a long while, look on the bright side! The list of characters she could possibly be just went down by one! ᕕ( ᐛ )ᕗ
UPDATE!
If the above is not enough to convince you that Lourd is not playing younger Leia in The Force Awakens, here's this tweet by her, using Carrie Fisher's Twitter account. 🙂
Star Wars Episode 7 News | Billie Lourd Confirms She's NOT Playing Leia in a Flashback. http://t.co/MxqBGKNVVY

— Carrie Fisher (@carrieffisher) May 10, 2015
UPDATE 2!
ET Online uploaded the whole interview with Billi Lourd. There is another interesting bit that the actress revealed about her role:
"I can't tell you about my character, or lack of character…"
Then she stopped saying she already said too much. So it appears that her role will probably be very small without any character development. What do you think?
Grant has been a fan of Star Wars for as long as he can remember, having seen every movie on the big screen. When he's not hard at work with his college studies, he keeps himself busy by reporting on all kinds of Star Wars news for SWNN and general movie news on the sister site, Movie News Net. He served as a frequent commentator on SWNN's The Resistance Broadcast.