Simon Pegg on BB-8 and His Visit to The Force Awakens Set
Simon Pegg chatted with Collider about how he ended up writing Star Trek 3 and also briefly described his experience being on The Force Awakens set with his daughter. More after the jump.
From Collider:
Since you and J.J. Abrams are such good friends, what are your thoughts on Star Wars?

PEGG:  I'm immensely excited, having been lucky enough to visit the set. I've never been on a film set where everyone has been so invested in the material because they are emotionally and intrinsically linked to it, as people who work in an industry that was informed by the original films. Suddenly, they're back in those environments, seeing those sets again and seeing J.J. work with real physical things, and models and puppets and masks. Also, the new technology will, of course, be involved in it. The original films were always about the cutting edge. They weren't retro movies. They were very forward-thrusting, technological masterpieces, and as such, there will be that stuff. It's going to be extraordinary. I'm so excited for people to see it. It's going to be everything that we wanted 16 years ago and didn't get.

It's so cool because it's a combination of this vastly different technology with a franchise that makes you feel the wonder of being a kid again.

PEGG:  Totally! I took my daughter to the set, and she met BB-8, the droid you see in the trailer. She sat with him for ages, and just talked to him. The guys were operating it, just off camera, and she was there. I said, "Come on, we've gotta go," and she said, "I just want to spend some more time with him and have another hug." It's just a ball with a thing on it, but it's a testament to that character, how much he's going to impact on audiences because he's so full of life. And that goes across, for everything. Also, to see the old staples again is going to blow people's minds.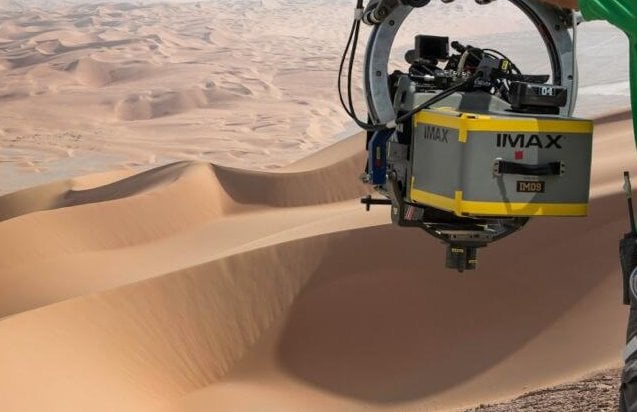 While Pegg never confirmed that he is part of TFA cast, there were multiple reports suggesting that he actually is.
Back in June IGN heard that "Simon Pegg is in fact playing a secret role in the film and was present on set to shoot scenes in Abu Dhabi."
Later Anthony Daniels himself posted on Twitter that Pegg was at Pinewood (later the tweet was removed):
Chatted with Simon Pegg on set. He apologised for once having filmed a SPOOF of R2 and 3PO in the desert in Ep IV. Silly boy! Also a genius.

— Anthony Daniels (@ADaniels3PO) June 23, 2014
Also in July Benedict Cumberbatch said about Pegg:
"J.J. and I are friends, so yeah, possibly, but I think J.J. is very good at creating something original out of something known, and I think apart from his continuing use of Simon Pegg — and who can blame him, frankly — it made sense not to do it."
To which Pegg responded:
Well, J.J. uses me in different roles, and we're good friends. I feel like my face in Star Wars would pop people out of the movie. Look, I love Star Wars, and I don't want people to watch and go, "oh, there's Simon Pegg's face"

Of course I visited the set. It's amazing, and I love Star Wars. I want to see everything happening. It looks wonderful, and you need to believe those characters. Any type of stunt casting might just pop you out of the movie.
That last quote also fits with the rumor we've heard that Pegg is not going to show his face in the movie, but instead play and alien who gets his arm ripped off in a Cantina scene.
And finally Pegg was spotted on TFA wrap party (the pic above) together with the cast members. It's worth mentioning that no other actors who visited the set (there were quite a few) were at the party.
Well, there you have it. After all these reports, I personally doubt that Pegg only visited the set, but who knows. What do you think?