First Reference to the Crossguard Lightsaber Found in Heir to the Jedi Novel
(fan art by skyrace)
It looks like the Star Wars Canon is already in motion, and faster than we may have suspected.  Many fans speculated that there would be little hints sprinkled throughout the first in the new line of Star Wars literature, as well the three new comic series and maybe even Rebels as well.  Donna Dickens of Hitfix seems to have caught on to one in Kevin Hearne's Heir to the Jedi that we all may have overlooked.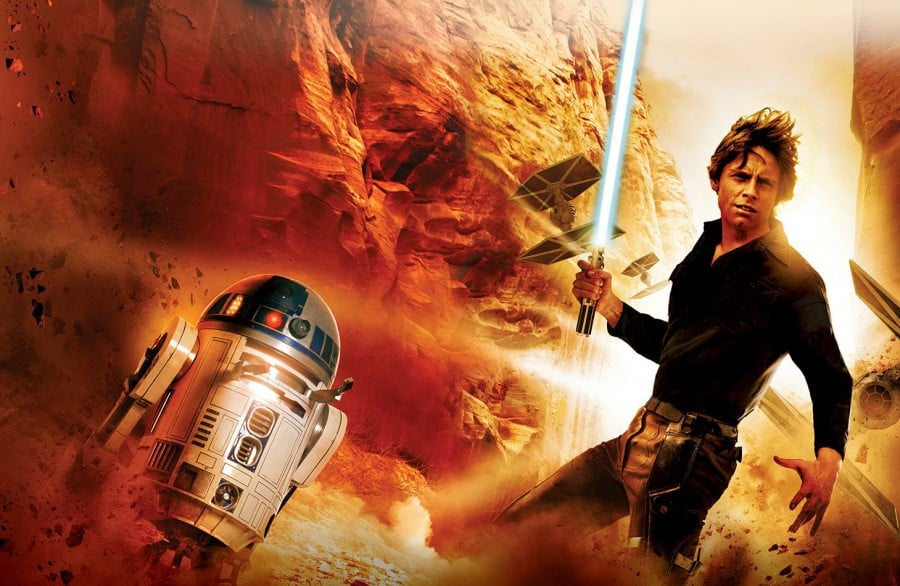 From the pages of Heir to the Jedi:
"The power cell at the base was insulated and held no interest for me. Above that was a platform for the primary focusing crystal that gave the lightsaber its color.  Two additional crystals floated above it, balanced so precariously on mounting ridges that they could easily be disturbed-and they had been."

"…aligning those crystals by hand would be impossible- I sensed that it had to be done with the Force, and only through the Force would I know whether it was aligned properly or not.  They were wafer-thin slices of crystal, too, a beautiful clear amethyst, and might scratch or cloud with handling.  Moving them precisely with the Force would ensure that they remain pristine."
The above passages are from the very early pages of Heir to the Jedi. The narrative of this novel is written in first person, and Luke Skywalker himself tells it. Luke is describing a lightsaber given to him by a Rodian family of a dead Jedi named Huulik. The only backstory we get on Huulik is very vague, and I don't want to give too much of the book away, but it does not imply anything special about the Jedi. The lightsaber is given to Luke as a gift so he can study it and learn how to build more of them. That is the reason it is disassembled.
So, let's reference some things we know are canon about how lightsabers work. We know from The Clone Wars and Rebels that each apprentice makes a journey to a special cave to find their kyber crystal. Kyber crystals are what make a lightsaber a lightsaber, keeping the laser contained in a single-beam. Their properties are uniquely strong, making them the only geological element that can keep a lightsaber from becoming a thermal detonator. So far the only caves containing kyber crystals we know of are located on Ilum and Lothal, but there have been allusions to more. Both instances we have seen apprentices find their crystal, we know it is a unique journey, and that those kyber crystals do not come easily.
Why would a Jedi have three kyber crystals, when it's hard enough to get one?  Well, so far in the canon, we have only glimpsed a lightsaber that would apparently require three kyber crystals.  You might have heard of it.
Now, there are several possibilities as to why Luke stumbled on three kyber crystals, and I don't think an obscure, Rodian Jedi being the person underneath that Kylo Ren façade is one of them. Donna Dickens notes that nowhere in the canon have we heard of a lightsaber requiring three crystals. What was Huulik doing with all those kyber crystals, then? Maybe he wanted to build his own Excalibur-esque lightsaber. Maybe he was saving those crystals for a rainy day. The most overlooked part of this whole discovery via Luke is the glaring question: How did this guy end up with three kyber crystals?
Back to Kylo Ren, the reason we are all probably reading this. Kylo Ren's character is rumored to have backstory with Sith/Jedi artifact hunting as one of his activities. In so far as the Star Wars canon goes, we do NOT know where Sith get their kyber crystals for their crimson blades. Another thing we don't know is if Kylo Ren is even a Sith, noting the absent Darth moniker. As Luke notes above, the crystals need to be aligned by a properly trained user of the Force. At some point in Kylo Ren's story, he learns to use the Force and build his unique lightsaber. It should be noted that just because Huulik's lightsaber contained three crystals does not mean it is what we should expect to see in The Force Awakens. For all we know, Kylo Ren is the first one to use a lightsaber such as the three-bladed one in a very long time, or maybe entirely.
No one is sure how deep into Kylo Ren's backstory Michael Arndt, JJ Abrams, and Lawrence Kasdan are going to let us in on for The Force Awakens. The first film in the trilogy might just give us a superficial glance at the character, where Episode 8 and 9 really carve out the nuance of the antagonist's story. Just the crackling, electric sound of Kylo Ren's blade lets us know that we are in uncharted waters where villains are concerned.  One thing we know now from these brief passages in Heir to the Jedi, is that Kylo Ren built a weapon that is as precarious in nature as it is deadly. The Story Group is nudging us a little bit here, while pointing at the last shot of the teaser we have all fawned over so many times, trying to say, "Yeah, he REALLY is that bad ass".
Also it's worth mentioning that the official Star Wars Twitter page posted that indeed that excerpt from the book unravels some of the mysteries of the crossguard lightsaber:
Still have theories on the crossguard lightsaber featured in #TheForceAwakens? New novel, Heir To The Jedi, unravels: http://t.co/KKuFBNnrWc

— Star Wars (@starwars) March 16, 2015

Keep your eyes open for other, subtle bits of information like this. There's bound to be plenty, especially as we get closer to that December curtain rising.
Kyle Larson lives in Portland, Oregon. When he's not running trails, he's reading and writing.