UPDATE 2! Oscar Isaac on Being Cast for The Force Awakens.
The up-and-coming star of Inside Llewyn Davis and A Most Violent Year has been confirmed to play a hotshot X-wing pilot for Star Wars Episode VII in the recently-released trailer. MTV asked him a few questions in a short interview, and he had a few amusing words to say about how it felt to become a part of the Star Wars universe.
UPDATE 1!
Congratulations are in order for Oscar Isaac!  
Oscar Isaac
is fast becoming a household name through his Star Wars involvement, but the young actor is a rising A-lister in Hollywood. We have just learned that Icaac's latest film
A Most Violent Year
has won the National Board of Review's award for Best Picture. Additionally, Oscar Isaac shared the award for Best Actor with Hollywood vet Michael Keaton:
Chandor's film stars Oscar Isaac as Abel Morales, a New York businessman trying to build a heating oil empire, and coming up against violent rivals as well as law enforcement. Isaac shared the best actor award with Michael Keaton for his performance in Birdman, while Isaac's co-star Jessica Chastain took the supporting actress award. Writing in the Guardian, Xan Brooks described the film as "rigorous, resourceful and as smart as a whip. It surely can't win [the best picture Oscar]; it's too nuanced and sombre. But its canny tactical struggle remains a joy to behold."
We are sure to hear more great things from Oscar Isaac outside Star Wars but have to also give great praise to Nina Gold, Kathleen Kennedy, and JJ Abrams for their careful and lengthy casting process as they have snared some fine, young actors who are already winning awards. Recall that Adam Driver won Best Actor at the Venice Film Festival for Hungry Hearts this past summer.
UPDATE 2!
IGN just had an interview with Isaac. They talked about quite a few things in this interview, including a bit of advice that Isaac received from Harrison Ford:
Talking about his close-up shot in the teaser — the one of him in the X-Wing cockpit — Isaac noted that he's done a bit of flight training prior to shooting. "I did a little bit on a simulator, just for a day," he said, "but ultimately it was more about my imagination. I remember some of my prep was getting a little ship and just playing in my room with it and thinking about the things I used to say when I was doing that."
 
However, Isaac did get some friendly advice from one of his costars, who he spoke with prior to the start of production. "It's funny, because I spoke to Harrison before [shooting]," he continued. "He was just like, 'Whenever you wanna go up, we'll fly.' I was like, 'That's amazing!' Then, scheduling-wise, we couldn't find the time to do that. Ultimately, he was like, 'Well, you know, it's space. So it's a little different when you're flying in atmosphere.' At the time, I don't think he'd done much flying, way back when he was first Han Solo."
The full interview can be read on IGN, as linked above. He also talks about the perks of practical effects, improvising changes to the dialogue, John Boyega as a Stormtrooper, and of course, that crossguard lightsaber everyone's talking about.
This isn't the first time Isaac and Ford have been in close proximity to one another: they were seen walking the streets with director J. J. Abrams, and Ford was apparently in the background of Oscar Isaac's take on the Ice Bucket Challenge. Does this link the X-wing pilot character up with Han Solo in the story? At this point, nothing's certain, but it's good to see that the already-talented Isaac is learning from a Hollywood legend.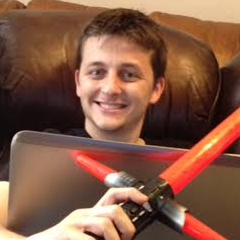 Grant has been a fan of Star Wars for as long as he can remember, having seen every movie on the big screen. When he's not hard at work with his college studies, he keeps himself busy by reporting on all kinds of Star Wars news for SWNN and general movie news on the sister site, Movie News Net. He served as a frequent commentator on SWNN's The Resistance Broadcast.