First Pages from Marvel's Star Wars #1 Revealed. The Series is Expected to Sell Over a Million Copies!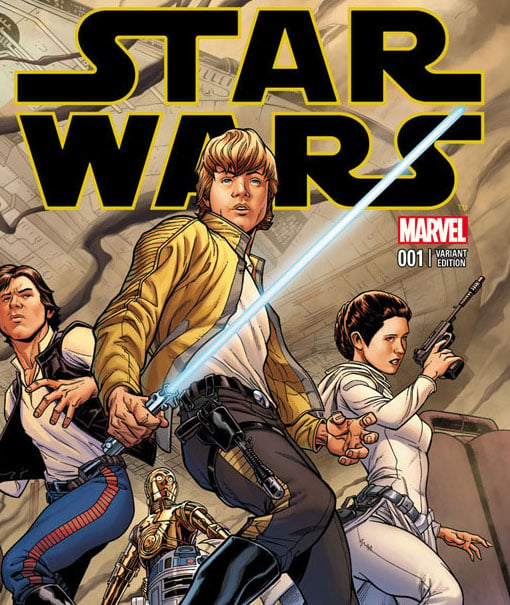 StarWars.com has an exclusive first look at three interior pages by John Cassaday from Star Wars #1, arriving January 14, 2015.
From StarWars.com:
Set directly after the events of Star Wars: Episode IV A New Hope, the series (helmed by the all-star creative of team of writer Jason Aaron and artist John Cassaday) will be the flagship of Marvel's new canonical line of comics. What actually happened following the destruction of Death Star? Soon, you'll find out.
Also ComicBook.com has learned that the upcoming series will sell over a million copies, becoming the top-selling single-issue comic book of the last twenty years.
Star Wars, will also become the first-ever million-selling periodical comic book sold exclusively through direct market channels without the aid of newsstands.
For years, that license had been in the hands of Dark Horse Comics, who contributed to the "Expanded Universe" that also included video games and prose novels. The rights reverted to Marvel as a result of Disney's purchase of Lucasfilm. Disney also owns Marvel.

The aforementioned Expanded Universe has been rendered non-canonical in the run-up to Star Wars: The Force Awakens, and Aaron and Cassaday's Star Wars will essentially launch a new one altogether, drawing from the seven feature films (the original trilogy, the prequels and the animated Clone Wars movie) as well as Clone Wars and Rebels.