Speculation/Rumor: Crucial Scene in The Force Awakens Described?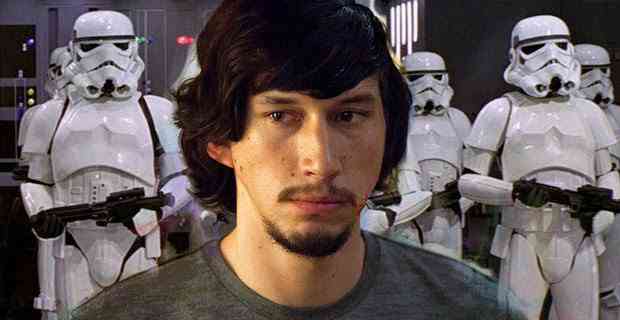 A few days ago, we talked about three rumors regarding Luke Skywalker's role in Star Wars Episode VII: The Force Awakens. While this gave us a greater bearing on what the direction of the story of the Sequel Trilogy might be, we still didn't quite understand the context of one scene, which featured Luke Skywalker, Han Solo, and Adam Driver's character. However, we now have some information about the scene that could quite possibly be the climactic moment of the film.
I cannot stress this enough: should these rumors be true, you could be in store for some major spoilers.
Okay, I'm not kidding around when I'm saying that this is pretty huge spoiler (if the rumors are accurate). This is your last chance to turn back.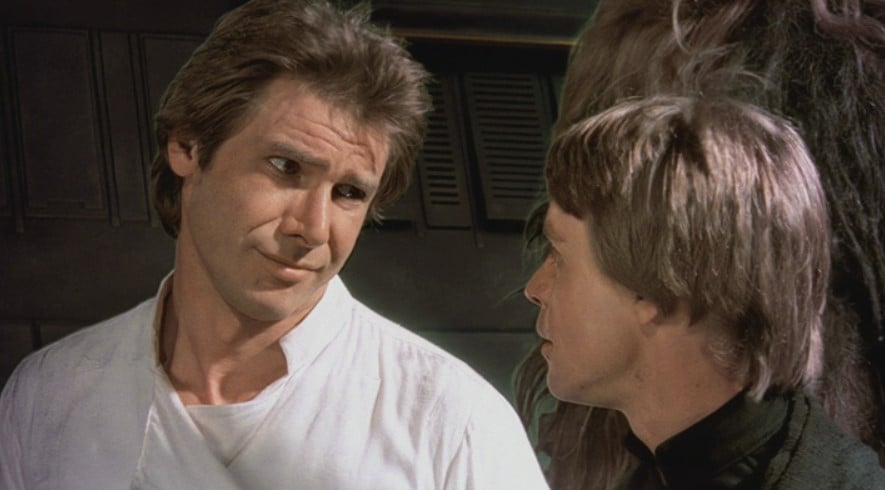 Let's start off by discussing the bombshell that came from the angriest of the three sources: the 4chan one about Han killing Luke to save Driver (described in the previous report). However, the 4chan leak would appear to be off according to our sources (this is by no means a complete dismissal of the 4chan rumor, as information in the first half of the post does line up with several of the rumors that have been discussed).
Edit: I see there's a confusion in the comments of this article. What follows has nothing to do with 4chan. The 4chan rumor was described in the previous report and is quite the opposite of this one.
This come from the aforementioned article's comment section. The first one is an anonymous user:
Luke will not die. It's the other way around.

There is a fight at the end. Luke wants to kill Driver and Han steps in. Luke then kills Han which brings Luke back to his sanity. Han with his dying words begs Luke to let Driver live, to trust him that everything will be alright and the he won't succumb to the Dark Side.

Luke trust Han and does not kill Driver – which will be a big mistake as we will see in Episodes VIII and IX.

Another thing:

The artwork with the cyborg holding Vaders helmet in his hands is pretty accurate. This is the end of the movie. Luke beats Driver up pretty good in the fight. He has a scar in his face and his right hand will be cut off by Luke. After the funeral of Han, Driver will be in Lukes quarters, wearing a mask and a robe and he holds Vaders helmet in his cyborg hand, eyes blazing…
Another anonymous user chipped in:
"The force awakens" (in a bad way) in Han & Leia's son Adam Driver after he sees Luke kill daddy Han. You know this to be true… 🙂
If these assertions are true, then what we've learned about has been turned upon its head – Luke kills Han in the confusion of a conflict with Driver's character instead of the other way around. I find it a little tough to believe that plot details so crucial could be leaked so long before the film's release, but based on the "crazy old wizard" Luke theory that's been gaining prominence, I think that this could serve as the emotional/dramatic climax of the film.
Special thanks to Cantina user Willybobo for pointing the presence of two messages out to us.
Note: As mentioned above, this story comes from an anonymous source. We don't know how credible he/she is. Nevertheless it's a fun piece that fits with the other Luke story we reported before. Actually this one even makes more sense. This could very well be a fan speculation so keep that in mind.
But also keep in mind that the image with the 3 characters described HERE does exist! Will it end up in the movie or not and what exactly it depicts is clouded.
Grant has been a fan of Star Wars for as long as he can remember, having seen every movie on the big screen. When he's not hard at work with his college studies, he keeps himself busy by reporting on all kinds of Star Wars news for SWNN and general movie news on the sister site, Movie News Net. He served as a frequent commentator on SWNN's The Resistance Broadcast.