James Earl Jones to Receive Voice Icon Award.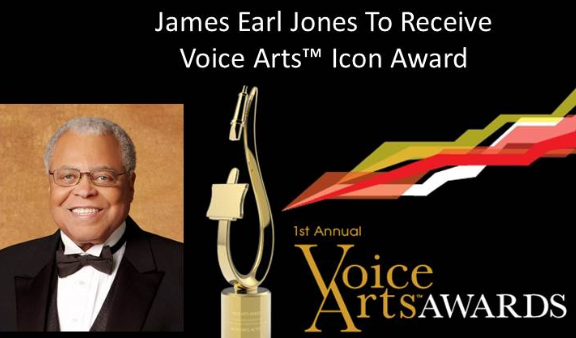 Tony-winning and Oscar-nominated actor James Earl Jones who gave his voice to such characters as Darth Vader, Mufasa, and even the tagline for CNN, will be the initial recipient of the Voice Icon Award from the first-ever Voice Arts Awards on Sunday. This new annual event will honor the best voices of the year from television, film, video games, commercials, and audiobooks.
During an interview with The Associated Press the famous actor spoke about his childhood, how everything began, and also briefly touched on the possibility of voicing Dart Vader again.
From abcnews:
According to the actor, there was a period when he didn't do much speaking. As a child he suffered from a severe stutter, and went through a period where he refused to speak at all.

"I once did not speak. I was mute. When I finally did speak, though, I spoke as an adult," Jones said of the transformation.
"I was 16 or 17, and my teacher said, 'You remember yourself speaking as a child, you're now hearing yourself as an adult, don't get impressed with it. Don't listen to it, because you can fall in love with the melodious of it. If you listen to it, then nobody else will,'" he said.




"The time I was most proud of that was during the first Iraq war. Fliers would come back to base; they would mention that once they got inside and they heard, 'This is CNN,' they knew they were home, or a piece of home. I'm very proud to represent that."

But when asked about Darth Vader, and if there was truth to the rumor that Jones would reprise the role in a flashback capacity in the upcoming "Star Wars" film, Jones mischievously laughed it off, saying, "Oh, Darth is dead. Darth is dead."