Star Wars Rebels – Inquisitor Consults With Darth Vader, Plus Other News.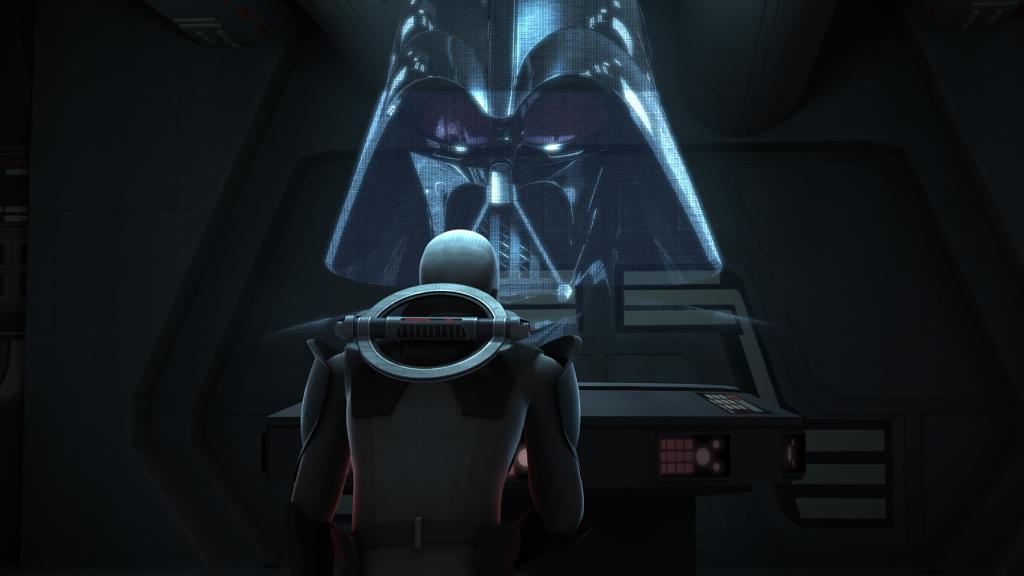 Yesterday, ABC aired Star Wars Rebels: Spark Of Rebellion with a brand-new scene at the beginning, featuring the talents of Jason Isaacs as the Inquisitor and James Earl Jones as Darth Vader. A low-quality recording of the clip has now been leaked online – make the jump to watch it and catch up with other news on the show.
In addition, Making Star Wars has a few interesting details on a few rumors relating to the show. According to an inside source, two voice actors who had recurring roles in The Clone Wars were apparently "deeply involved with the show" – Andrew Kishino and Sam Witwer. Whether they are reprising roles in The Clone Wars for Rebels or are playing entirely new characters is unclear at this time.
Nonetheless, it's worth mentioning that Andrew Kishino's character, Saw Gererra, was essentially the forerunner of the rebel soldiers that we see in the Original Trilogy (an in an ironic twist of fate, he was taught by the man who would become Darth Vader). Sam Witwer is a more interesting case, given that he has displayed quite a range in a number of Star Wars roles – not only did he play The Son of Mortis and Darth Maul in The Clone Wars, but he also played Galen 'Starkiller' Marek and Emperor Palpatine in The Force Unleashed. I'd personally guess that Witwer could be signed on to play our old buddy Sheev, given that he did uncanny impression of Ian McDiarmid (circa 1983) for The Force Unleashed, or that Disney may want to bring the character of Starkiller back in a revised version of that story; still, nothing is clear at this point.
From there, I'm going to directly quote MSW, as this next part is pretty specific, and I don't want to misinterpret anything with my own speculation. We're getting into spoiler territory for the remainder of the first season, so I'll just post an unrelated picture to make a small break, and you can spoil yourself to Rebels at your own risk.
Hera and Kanan are in contact with a man named Fulcrum. Fulcrum is a codename. The crew members of the starship Ghost do not know about Fulcrum and this leads to some trust issues down the road.

The interesting thing about Fulcrum is he is in contact with the various rebel cells throughout the galaxy. He is bringing them intelligence, supplies, and viable targets. It is not immediately clear if there is a connection between Fulcrum and Bail Organa at this point in the early stages of the Galactic Civil War or not.

This path takes the crew of the Ghost down a dangerous journey where they eventually learn about the Empire's five year plan for the outer rim territories. The crew gets titillating information from a Rodian with a Lobot styled head device on which contains information on Ezra's parents as well.


I cannot confirm this final bit beyond the sources giving me tons of implication. It appears the rebels are given deeper purpose as the series moves on in Season 1. The story involves investigating and eventually trying to halt the development of a super weapon conceptualized during the Clone Wars if you can see what we're getting at. The other interesting part is that this five year plan would run right into A New Hope.
I believe that, should this rumor be true, it would illustrate how Disney wants to create a sort of interconnected continuity. Nonetheless, I'm still hoping that they'll show what happens to the crew after the events of A New Hope.
Grant has been a fan of Star Wars for as long as he can remember, having seen every movie on the big screen. When he's not hard at work with his college studies, he keeps himself busy by reporting on all kinds of Star Wars news for SWNN and general movie news on the sister site, Movie News Net. He served as a frequent commentator on SWNN's The Resistance Broadcast.