J.J. Abrams Talks Apollo 11 Moon Landing from the Star Wars: Episode 7 Set at Pinewood.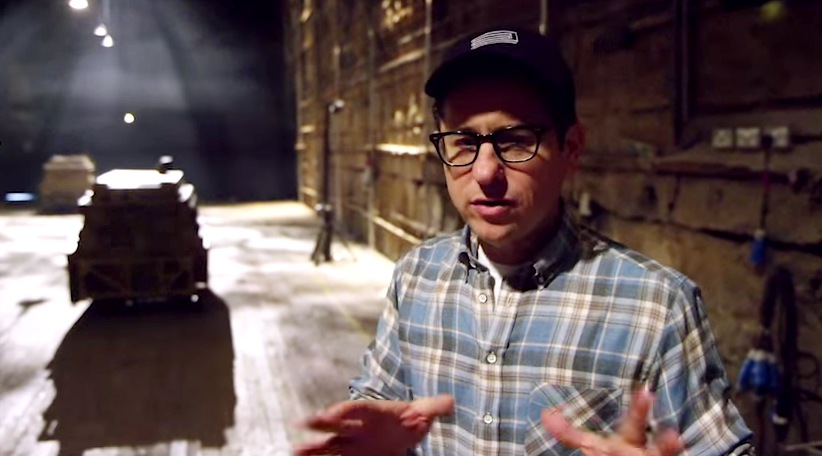 In a video posted on July 17, 2014 J.J. Abrams shares his memories of the Apollo 11 Moon landing on July 20, 1969. It appears that the video was shot on Stage H at Pinewood Studios during the Episode VII filming…
H Stage (previously Large Process Stage) at
Pinewood Studios
is connected to E Stage via a set of elephant doors. This allows E Stage and H Stage to form a large stage with an area of 23,050 sq. ft.
Aside from the stage, keen listeners will recognize the music playing in the video and they should. It is Gustov Holst's "Planets Suite – Mars." You may or may not know, but George Lucas listened to Holst repeatedly while he was writing Star Wars. In fact, Lucas was originally going to use classical music for his film:
Lucas originally intended to use classical music for the soundtrack, as Kubrick had done with 2001; A Space Odyssey. He assembled a "temp score" from his favorite orchestral pieces. John Williams convinced Lucas to allow him to compose original music, preserving the feel of the temp tracks while also creating an overall musical cohesion and unique musical identity for the film.
No doubt John Williams borrows heavily from "Mars" throughout A New Hope. For further reading on the evolution of the Star Wars score we suggest you visit Wookieepedia. Anyway, nothing too revealing, but I don't remember anyone else posting this.
Thanks to ThunderMau5 for the heads-up.