Han is the Man For Star Wars: Episode 7!
A few days ago

YouGov.com
released the interesting results of a Star Wars-related poll. After the jump find out what they are.

YouGov.com conducted a poll of Americans to gauge their level of interest in the film franchise, specifically Episode VII, by asking them a variety of questions. One of the questions asked was who of the original main actors were they most looking forward to seeing return? The answer should be obvious — Harrison Ford came in with a whopping 69 percent! Carrie Fisher was second with 50% and Mark Hamill came in last at 48%.
Was there any doubt?
Of course this is hardly scientific since those polled had to be members of the website. Aside from that little factoid, this makes the most sense since it was Harrison Ford who was least likely to ever return to Star Wars, wanting Han to die in the Empire Strikes Back, and saying time and again that he was done with Star Wars as a recent
EW essay
recounts:
In 2010, when MTV broached the topic of reprising Solo (long before anyone considered that a remote possibility), Ford answered: "No, no, no. Han Solo was very good to me at a certain point in my career. But I'm done. I'm done with him."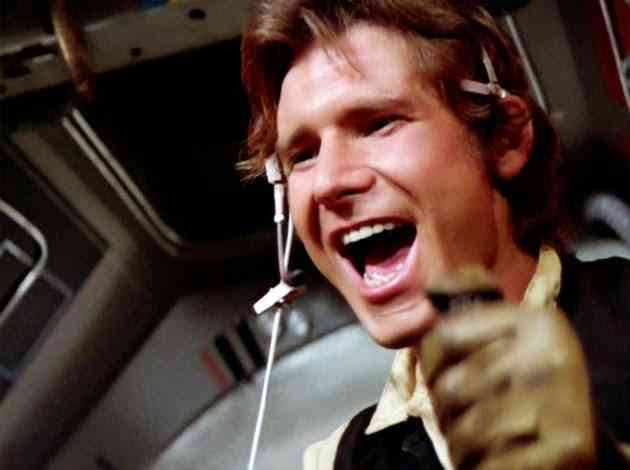 Yahoo!
But of course Harrison Ford did come back, thankfully, and along with him comes Han Solo! When asked who their favorite character is — that's right, Han is the man! The scruffy-looking nerfherder came in first with 19% of the vote. And he was also the most popular among fans who'd seen all the movies coming in at 23 percent!!!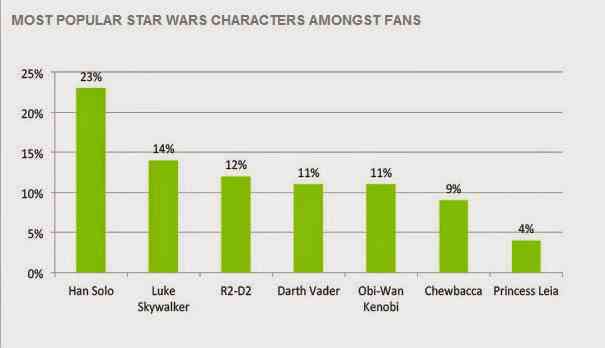 While it makes sense for Harrison Ford to be the most exciting for the fans, it's a little more interesting that one of the few characters who doesn't use the Force or a lightsaber would trump those that are strong in the Force. Perhaps this is because Han is simply more relatable to the average American.
There are several other interesting results as well, as 44% of those polled were already aware of the 2015 release. (We're doing our job guys!) And a sizable 49% of Americans said they planned to go see Episode VII during its 2015 release. I'd be interested to see these same questions asked to the general public on the street, but either way, the excitement of Star Wars Episode VII is already at a pretty high level some 576 days out. Of course it will become fever-pitched the closer we get!
Jump on over to YouGov.com for a full rundown of the poll results!