Lucasfilm Employed Ukrainian Company To Create Luke Skywalker's Voice for 'The Book of Boba Fett'
Two months after Luke Skywalker appeared in Chapter 6 of The Book of Boba Fett, there are still many questions in the air about how the Lucasfilm team pulled it off. Mark Hamill was credited in the episode, but as we learned from the Gallery episode on the Mandalorian season 2 finale, his involvement in the actual episode was rather limited. To pull off a young Luke in the Mandalorian episode, ILM decided to use de-aging techniques on Mark Hamill, so they hired a body double and shot both actors performing the scene inside the bridge.
Rosario Dawson herself confirmed on Twitter last month that Mark Hamill was on set with her when she filmed the scenes for Chapter 6 of The Book of Boba Fett. Now, we don't know if they decided to use deep-fake instead of de-aging for Luke in the spin-off series, though having Hamill there on set would hint at them using de-aging again. For the uninitiated, the deep-fake technology basically consists of using a computing algorithm called a neural network, in which you teach the machine how your character looks under many different lights, his different facial expressions and gestures, and more nuances of how the character's (or actor's) face behaves. With enough input data, which in the case of The Mandalorian was old footage of Mark Hamill back in the 1980s, the computer is then capable of creating new facial expressions for newly created scenarios.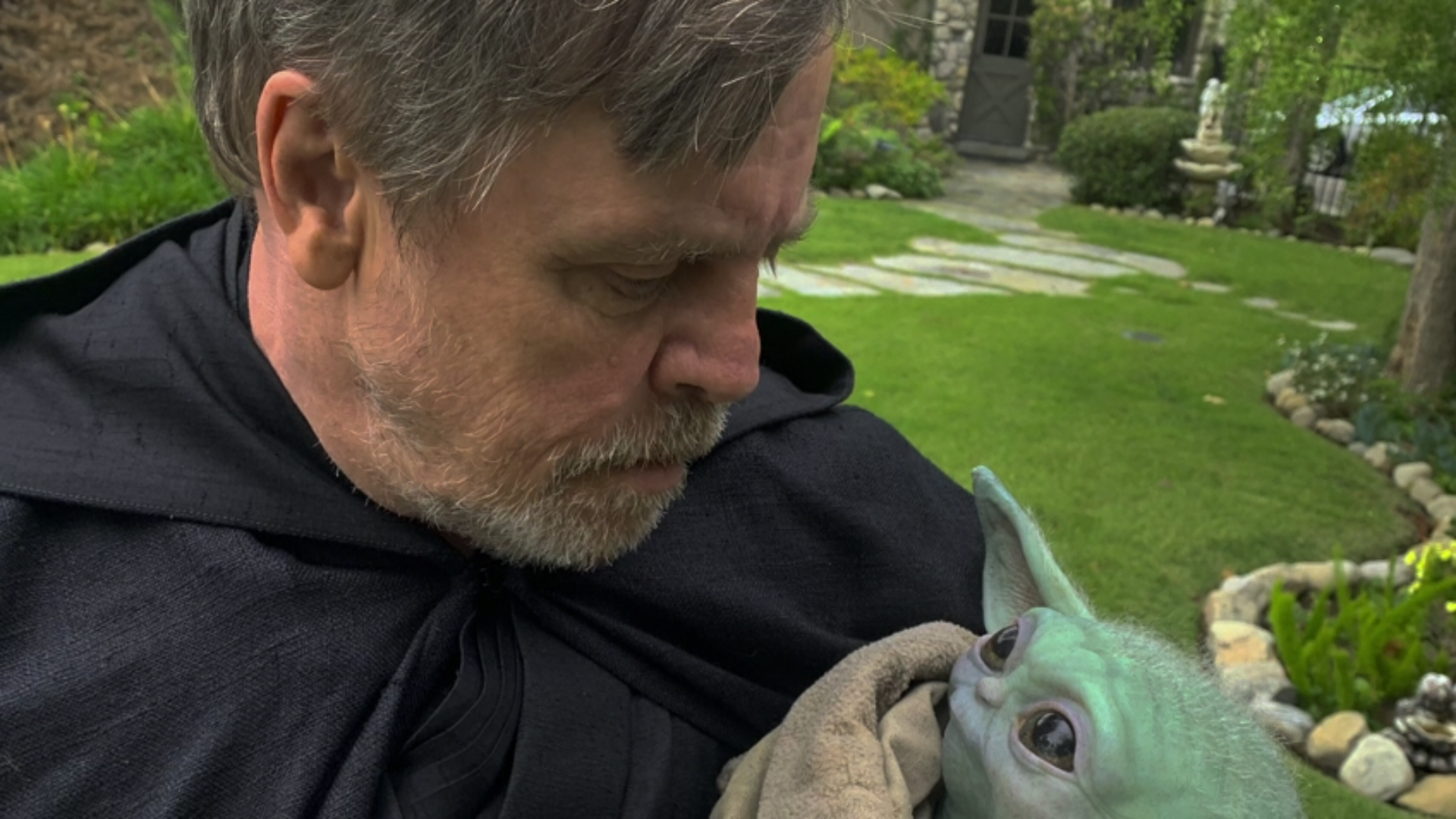 For The Book of Boba Fett, Lucasfilm once again used a body double, though it was a different actor than in The Mandalorian. We don't know why, but while Max Lloyd-Jones played young Luke in The Mandalorian, it was Graham Hamilton who played him in The Book of Boba Fett. Lloyd-Jones did have a cameo in Chapter 5 as one of the X-wing pilots along with Paul Sun-Hyung Lee.
Many have speculated that Luke was recreated for The Book of Boba Fett using deep-fake, as Lucasfilm hired an internet artist last year by the name of Shamook, who had been doing his own deep-fake adjustments to some digitally recreated characters from movies and TV shows over the past few years. On his YouTube channel, Shamook did an admittedly more realistic-looking version of Luke in The Mandalorian, and also made a few fixes to Grand Moff Tarkin in Rogue One, among other popular videos. While he's mostly known for his deep-fakes, we don't know if that is his role at Lucasfilm.
We don't know if he was involved in digitally recreating a young Luke in The Book of Boba Fett either (he isn't credited in the episode), but we clearly saw a big change between both digital versions of the character. Hiring Shamook might just be another sign that Lucasfilm is deeply invested in digitally recreating younger versions of beloved characters, as we've speculated by looking at Indiana Jones 5 set photos and as a few rumors going around the internet have suggested too. And that doesn't necessarily imply deep-fake, as the artist may be skilled at other aspects of visual effects too.
Another key element to bringing a young Luke back to life was his voice. Hamill obviously doesn't sound the way he did when he filmed Return of the Jedi, and that was another issue the artists over at ILM had to deal with. For The Mandalorian, they created an artificial intelligence algorithm that was trained with Hamill's voice from the original trilogy in a way that, when fed new lines of dialogue, it could deliver them as if it was the actor reading them back in 1983. Apparently, for The Book of Boba Fett, they took the same path.
In an interview with Variety published in March 2022, it was revealed that the voice was digitally created by the Ukrainian company Respeecher, which also worked on The Mandalorian, as Matt Wood revealed in the Gallery episode. Alex Serdiuk, Respeecher's co-founder and co-CEO, told the trade that they used old recordings of Hamill's voice to synthesize new dialogue. Apparently, they had to pull from recordings of old ADR sessions, video games, and old audiobook recordings. As Serdiuk explained it:
"Our technology applies a digital voice skin, digital vocal apparatus of that particular performance, and that gives content creators and moviemakers that full content over how it should sound and even inflections."
That was used to train a model that would then be used to create a new voice. They can then tweak that new voice at will:
"If a director wants a voice sounding specific, we can tweak our models to meet those expectations."
The report confirmed that Hamill did not record any dialogue for either The Mandalorian or The Book of Boba Fett.
It's unknown at this point where we'll see "young" Luke again. It's possible he could appear in The Mandalorian season 3, and in The Book of Boba Fett Chapter 6, the door was left open for a potential cameo in the Ahsoka series, which is just a few weeks away from filming. Neither is confirmed, of course, but Favreau and Filoni certainly left room for the story to bring Luke back.
Miguel Fernández is a Spanish student that has movies as his second passion in life. His favorite movie of all time is The Lord of the Rings, but he is also a huge Star Wars fan. However, fantasy movies are not his only cup of tea, as movies from Scorsese, Fincher, Kubrick or Hitchcock have been an obsession for him since he started to understand the language of filmmaking. He is that guy who will watch a black and white movie, just because it is in black and white.