Review – Tiny Treasures of Lightsabers and Heroes from Insight Editions
It's almost spring, and if you're like me, that means the sun's going to break through, showing how much dust is on books I've shelved over the past year. Usually, it causes a bit of stress, making the obligation to clear out some old (yet beloved) titles in favor of new ones. Especially as more review copies arrive from the different publishers of Star Wars stories and content. Lucky for me, today I don't have to worry, as Insight Editions provided me with two incredible books, each of which fit into the palm of my hand. Star Wars: Tiny Book of Legendary Women and Star Wars: Mini Book of Lightsabers are literally pocket-size. Don't let that fool you. Size matters not, and these both have it where it counts!
Star Wars: Tiny Book of Legendary Women is a celebration of all the heroic women of the galaxy far, far away. My only complaint is more of a hope we get a full-scale version of this book because both layout and design are beautiful. Whether hero, villain, or a bit of both, this collection features everyone. The only characters left out are from Visions, so let's hope they make it into the second edition. I snapped this next to my laptop to try and give some scale, and as you can see, it's quite small. This has been with me for a couple weeks now, and I like to keep it close when I'm working on an article or stories of my own, because there are so many great quotes helping me stay fresh and inspired.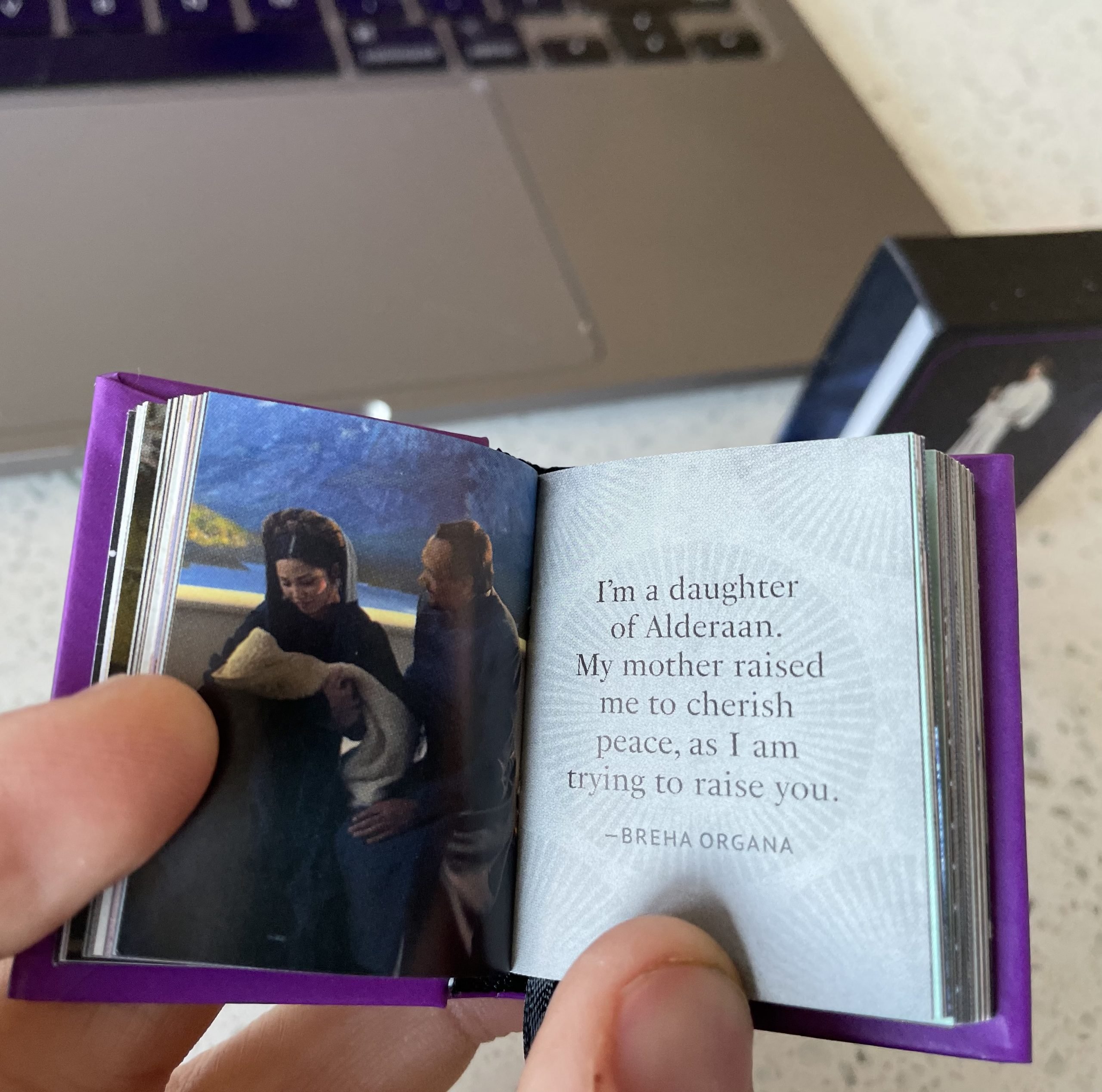 Whether it's Breha Organa or Koska Reeves, this collection covers nearly everyone has something to say. It's nice that not all of these quotes have to be profound. Their presentation allows the reader to decide their context. Since I keep this handy for inspiration, I'll flip through randomly and find something, considering how it applies to whatever I'm working on or through. The other day when I needed help from a friend, but couldn't figure out how to ask, Shaak Ti reminded me "Solve your problems as whole, not as individuals."
A few more quotes and images above give you an idea about the layout. This spans all eras of Star Wars and includes a nice little carrying case so it won't get lost. Tiny Book of Legendary Women would make a great addition for any Star Wars fan. Whether you want it on your bookshelf or with you at all times, you'll find the feminine wisdom will come in useful in all areas of your life. I never get tired of flipping to Rose Tico's page to remind myself daily to save what I love, and that's how I'll win. Star Wars: Tiny Book of Legendary Women is out April 12 and currently available for pre-order.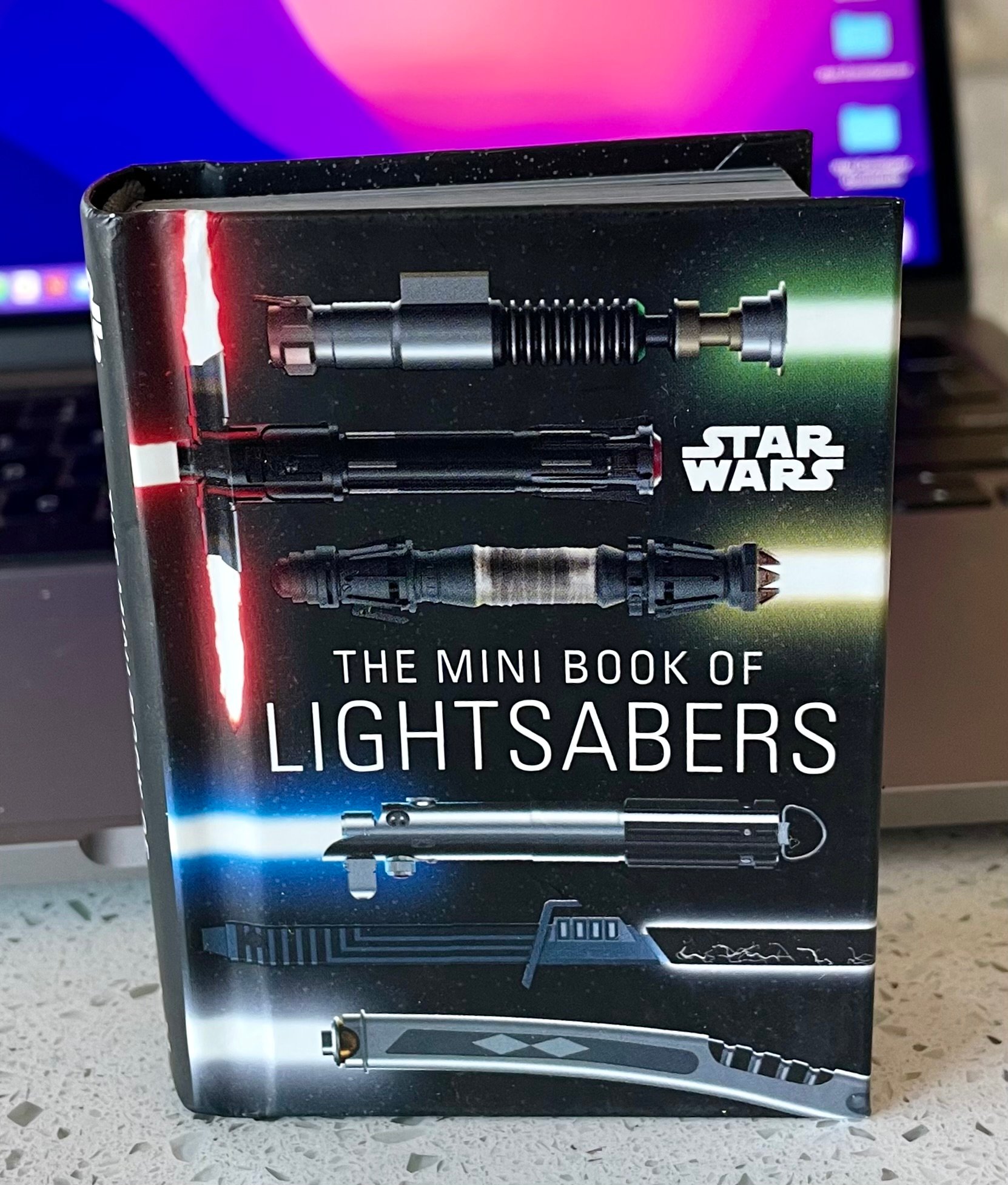 Star Wars: Mini Book of Lightsabers is a scaled down version of 2020's The Lightsaber Collection (our review here). If you already own that book, this is still worth your time. We've met a lot of new characters and lightsabers since then, and Insight Editions took notice. You'll find several new entries and updates to this collection, including your favorite The High Republic characters. They've even included obscure blades we see in the comics. It's impressive how comprehensive these updates are.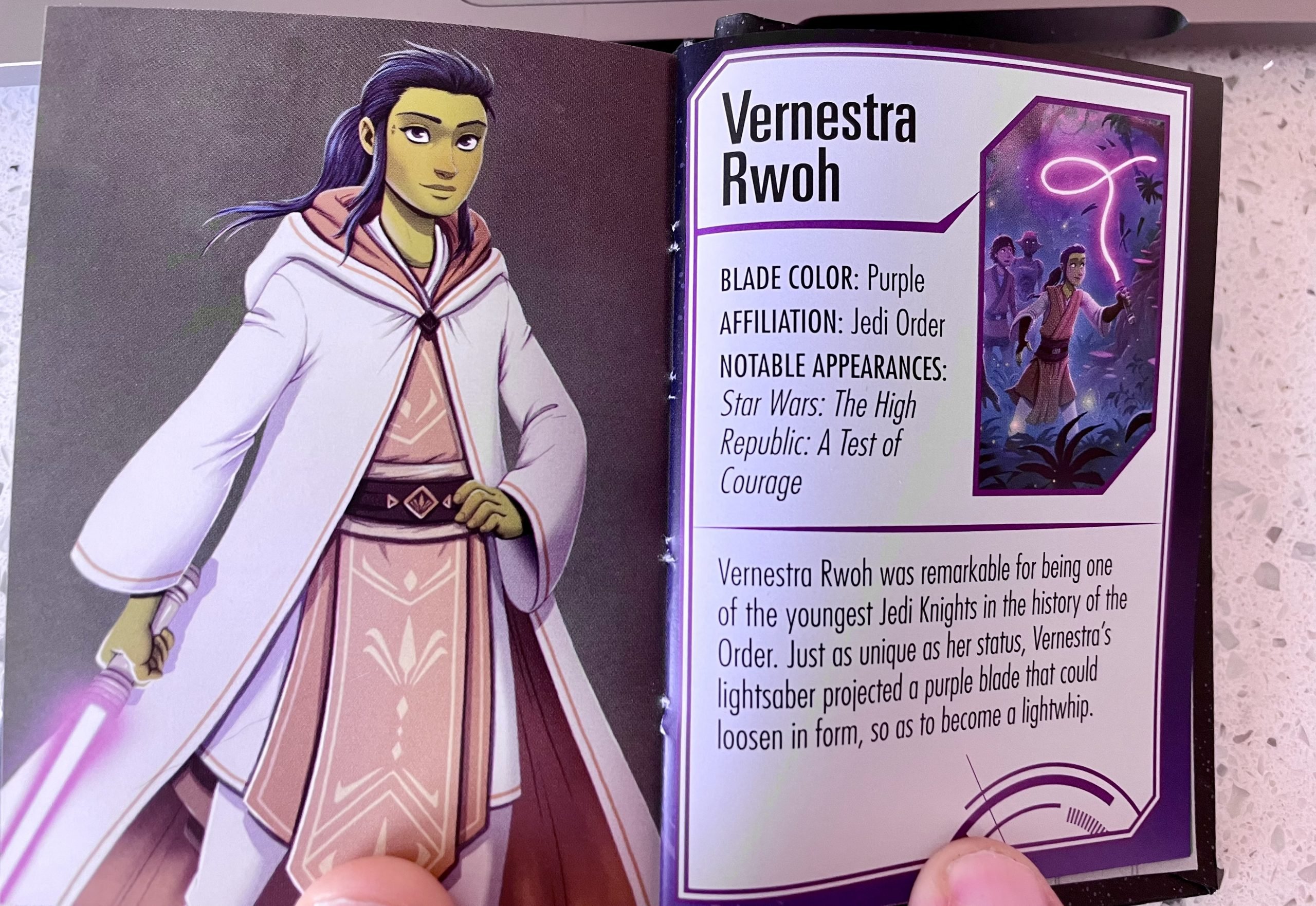 The book gives you all the stats you need to go looking for it. It's handy as a reference book or if you just want to get lost, reading about which weapon your favorite Jedi or Sith Lord wields. Flipping through it led me to revisit several comics and episodes of The Clone Wars. It's a reminder of vast the Star Wars universe is and how quickly it's expanding, especially with The High Republic stories and Disney Plus shows arriving almost monthly. I can't imagine how big future editions of this will be. Star Wars: The Mini Book of Lightsabers will be out May 3 and is currently available for pre-order. It's a lovely addition to any book collection, big or small.
Insight Editions continues to raise the bar on their already high standard. As Star Wars grows, I'm so grateful we have their companion books alongside these stories. They're for every fan, whether casual or hardcore, Insight Editions ensures everyone has something to enjoy. Star Wars: Tiny Book of Legendary Women and Star Wars: The Mini Book of Lightsabers celebrate all eras as fans continue to move forward in the very bright future of the galaxy far, far away.
RATING: 8/10
Special thanks to Insight Editions for the advanced copies used in this review.
Kyle Larson lives in Portland, Oregon. When he's not running trails, he's reading and writing.