'The Book of Boba Fett' Star Sophie Thatcher Talks Playing "Sci-Fi Joan Jett"
Tomorrow, Chapter 4 of The Book of Boba Fett arrives, and fans are hoping for the present-day storyline to kick into high gear now that the Pykes have returned in full force to Tatooine and aim to take down Boba Fett and any plans he might have for the planet.
Unsurprisingly, most of the discussion around last week's Chapter 3 revolved around the scooter-riding street gang that Fett took under his protection — the general consensus is that they maybe weren't introduced in the coolest possible way, and that the chase sequence which closed the episode was embarrassingly awkward. Still, some longtime fans appreciated the nod to George Lucas' American Graffiti and, more specifically, how rad Sophie Thatcher's Drash looks.
The Hollywood Reporter recently had the chance to sit down with 21-year-old Thatcher and discuss both Showtime's Yellowjackets and Disney Plus' The Book of Boba Fett, the two shows that are quickly making her a young actress to watch out for.
She's fully aware of the pressure that such a massive amount of overnight success will put on her moving forward. Moreover, she found out she had landed the Star Wars role right before Yellowjackets was picked up to series, in December 2020.
"There's obviously a lot of pressure going into something with the biggest fanbase of all time. So I had to delete Twitter and Reddit because I didn't want to look at anything… It's inevitable that people are going to say what they want, but I'm really happy with how it turned out. I play a really cool character. I've been getting funny comments as people say I look like Julian Casablancas, Nina Hagen or Joan Jett. Basically, they say I look like anyone with a mullet, which is funny."
Apparently, the "sci-fi Joan Jett" influence was constantly brought up by Jon Favreau, and she was fully on board with the idea. And it's not like she could've reworked her character's looks before shooting, as it all happened very fast — Thatcher explained how tight the Yellowjackets – The Book of Boba Fett timeline was:
I did a self-tape for both Yellowjackets and Boba Fett and didn't hear anything back for a bit. And then I randomly booked both jobs. I have no idea how. I didn't meet anyone; I just did a self-tape. I got the Boba Fett news around the time that we heard there was going to be a season one of Yellowjackets. It was within two weeks of each other, and I was like, "Wow, this entire year is going to be booked." (Laughs.) It was a little overwhelming after staying at home, not doing anything, being lazy and a little bit depressed. Then suddenly, I knew that I wouldn't have any time off, and I didn't, really. So yes, I shot the Yellowjackets pilot first, Boba Fett second and then season one after Boba Fett.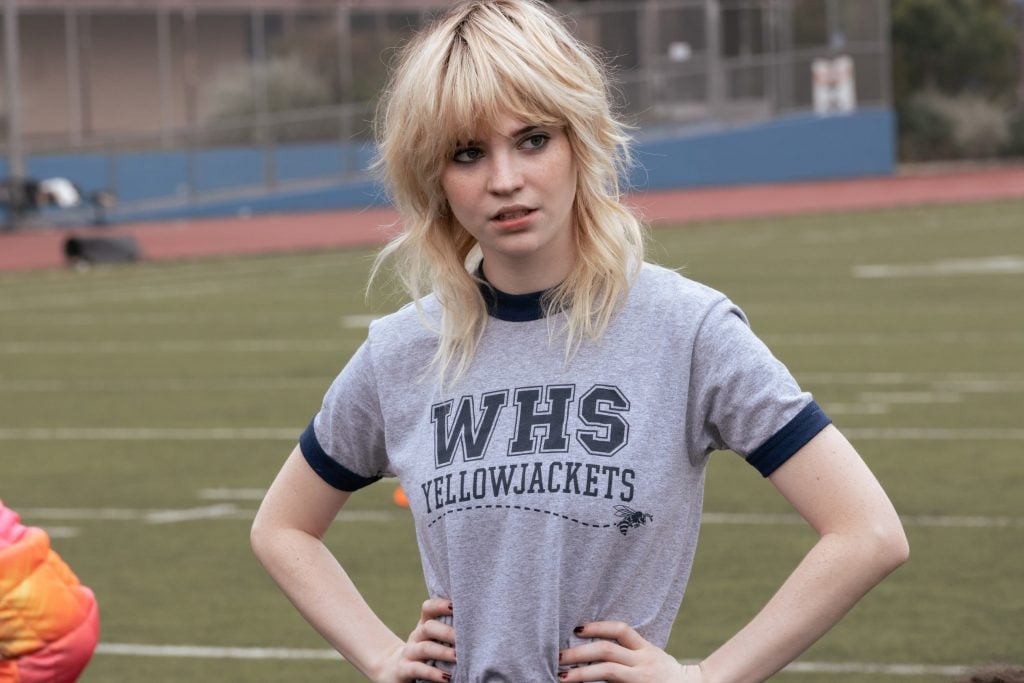 Of course, the audition for the Star Wars series was as secretive as expected, but they let her improvise and toy with her accents. In the end, Lucasfilm went with a British accent (she's an American actress from Chicago) because they felt it worked better in conjunction with British actor Jordan Bolger, who plays Skad in the show.
They asked me to do my standard American accent and then a British accent. And they chose my British because I think it worked well with Jordan [Bolger, who plays Skad]. I also think the British accent feels a little less modern, because I feel like I talk in a very modern way, normally, with my American accent. So I think that's why they chose the British, but it was fucking scary because I didn't have an accent coach. (Laughs.) I just had to do it myself, and that was by far the thing I was most stressed out about when the episode came out yesterday. I just thought people were going to murder me for my accent, but it wasn't that bad when I watched it. It's rare that Americans do British accents, and I was this little nobody, coming into the Star Wars universe and playing this character who makes a big statement, plus an accent.
Another surprising bit in this interview for non-cinephiles is that she had already worked with another big Star Wars star: Pedro Pascal, Din Djarin, the Mandalorian himself. Here's what she had to say about their time together while shooting the 2018 film Prospect:
We were really close on Prospect. He helped me a lot. I was 16, but 16 going on 30 because I grew up very quickly as most young actors do. But he treated me like an adult, which was nice. Nobody on that set treated me like a kid. He's also one of the funniest people I've ever met; he's just hilarious. Pedro and Jay [Duplass], together, were a really funny duo.
About Drash's droid arm, Thatcher says they tinkered a bit with it before deciding on the (digital) design we ended up seeing on-screen:
Green sleeve, yeah! We experimented a bit with it. They had makeup and prosthetics, and then they decided they didn't like that. They started off with a thicker arm, and then decided it looked cooler as it is. So I love the way it turned out, but I had a green sleeve on the entire time. I was really curious to see how it would turn out, and it looks really cool.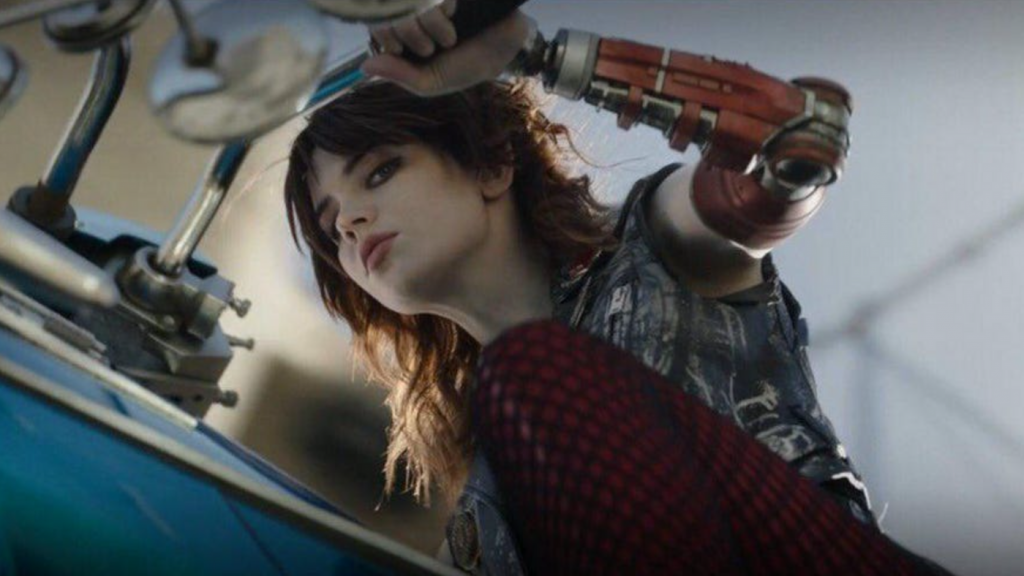 The conversation then moved on to discuss the gang's confrontation with Black Krrsantan, one of the highlights of Chapter 3:
(Laughs.) That was my first day on set! I was horrified! I hadn't had a physical role where I have to show strength within my physicality. So a lot of it was stunt stuff, and I had to get really comfortable with my body. I guess it wasn't a lot of stunt stuff, but I'm not used to it at all. Even doing a little ducking and moving around and getting the right steps was really stressful for me. I'm not the most coordinated person, so I had to do a lot of physical acting. On the first day, I was like, "I just have to fake this." I felt silly a lot of the time, but then I got to a point where I was like, "If I can fake the confidence, then people will believe me." And I haven't had to push myself to do that in so long. So if I believed I looked cool, then it usually sold. But her cool blade was a nice touch, a nice accessory, and the bikes were insane.
Regarding the bikes, the actress says Jordan Bolger did actually ride his a couple of times, but they were mostly "being carried around on a rig." She also confirms that most of her scenes were shot in the well-known backlot which Lucasfilm is using time and again for their TV productions. And yes, she's fully aware of the now-famous low-angle shot (see above) in which she's riding the scooter before trashing the Majordomo's speeder:
That's what everyone keeps posting! I remember on set, Robert was like, "Come here," and he showed me that exact shot. And he was like, "This is a money shot!" And I was like, "Yup, Robert knows what he's doing." He was like, "This is going to sell," and it does. He just has this genius mind for it. He has such a specific way of seeing what people want.
The rest of the interview goes deep into Yellowjackets, so be sure to check out the full thing if you're into that series as well (beware of season finale spoilers though). We personally can't wait to see more of Sophie Thatcher in The Book of Boba Fett even though the gang's introduction wasn't as good as we wished for. Be sure to come back tomorrow to read our review of Chapter 4.
Francisco J. Ruiz is that guy who has watched Jurassic Park a thousand times and loves Star Wars. His hunger for movies is only matched by his love for video games. He graduated in English Studies from the University of Malaga, in Spain. As he keeps writing about what he enjoys (and doesn't) for websites all over, he's continuing his studies.