Review: Peel Back the Curtain With 'Star Wars: The Galaxy's Greatest Heroes'
Titan Comics have outdone themselves with this one. Star Wars: The Galaxy's Greatest Heroes is a deep-diving masterpiece as well as a visual treasure into our favorite heroes from a galaxy far, far away.
For those of you who love scouring the Internet for interviews with your favorite Star Wars actors, marveled at the technological innovation the saga brought to the world, or simply love beautiful collectors' items; this is a must-have. All from the words of the people who created them and brought these characters to life, it is a collection of interviews and articles all perfectly crafted together for you. From Princess Leia to Finn to Wicket, there is something in here for everyone who fantasizes about our favorite protagonists. Keep reading as we peel back the cover and get a first look into this stunning work.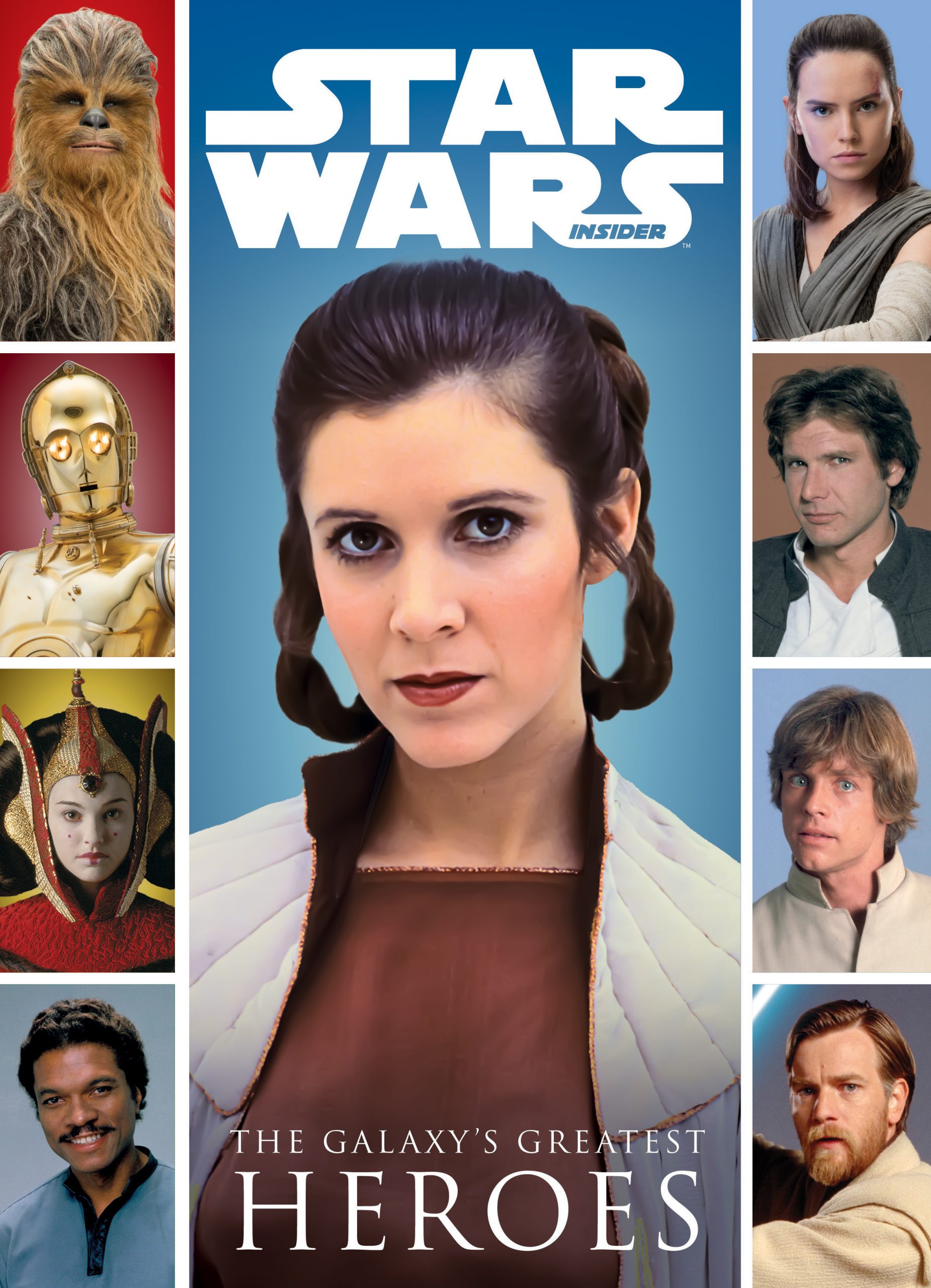 It seems only fitting the book begins with the original big three of Star Wars. The lens through which Mark Hamill, Carrie Fisher, and Harrison Ford view Star Wars has a lot of variation between the three of them. Within each of their individual sections you can't help but feel them speaking to you as you gloss over interviews, some of which are decades old. Trying to imagine what Mark Hamill must've sounded like when imitating Alec Guinness or 3PO had me feeling giddy. Star Wars has brought an infinite amount of joy and wonder into people's lives, and that same energy is felt throughout the book (especially when reading what Hamill says).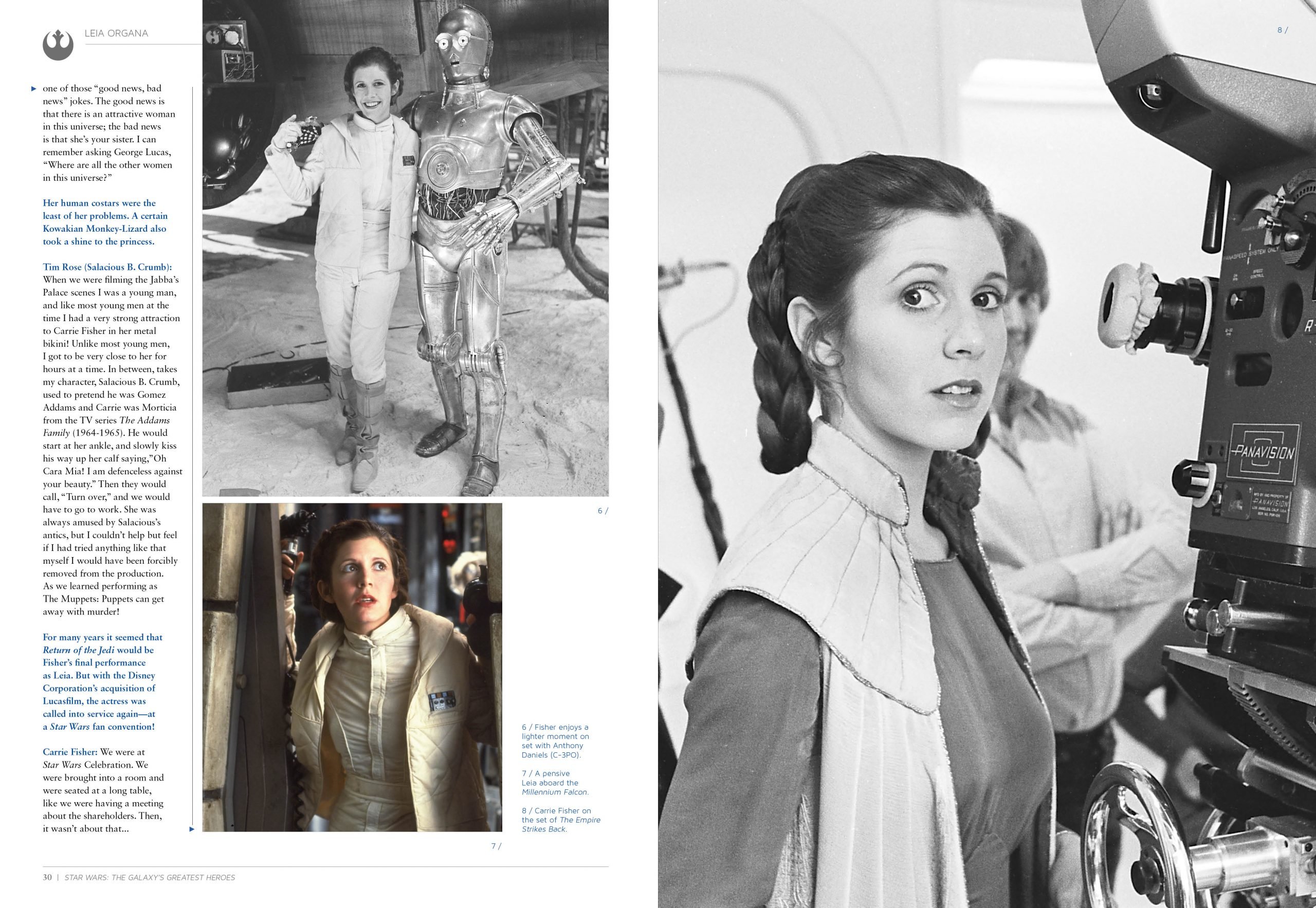 There is certainly a level of reverence I held when pouring over the Princess Leia section. This section felt as if it was treated with the most care and intentionality of them all, and with good reason. The legacy of Carrie Fisher bleeds through these pages through her words echoing out, and the zest for life she had oozes out as well. A particularly funny portion was actor Simon Pegg sharing the time he met Fisher at a Comic-Con and couldn't help but inform her she was his first crush as a child, to which she simply responded: "Do you feel better for telling me that?" This book is filled with funny interactions that will leave you smiling. 
The legacy of Leia is highlighted through the interviews with those who have voiced her in many animated projects. The words of Catherine Taber (The Force Unleashed Series), Julie Dolan (Star Wars Rebels), and Clarissa Yazzie Garcia (Navajo Translation) are all echoed when discussing how they each found their niche as Leia Organa. For the more emotional readers out there such as myself, it is certainly a tear-jerking section. Reading Carrie Fisher's words of "I am Princess Leia. She is me." will always move me. She truly was special.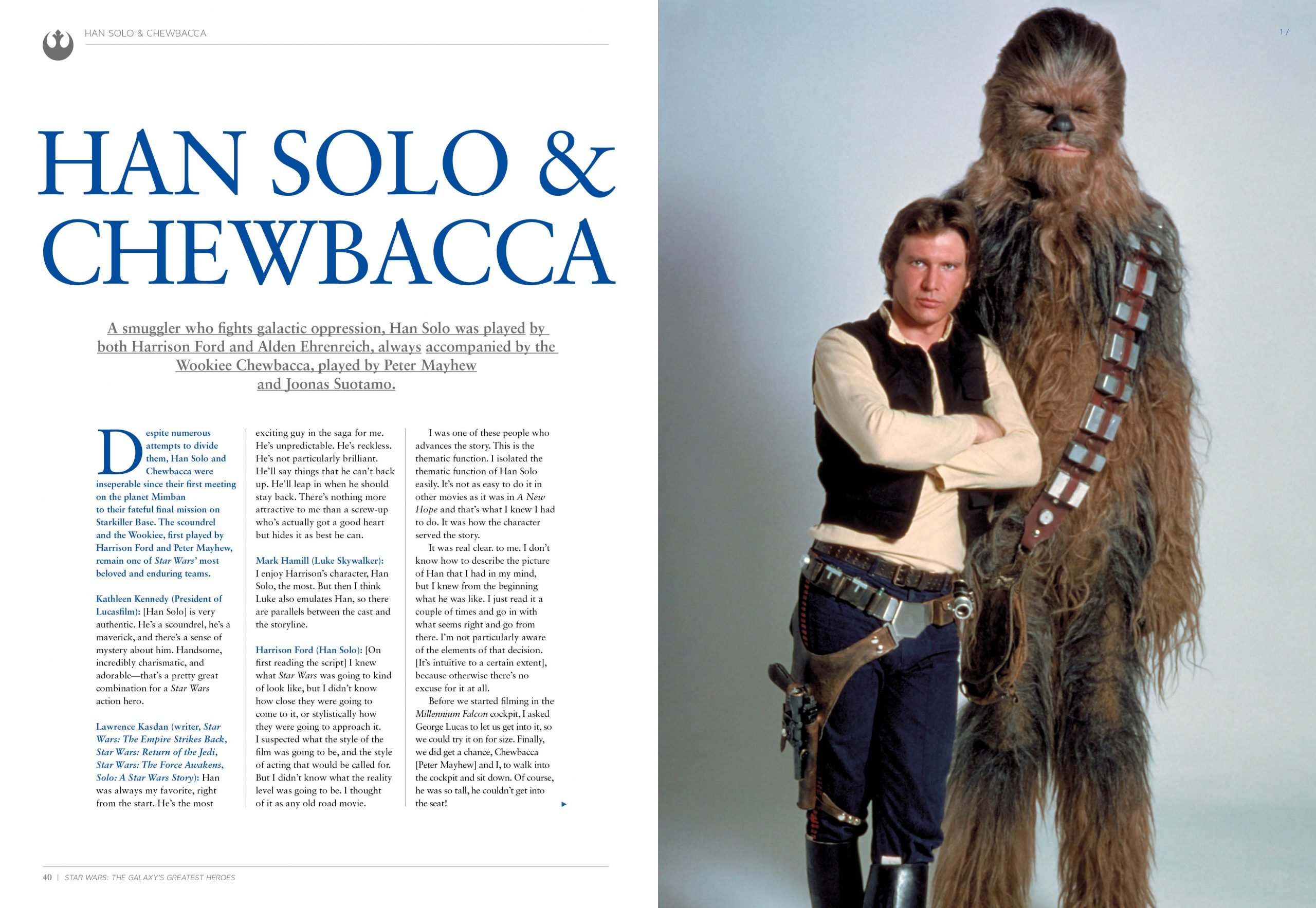 It was particularly enlightening to get an insight into what being Han Solo meant for both Harrison Ford and Alden Ehrenreich. You can feel the sort of dry sense of humor Ford can display in some of these quotes, and it just makes you shake your head and smile. Ford is as iconic as they come, and stepping into those shoes couldn't be easy. I hadn't heard Ehrenreich go into too much depth about the part of playing Han in Solo, so this section was an exciting read for someone who grew up wanting to be the scoundrel piloting the Falcon. 
I must attest I was pretty much a novice coming into this book when it came to Chewbacca, but I left this section not only feeling like an expert, but with a new appreciation for the character. Something about this collection of stories, interviews, and fun tidbits is that it gives you a wider range of understanding behind each and every character that you didn't have coming in.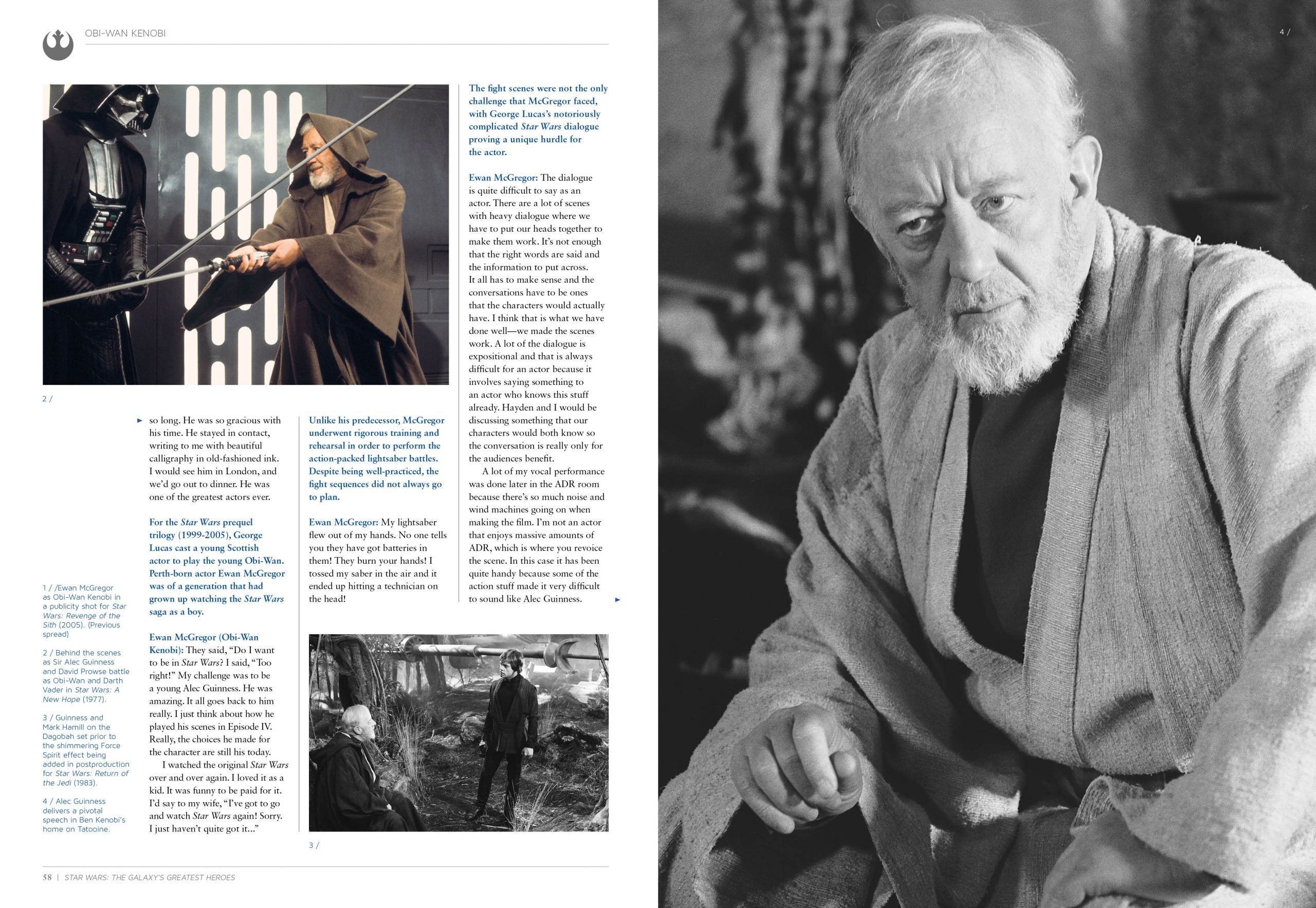 As I said before, the book is a visual treasure trove, and no section may be more mesmerizing than Obi-Wan Kenobi's. This section is a legacy tribute to Sir Alec Guinness, highlights the energy Ewan McGregor brought to the prequels, and gives what will, for most readers, be mostly previously unknown information about Obi-Wan's animated version by James Arnold Taylor. 
This is a legacy book, and it doesn't shy away from giving all Star Wars mediums their fair amount of time in the limelight. You will glean insight into what it was like for voice actors to take over these legacy characters and to deliver a unique performance while still honoring the past. Perhaps one of the more unexpected moments of the book came when they included an interview with James Arnold Taylor talking about Obi-Wan and Ventress flirting:
"Oh yeah, there's a lot of playfulness between those characters. I mean, they really get to flirt!"- James Arnold Taylor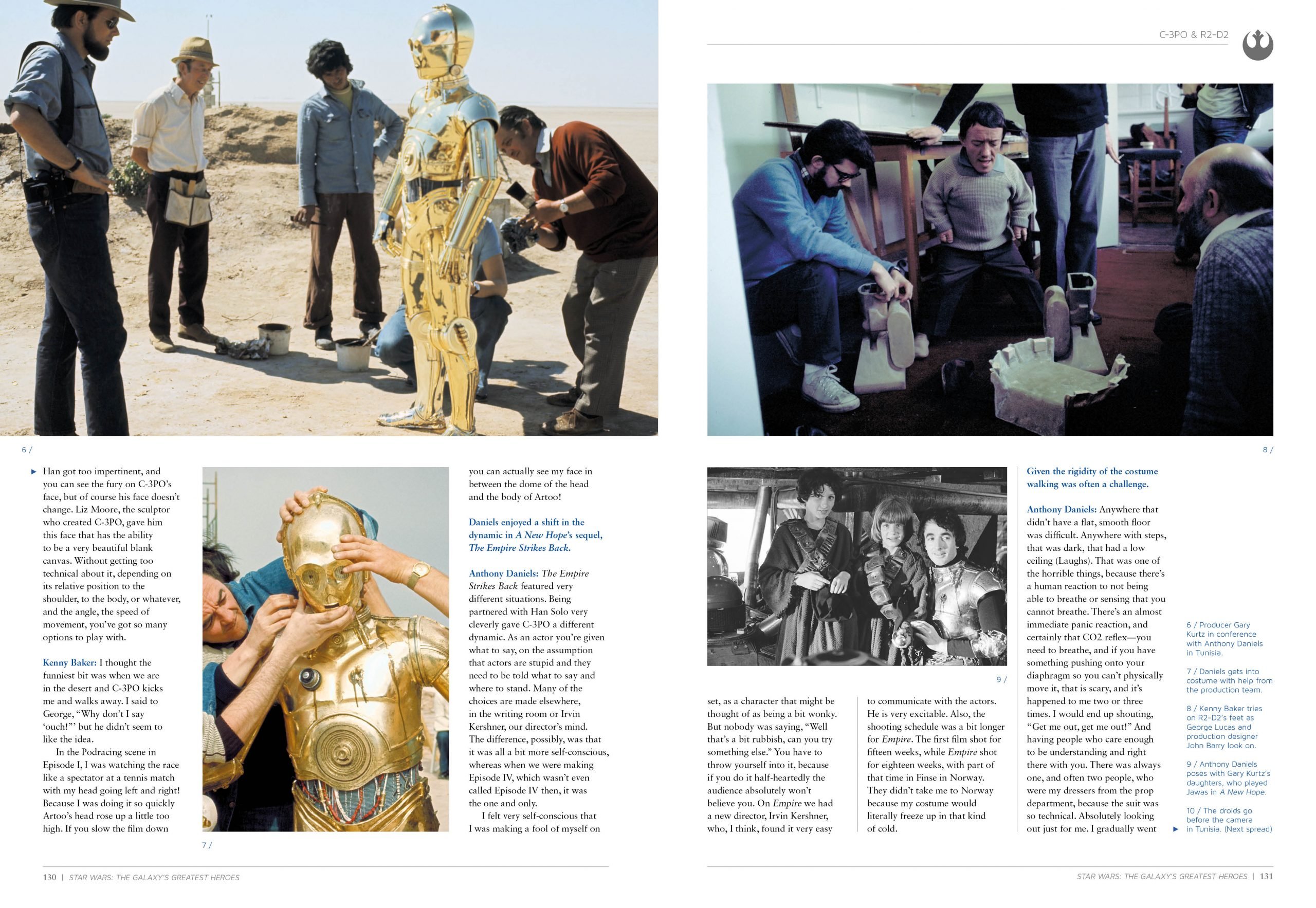 One can't help but chuckle and feel a bit sorry for Anthony Daniels when he recounts stories as C-3PO. For myself, 3PO seemingly comes alive in my living room when I read Anthony Daniels tell stories of being on set interacting with actors and designers. He will make you laugh as well as describe 3PO and his legacy in a way that will put some happy tears in your eyes. A particularly compelling story to look for is him describing the times he would scream "Let me out! Let me out!" because the suit was so cramped and dark.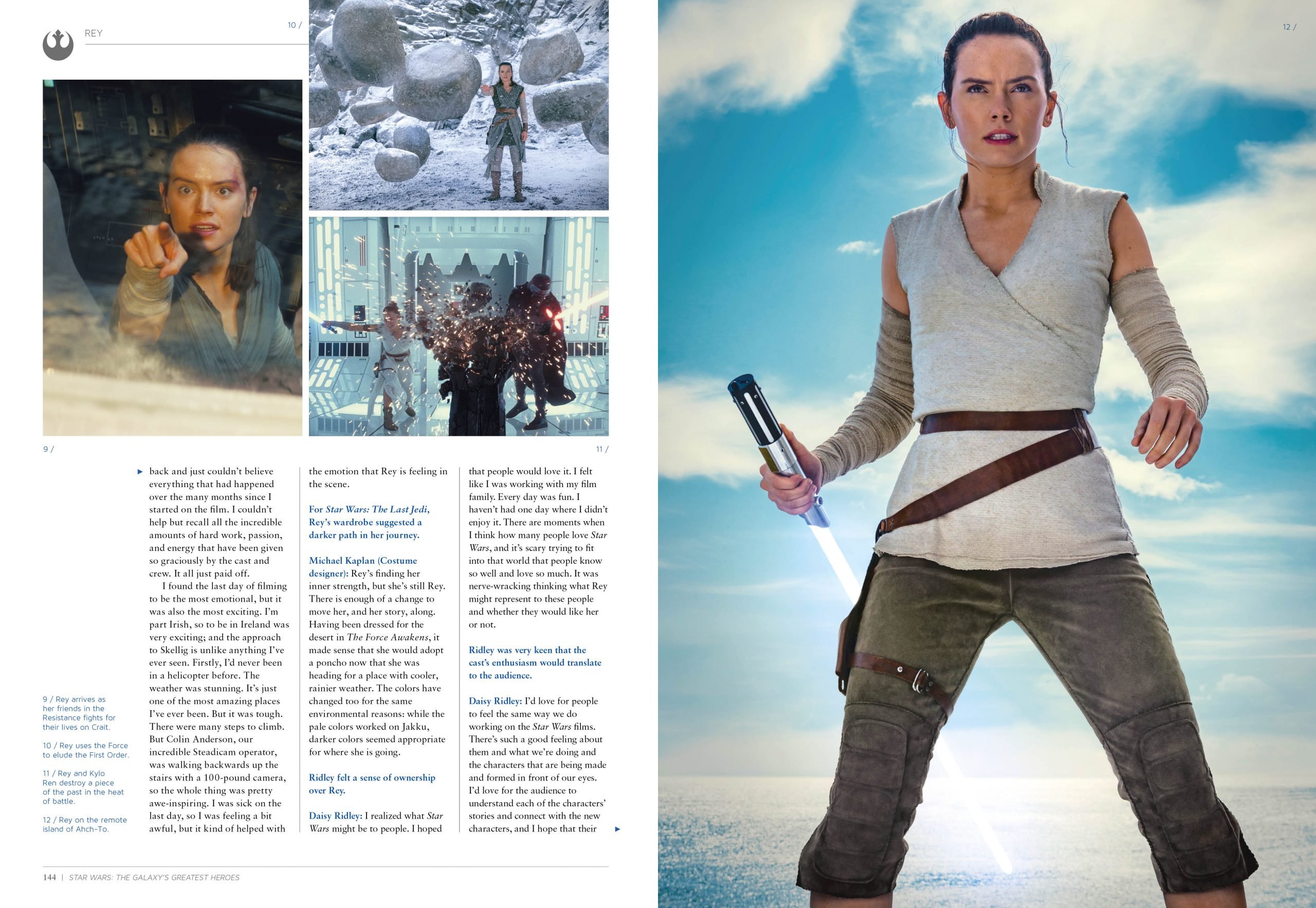 Don't worry my fellow sequel lovers, your favorite Resistance heroes are given plenty of time to shine too. While I may be a bit biased seeing as my favorite sequel trilogy character is Rey, I must say her section is simply outstanding. When you read Daisy Ridley's words, you get every bit of that wholesome natured woman with a hidden ferocity ready to be unleashed. Daisy herself might even be a bit Force sensitive, because when sharing why she felt like she needed to audition for the part, she simply said: "I just had this weird feeling." Who knows, maybe Daisy will be lifting rocks with her mind all too soon. Moreover, it may surprise you to learn about just how much physical training went into the character of Rey: 
"I worked on the upper body for four hours a day, four days a week for three months. Stunt-wise, we'd do warm-up and sparring, and kickboxing. Then, I'd do climbing."- Daisy Ridley
Sifting through these pages, you can't help but admire the work put in by Daisy and John Boyega (Finn) as they prepared for their work in The Force Awakens. Daisy and John both spend time describing what it was like being told they landed the parts, coupled with having to keep the biggest news of their lives a secret for too many weeks. It's truly funny reading Daisy describe it. 
A frankly fascinating portion is reading what the directors of the various movies had to say about the characters and their vision for who they needed to be. The attention to detail is astounding and impressive in its own respect. This book is not only a visual wonder, but a technical one as well, as you get to peer behind the lens in many respects and to learn the nitty-gritty of the tireless work it took for our favorite heroes to come to life. A particularly juicy portion is what Rian Johnson had to say about Poe Dameron.
There are so many stories I wish I could share from this work by Titan Comics. I haven't even scratched the surface of the savory details the pages have to offer. You will travel through time and see how Yoda went from a random image in one man's brain to a working puppet, then transformed into a purely digital character to then being a puppet once again. Get a deep look at our favorite Togruta, Ahsoka Tano, with some incredible interviews with Ashley Eckstein. The greatness of Felicity Jones is featured as she details the inner workings of the hero Jyn Erso, who brought hope to the galaxy in a time of darkness. We even get a section to commemorate the great work Warwick Davis did in bringing us our favorite Ewok, Wicket. And of course, the exploits and tales of our favorite little astromech are brought to life as well.
This book is for everyone who loves to dive deep. You will feel a wide range of emotions pouring through The Galaxy's Greatest Heroes. It has its place on every fan's bookshelf, as it will truly stand the test of time. I hope you all enjoy it as much as I did. Thank you so much to Star Wars Insider for the ARC used in this review. It's always a blessing to do these. 
Final Grade: 9.5/10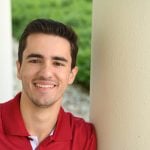 Finding ways to nonchalantly incorporate Star Wars quotes into his daily meetings at work, Tyler lives and breathes Star Wars. His morning tradition is sending the latest number in the countdown for different Star Wars projects and loves engaging in uplifting Star Wars dialogue. If you are passionate about  Star Wars you can follow him on Twitter at TyBrad5.