Lucasfilm Source Tells 'The Hollywood Reporter' That Cara Dune Is Not Expected To Be Recast in 'The Mandalorian'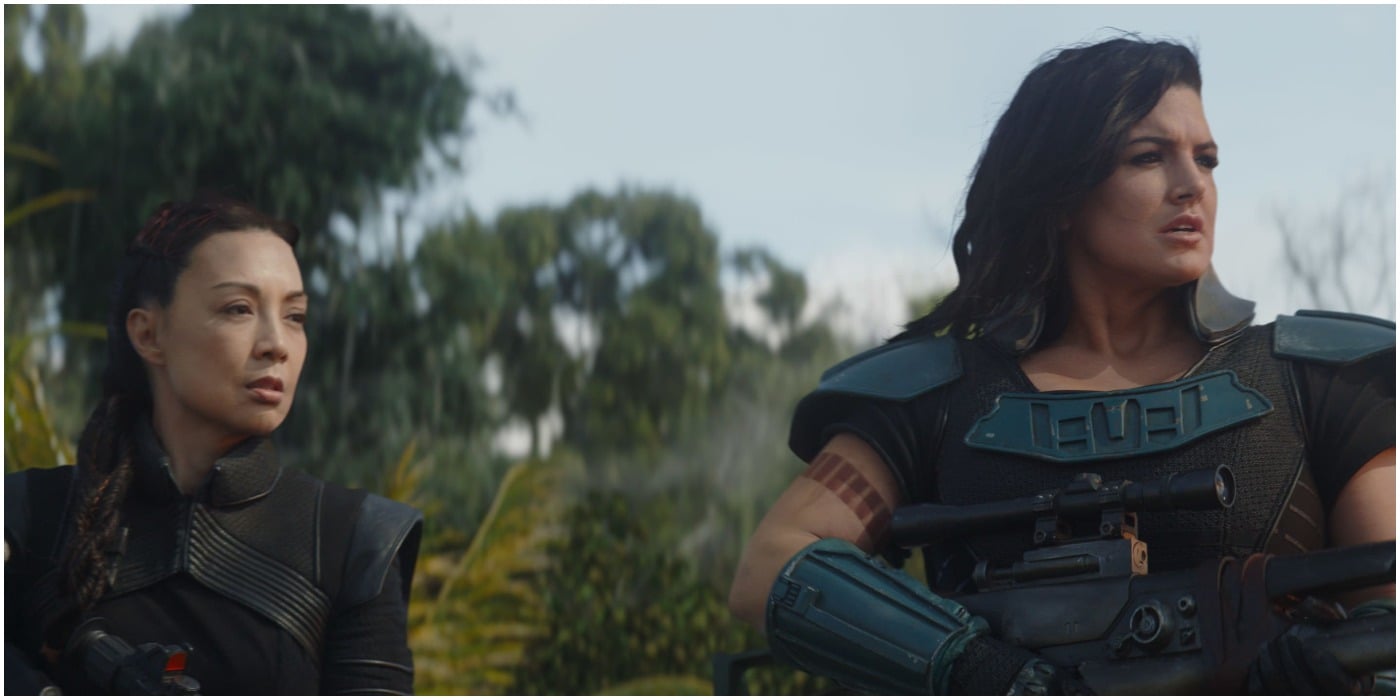 Lucasfilm reportedly had plans for Cara Dune, but following the recent firing of Gina Carano over controversial statements shared through social media, those plans are in question as industry insiders debate on whether or not the character will be recast. Lucasfilm reportedly gave Carano multiple warnings before dismissing her, and now that she has been dismissed, it's not clear what the next step is going to be for the character.
According to The Hollywood Reporter, Carano was in the midst of negotiating a pay raise for a spin-off series before she got herself into hot water; afterward, any mention of her was scrubbed from Disney's big December presentation last year. Whether or not this spin-off was Rangers of the New Republic or another series featuring the character is still unclear. The recent dismissal of Carano from the role doesn't seem to have had an impact on their immediate plans; the character wasn't expected to appear The Book of Boba Fett, the first of several spin-offs.
It's not difficult to see why Cara Dune could still be at the forefront of the various Star Wars shows set a few years after the events of Return of the Jedi; after all, she was the first non-masked female lead that The Mandalorian had, being able to hold her own as a fellow mercenary in a ruthless and dangerous galaxy meant that a spin-off could be tailor-made for the character. Later events in the series make her an enforcer of the New Republic, which is an aspect of the new canon that hasn't been explored compared to other sizable factions in the Star Wars setting. Cara Dune represents a unique perspective as well, since we haven't met very many Alderaanian characters aside from those within House Organa, and due to the destruction of her home planet, she'd have a very special reason to want to hunt the remnants of the Empire down. But now, there's a chance that it may not happen.
THR's own sources appear to disagree on whether or not the fate of Cara Dune is sealed. One Lucasfilm source told THR the Cara Dune role on The Mandalorian is not expected to be recast. This was a late amendment to their article which initially states other industry insiders telling them the character might be recast, citing new merchandise using a different actress' likeness as potentially profitable, and there are storytelling opportunities that can be achieved if a new actress takes over. In any case, it's known that multiple spin-offs to The Mandalorian are in the pipeline that are meant to coalesce into some kind of big event, and whether Cara Dune will appear in them, or some other character will take her place, remains to be seen.
The Mandalorian has aired its first two seasons on Disney+, with a third expected to arrive in 2022. The first spin-off, The Book of Boba Fett, will arrive in December 2021. Other spin-offs confirmed include Ahsoka and Rangers of the New Republic.
Grant has been a fan of Star Wars for as long as he can remember, having seen every movie on the big screen. When he's not hard at work with his college studies, he keeps himself busy by reporting on all kinds of Star Wars news for SWNN and general movie news on the sister site, Movie News Net. He served as a frequent commentator on SWNN's The Resistance Broadcast.