Star Wars: The Empire Strikes Back Review (Drive-in Edition)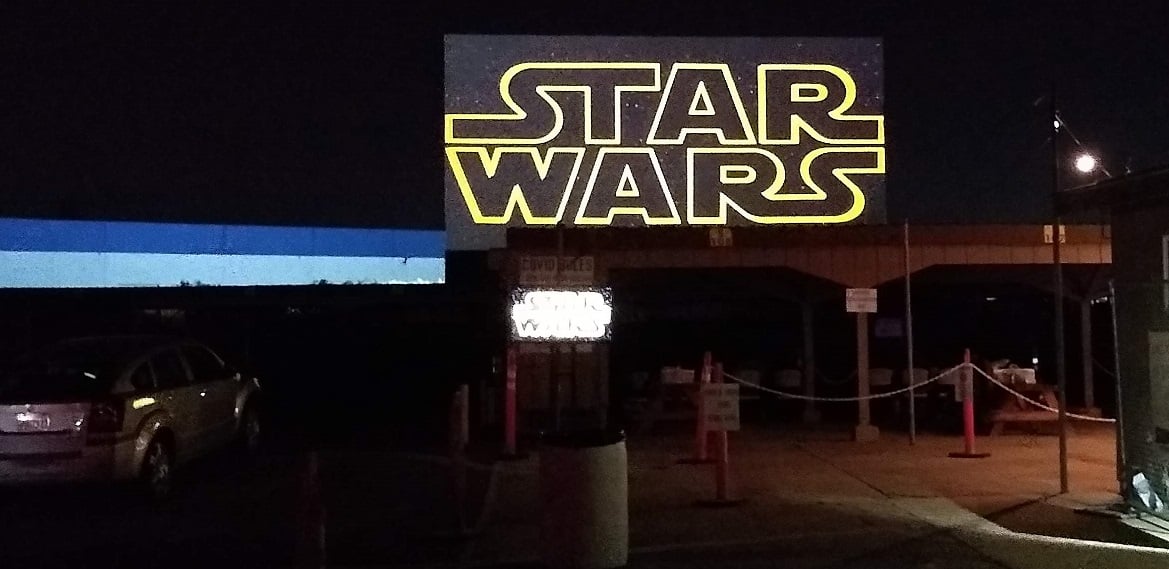 This past weekend I was fortunate enough to attend a screening of The Empire Strikes Back at a local drive-in. Here's how it went!
This was a family trip consisting of me, my wife, and our four daughters ages 7, 6, 4 and 2. I knew I wasn't going to just sit quietly and take it all in. But that's okay. I was happy to have the opportunity to share one of my favorite movies with my family in a very rare setting. The setting and the movie have special significance to me. According to my mother, the first movie I ever attended was The Empire Strikes Back at a drive-in back in my home state of Massachusetts. I was four  years old in 1980 and don't remember it at all. For all I know, I fell asleep. I never went to another drive-in again. They all closed soon after. So, the very next movie I saw at a drive-in was The Empire Strikes Back in Ceres, CA, forty years later.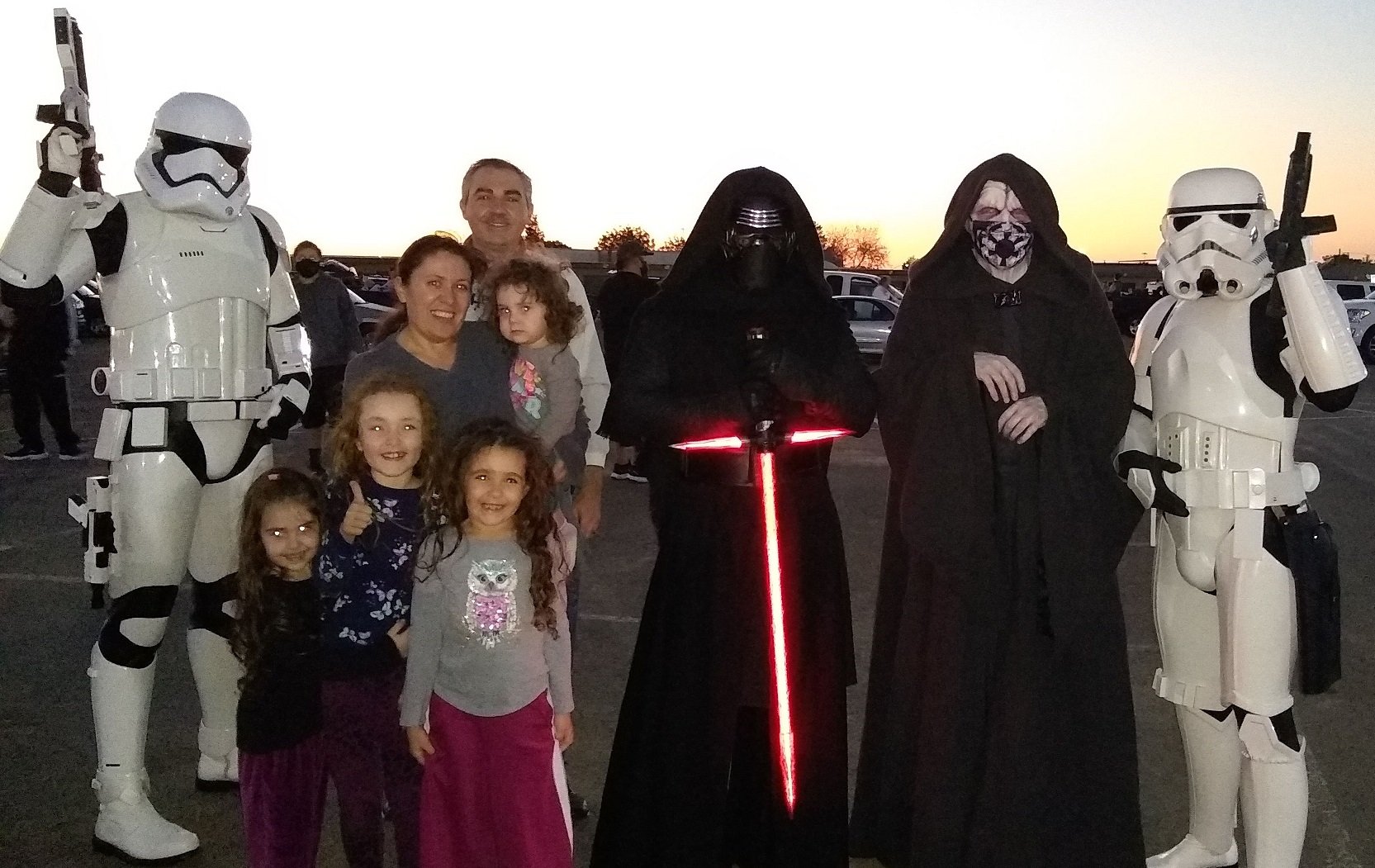 The first thing we all noticed upon driving into the parking area were members of the 501st Legion, walking around and taking pictures. If you're not familiar with the 501st, they are a group of fans that wear extremely accurate Star Wars costumes at events and make appearances for charities.  My daughters freaked out. They weren't scared; they were excited! My oldest had decided (without influence from me) to be a Stormtrooper for Halloween this year. Seeing a real life Stormtrooper made her day. They were extremely accommodating, took a few pictures with us and gave the girls stickers before moving on.
We actually followed the rules and didn't bring any food with us. While humming "Let's all go to the lobby", which is probably stuck in your head now, I made my way to the snack bar. I ended up spending about $60 on five slices of pizza (which were actually pretty good), three hot dogs, nachos, a chili cheese nacho plate, a few cans of Pepsi, and some candy. It was worth the money, especially now when I know businesses are hurting. It was part of the experience. Combined with the $40 per car ticket, I spent about $100 for the night.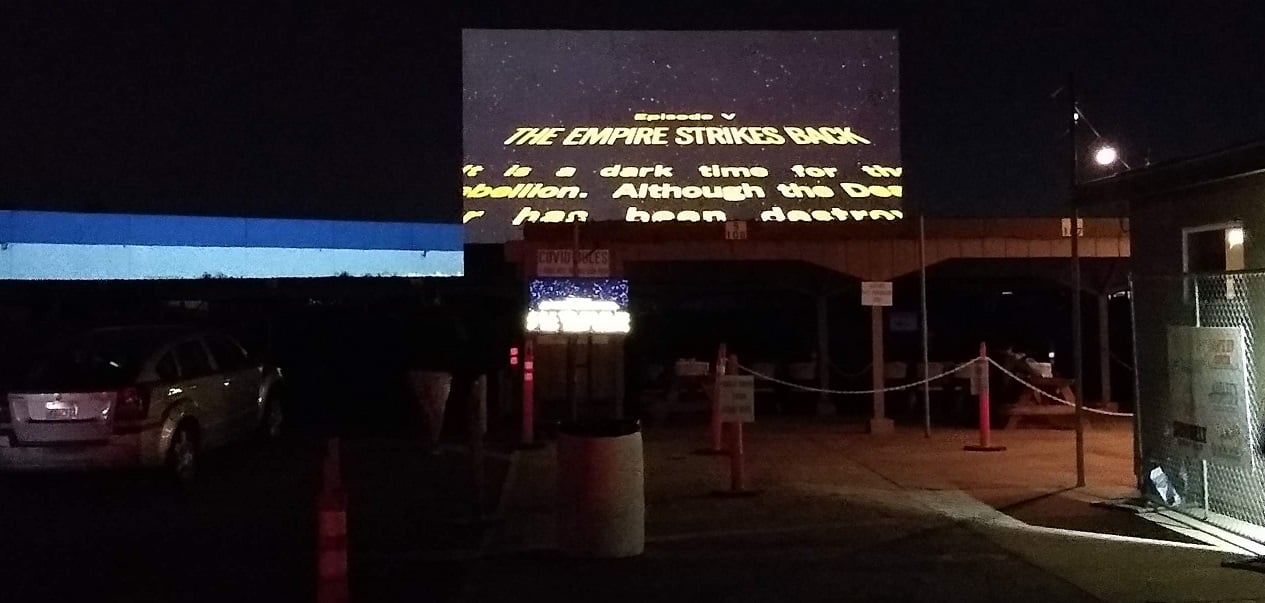 We all sat in front of our vehicle in folding chairs. Some of our views were partially obstructed by vehicles that were either really tall or had their hatchbacks open. We moved around a bit to make sure that the kids could see. While I wanted to sit and watch uninterrupted, I knew that there would be questions, eating incidents (some Pepsi was spilled), trips to the bathroom, and other distractions. A few times someone's headlights went on.  Once or twice we did it while trying to turn on the  radio in the car when one of the girls was too cold outside.
The distractions didn't hold a candle to watching The Empire Strikes Back at a drive-in with my family. It was just cool to be outside, watching an awesome movie on a giant screen. The movie looked really good and nearby lights didn't wash it out. Our sound came from a small portable radio that we put on the hood. It was surprisingly loud. We also leached some audio from someone nearby doing something similar. It worked well even if it wasn't premium sound. As you might expect, this iteration of Empire was the special edition. If there's one special edition that I actually like, it's Empire. If they show Return of the Jedi in the future, I'll probably go get a slice of pizza during the musical scene, as it would have less cheese.
After the movie I asked my daughters how they liked it and they said that they loved it and want to go to another movie at the drive-in. My wife likes Star Wars but not like her credits-memorizing-weirdo of a husband (I'm looking at you, Roger Christian, Set Decorator for A New Hope). She said that the drive-in experience made her like the movie more. There's something special about being outside, especially today when many of us are indoors a lot more. The presence of the 501st helped make the night extra special. If there's a drive-in near you, I highly recommend you experience it at least once. If it's a Star Wars movie, all the better. I grew up without drive-ins and feel like I missed out on something really cool. Now, matters are better.
Charles Fraser is originally from Lynn, MA but currently resides in Modesto, CA with his wife and children.  He works in IT by day and writes articles for MNN and SWNN by night.  While not reading Curious George books and watching Frozen II, again, with his children, he plays the drums, experiments with guitar and bass, sneaks a video game or two and enjoys movies and TV.  He also enjoys audiobooks.