Star Wars: Return of the Jedi Review (Drive-in Edition)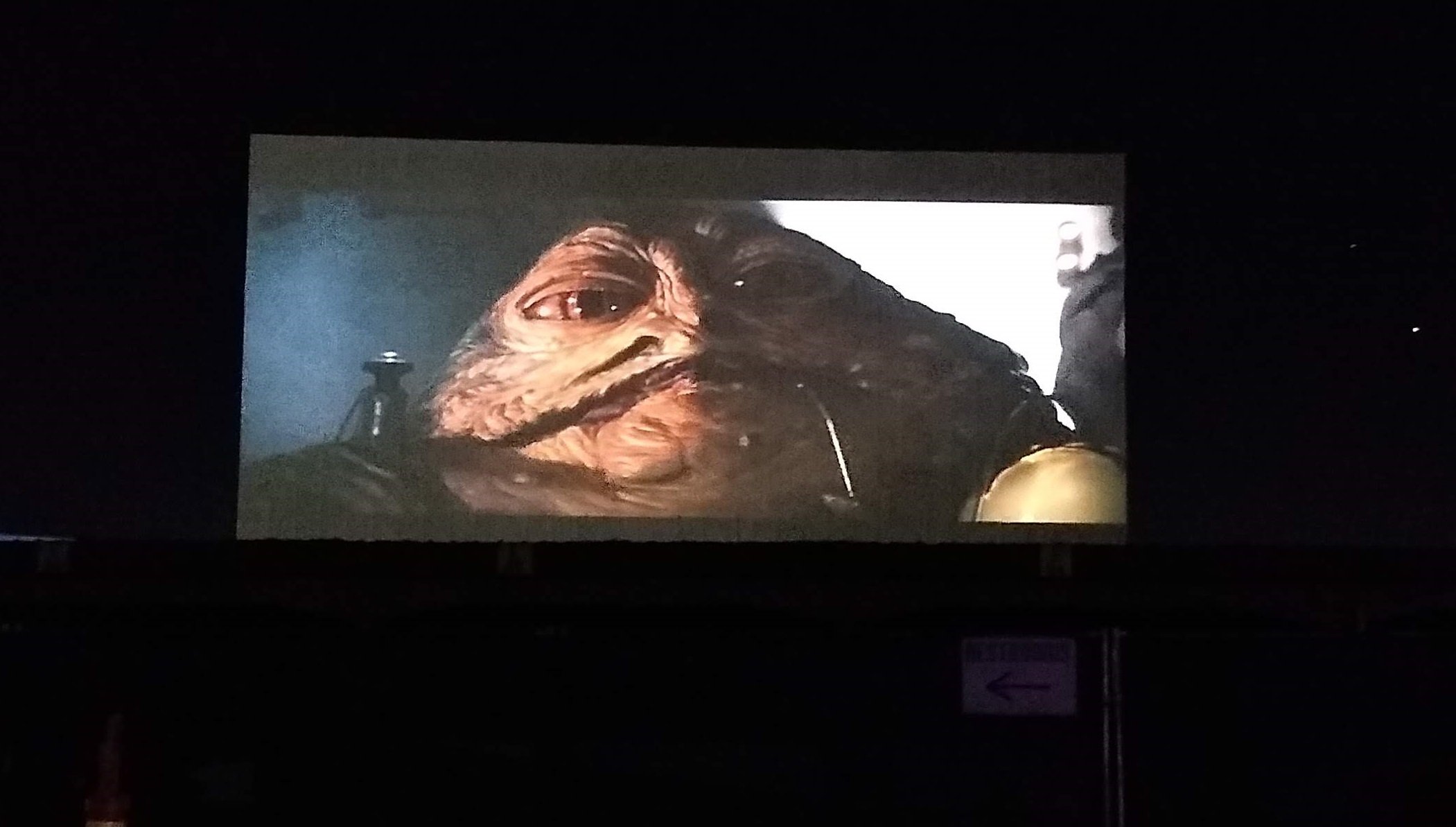 Return of the Jedi returned to the drive-in thanks to COVID-19.  After a great experience with The Empire Strikes Back, I decided to take the family back to a galaxy far, far away one more time…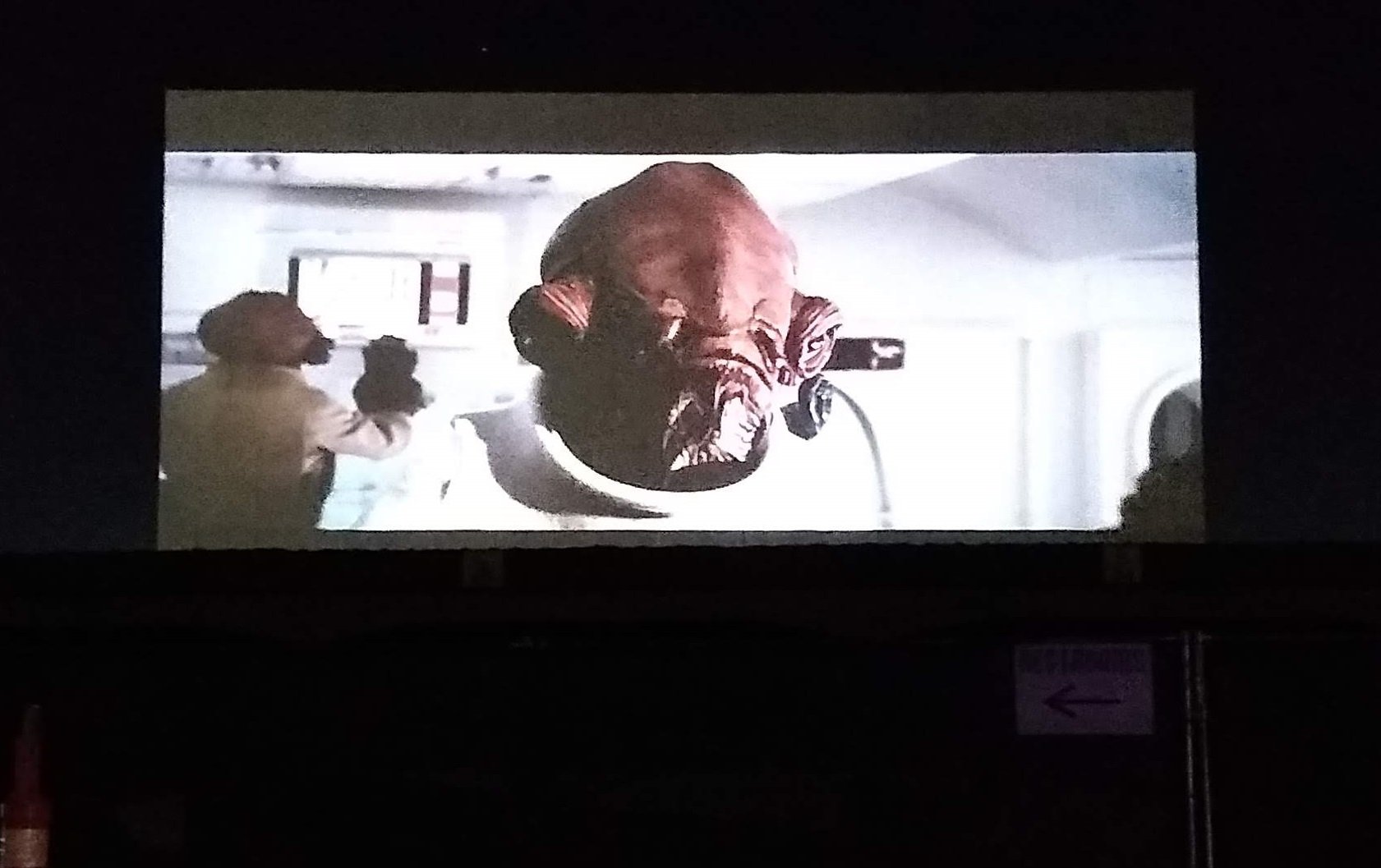 Back in October I had the pleasure of seeing The Empire Strikes Back at The Ceres Cruise-In in Ceres, CA. Since then I hoped that they would add Return of the Jedi to their schedule. Thankfully, they did. Last time, we got regular tickets and had a great time despite the cold. It's possible that this Star Wars drive-in experience may be our last, so we decided to go big. I bought the Family/Corporate package and it set us back about $165. That gets you:
8 Hot dogs (can substitute pizza or nachos)
16 drinks (Soda, Juice, Hot Chocolate, Water)
A bunch of candy (I don't know how many it was but it was a lot)
4 Large popcorns
A suite at the very front (we could park our car there because only two of the four suites were in use)
Chairs and a picnic table
A personal assistant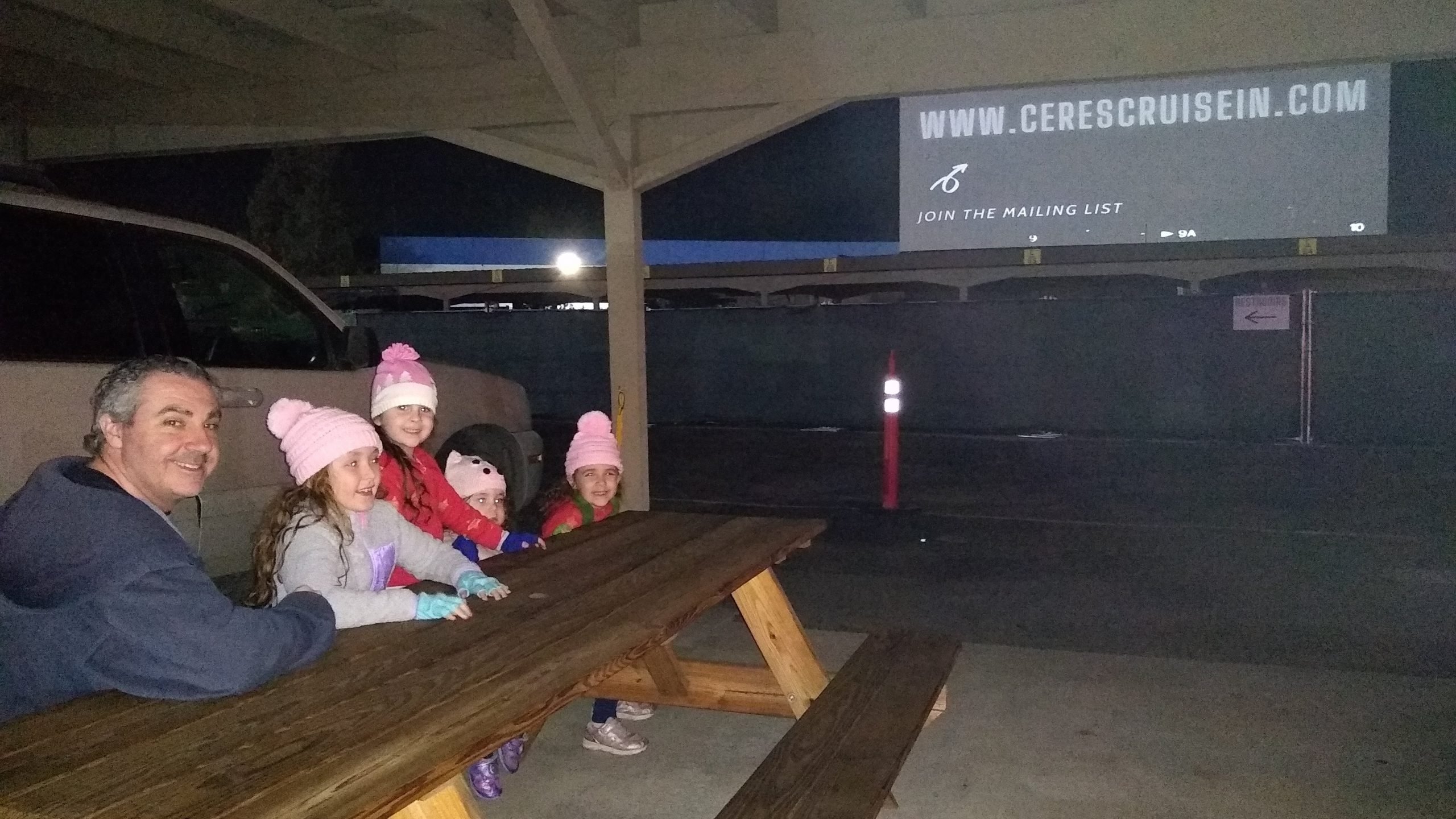 From the moment the man checking tickets saw our Family/Corporate package ticket they treated us like royalty. Everyone at the Ceres Cruise-In deserves a raise. The guy who scanned our ticket was friendly and told us about how to get our food and where to park. When we got to the designated parking area, the attendant told us we could park our car in the suite because only two of the suites were sold. If all of the suites had been sold we would have to park our car and walk to the suite. The suite is like a covered car port at the very front of the parking lot and is right in front of the concessions stand.  Having the car there was totally wizard because it got pretty cold and my wife and daughters temporarily climbed inside the vehicle throughout the night to warm up.
After parking the car our attendant, Antoinette, helped us with ordering food and answered all of our questions. Even though there were six of us and we ordered a bunch of different things at different times throughout the night, she never wrote anything down and never made a mistake. Antoinette was super friendly and made the night extra special. She had also worked there when they screened all three original trilogy Star Wars films and said she was a fan. Antoinette = Awesome + 10,000.
Two things made sitting in the front row great: our view wasn't obstructed like during The Empire Strikes Back, and there were speakers at the front of the lot. So we didn't need radios to get the movie's audio. Before the movie started I told my daughters (7, 6, 4 and 2) that the version of Return of the Jedi they were going to see would have some differences from the version they had seen at home. We kick it old school and only watch Harmy's Despecialized editions at home. I told them to keep an eye out for things that look different. I lost count of how many times they asked, "Was that different?" and I had to say "No". When they did spot a change they didn't ask, they told me, "That was different!". I was a proud dad when they pointed out the differences.
In my review of The Empire Strikes Back, I joked that I would go to the concessions stand and get pizza during the musical scene at Jabba's palace. I didn't. I sat with my girls and enjoyed the experience. Whatever issues I had with the special editions, they evaporated for the night. Sitting outside, watching Star Wars and answering questions from my daughters was way too fun to let nitpicks bother me. I'm hardcore about my Star Wars, but more hardcore about making memories with my family.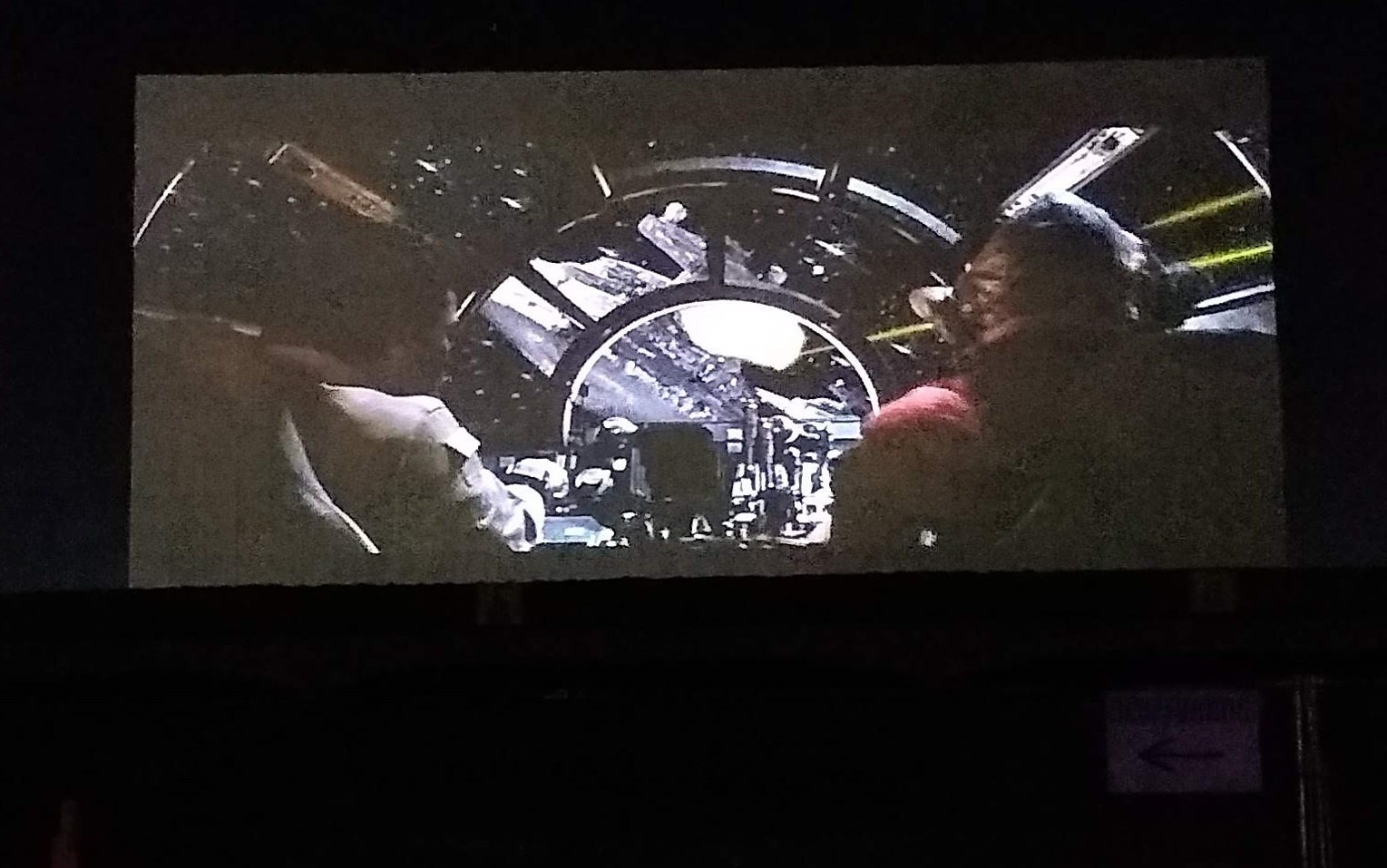 The movie looked and sounded great. Occasionally someone would turn their headlights on, lighting up the screen, but other than that the picture was beautiful. Seeing the space battle at the end on a 100 foot screen was breathtaking. I couldn't see where the sound was coming from, but I'm pretty sure it was just stereo sound. It was adequate.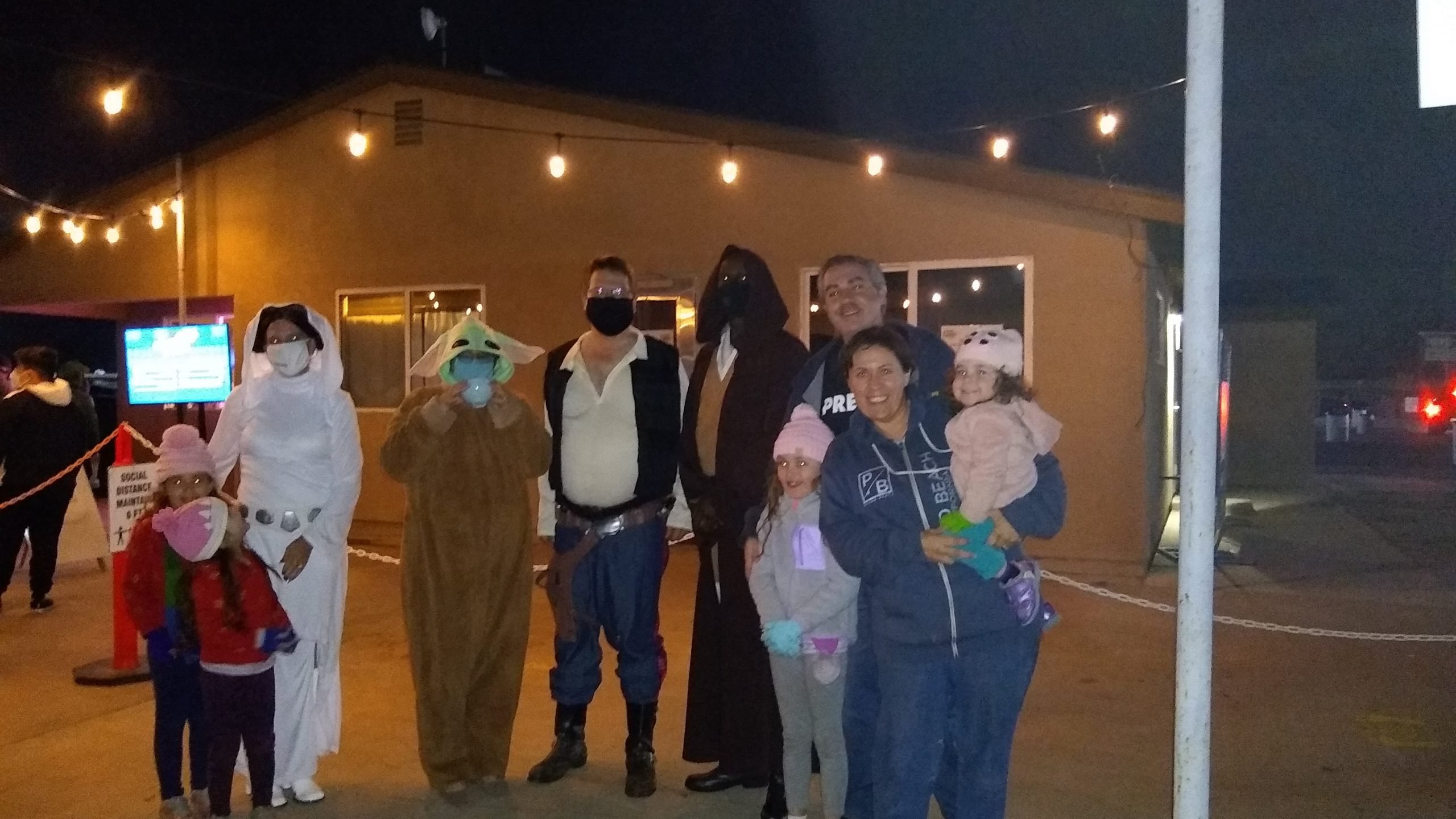 There were no members of the 501st Legion present, as with The Empire Strikes Back. But, there were some cosplayers and they were happy to take a picture with the family. Hopefully they will screen more Star Wars movies in the future. It would be nice to see them in warm weather. Also, if they could arrange to eliminate the dreaded COVID-19 I would really appreciate it; the masks are messing up my photos.
Charles Fraser is originally from Lynn, MA but currently resides in Modesto, CA with his wife and children.  He works in IT by day and writes articles for MNN and SWNN by night.  While not reading Curious George books and watching Frozen II, again, with his children, he plays the drums, experiments with guitar and bass, sneaks a video game or two and enjoys movies and TV.  He also enjoys audiobooks.