The 'LEGO Star Wars: The Skywalker Saga' Title Screen May Have Leaked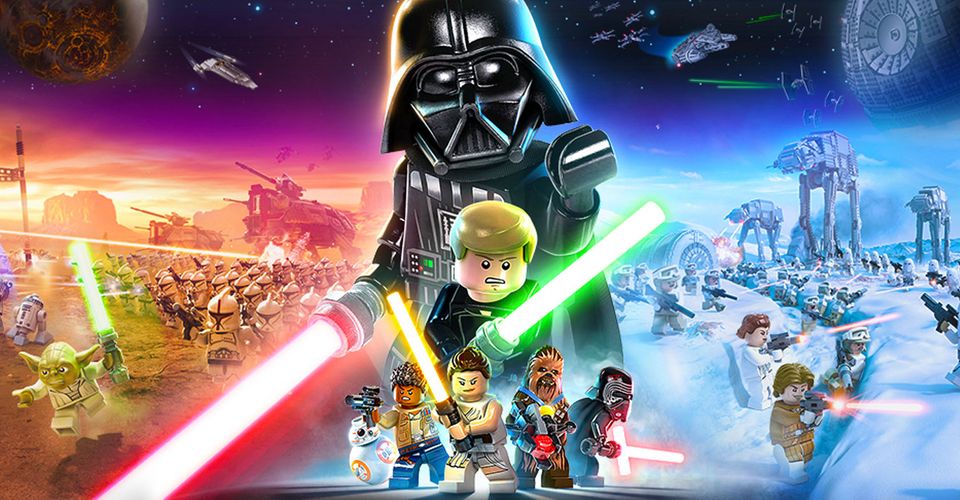 LEGO Star Wars: The Skywalker Saga's title screen may have possibly leaked! This apparent leak happened right around the same time that developers on the project seemingly hinted that the marketing on the title is about to move forward.
Yesterday, an image that allegedly came from an insider with access to the game surfaced on a Discord page tied to a subreddit dedicated to LEGO Star Wars: The Skywalker Saga, showcasing two disconnected images of the title screen. The original Reddit post documenting the two images was deleted, so I took the liberty of stitching the two photos together. Since they were disconnected, I had to guesstimate how much distance was between the two pieces:
LEGO Star Wars: The Skywalker Saga – Possible Leaked Title Screen (Incomplete)
I should note that the gap between the two parts of this image are not to scale. I had no idea how much distance would be between the two portions of the title screen, and I'd later discover that it was bigger than I thought. Anyway, moving on. Shortly after this image came out, another leak featuring a new section of the title screen and a plethora of characters, appeared from the same source:
Since then, some fans have attempted to reconstruct the title screen for LEGO Star Wars: The Skywalker Saga by attempting to bring it to scale. This one appears to be the closest, although the bottom image is spliced in a way that suggests that there will be slightly more room for additional characters:
Leaked title screen aligned to scale (credit: Gavin on Discord). from LegoStarWarsVideoGame
Finally, in the early hours of the morning, the full image leaked courtesy of YouTuber RuggedEagle. Some of the characters are in slightly different positions, suggesting that there's a degree of animation on the title screen. Check it out below:
FULL leaked LEGO Star Wars: The Skywalker Saga title screen (with watermark). from StarWarsLeaks
You can watch RuggedEagle's video below:
Strange as it may seem, this apparent leak seems to be the first visual content from LEGO Star Wars: The Complete Saga that we've received since the game last got a trailer at the very end of 2019. But more may very well be on the horizon. The developers at TT Games have kept pretty quiet about their most ambitious LEGO Star Wars game yet, but two of the key figures working on the title – Tim Spencer and Jack Chapman – have taken to leaving some cryptic teases on their Twitter pages, quoting the movies. Check them out below:
…There has been an awakening.

— Jack Chapman (@ShakaInc) July 28, 2020
Have you felt it?

— Jack Chapman (@ShakaInc) July 29, 2020
The dark side…

— Jack Chapman (@ShakaInc) July 30, 2020
… I felt a great disturbance …

— Tim Spencer (@ThatThereTim) July 29, 2020
…Remember, concentrate on the moment. Feel, don't think. Use your instincts…

— Tim Spencer (@ThatThereTim) July 29, 2020
…I'm just a simple man, trying to make my way in the universe…

— Tim Spencer (@ThatThereTim) July 30, 2020
These Star Wars quotes have to run out at some point, and we'll just have to see where they lead. Hopefully, some official news will arrive sooner rather than later – this game was likely going to be presented at Star Wars Celebration Anaheim, and since that was cancelled, news for this title could arrive earlier in August than initially planned.
LEGO Star Wars: The Skywalker Saga will release on October 20, 2020 for Microsoft Windows, Nintendo Switch, Xbox One, and PlayStation 4.
Grant has been a fan of Star Wars for as long as he can remember, having seen every movie on the big screen. When he's not hard at work with his college studies, he keeps himself busy by reporting on all kinds of Star Wars news for SWNN and general movie news on the sister site, Movie News Net. He served as a frequent commentator on SWNN's The Resistance Broadcast.