Deadline Confirms Rosario Dawson as Ahsoka in 'The Mandalorian' – Could Be Test for Her Own Series
Deadline has confirmed Slashfilm's report from two days ago that Rosario Dawson (Sin City, Luke Cage) will play Ahsoka in season 2 of The Mandalorian when it arrives on Disney+ in the fall. The news has yet to be officially confirmed by Lucasfilm – the initial rumors claimed they were treating this reveal as top secret, as this would have been as exciting a reveal as Baby Yoda's reveal in the first episode of season 1.
Rosario Dawson had mentioned years ago that she would be interested in playing the fan favorite, so it's interesting to see her land the role after so much time has passed. It should also be noted that Dave Filoni, who co-created the character of Ahsoka Tano with George Lucas on The Clone Wars, is a writer, director, and executive producer on The Mandalorian, and will have presumably been a part of the casting process himself.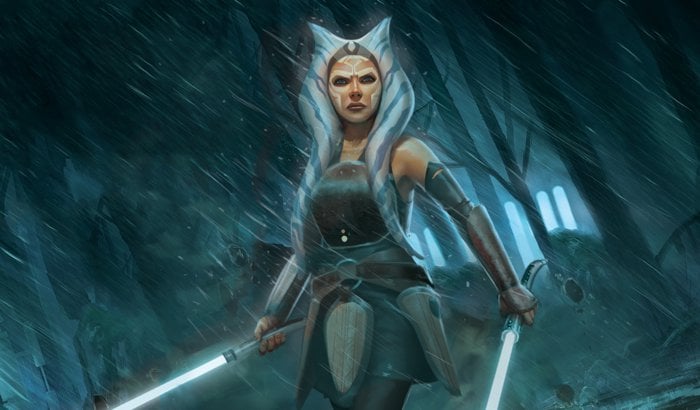 Deadline also state that Ahsoka will not be a series regular on The Mandalorian. Interestingly, The Hollywood Reporter are also wondering if the character's appearance will serve as a backdoor pilot for a live action Disney+ show centered around the former Jedi. They wrote:
True news: Rosario Dawson is joining The Mandalorian as Jedi Ahsoka Tano. Slash Film's Peter Sciretta has the scoop. But here's the big question: Could this be a backdoor pilot for an Ahsoka series? There are rumors …
Many fans had been hoping to see a continuation of Ahsoka's story from Star Wars: Rebels, where she is about to begin a search for missing Jedi Ezra Bridger in the Unknown Regions with mandalorian Sabine Wren. Fans assumed this story would be taking place as another animated series, but Rosario Dawson's casting opens up the possibility that this could be a live action TV show instead.
This would open up numerous possibilities for live-action depictions of animated characters, as surely Sabine, Ezra, and maybe even Grand Admiral Thrawn himself would have to get the live action treatment in that case.
It will be strange not having Ashley Eckstein voice Ahsoka, who has been synonymous with the character for Star Wars fans for over a decade now, but fans have been hoping to see a live-action Ahsoka for years. Now we'll just have to wait to see how it all turns out.
Josh is a huge Star Wars fan, who has spent far too much time wondering if any Star Wars character could defeat Thanos with all the Infinity Stones.