Joel Edgerton Expected Back as Owen Lars in the Obi-Wan Kenobi Disney+ Series
It has been no secret Joel Edgerton has been completely on board with returning to Star Wars as Owen Lars if given the opportunity. Well, the idea has resurfaced now that the Kenobi series has been confirmed. MTV News' Josh Horowitz ran the idea by Edgerton in an interview recently, and the actor may have tipped his hand a bit.
Caught up with Joel Edgerton today (check out THE KING! I really enjoyed). I have almost no doubt based on his coy evasiveness that he will be in the Obi Wan Disney+ series. I've seen many an actor playfully evade. I'm placing a big bet that Owen will be back.

— Josh Horowitz (@joshuahorowitz) October 1, 2019
Back in 2017, Edgerton was interviewed by Business Insider where he minced no words in expressing his desire to return as Uncle Owen, even painting a potential narrative for the character. From the 2017 interview:
"I like the idea that Uncle Owen is one of those guys who has done some super cool s— but has just never bragged about it. My idea is that he could go out and have some adventure and then he comes back and slips back into that unassuming moisture farmer role. Everyone talks about Obi-Wan being super cool, Owen secretly knows that he was there, and he did some of the cool s—, too. My pitch to all of them is there's definitely some Owen possibilities."
Between his candid eagerness to return and as Horowitz puts it, his recent coy evasiveness, it's quite possible Edgerton has already been asked to return and now has to keep mum about it. Two years ago he was rallying off his story ideas, and now he is being a bit shy…NDA (Non-Disclosure Agreement) anyone?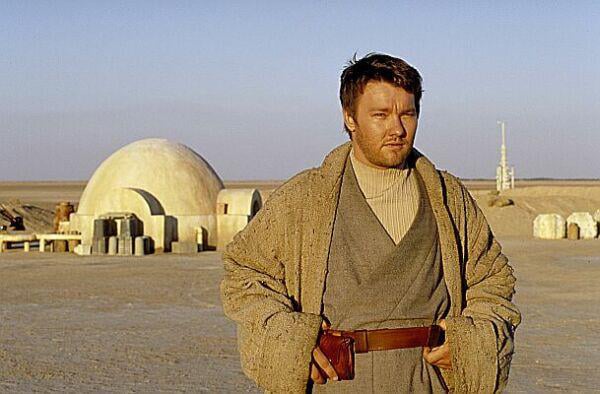 I would be shocked if Joel Edgerton is not back as Owen Lars in the Kenobi streaming series, it just makes too much sense and can happen without it feeling like some sort of force-fed fan service. He is supposed to be there. We will keep you posted if more details on Edgerton's potential involvement surfaces. But in the meantime, just keep relishing in the fact that Ewan McGregor is coming back as Kenobi, because I still am.
John Hoey is the Lead Editor and Senior Writer for Star Wars News Net and the host of The Resistance Broadcast podcast
"For my ally is the Force, and a powerful ally it is."