Daisy Ridley on Her First Conversation with Abrams About the End of the Skywalker Saga and More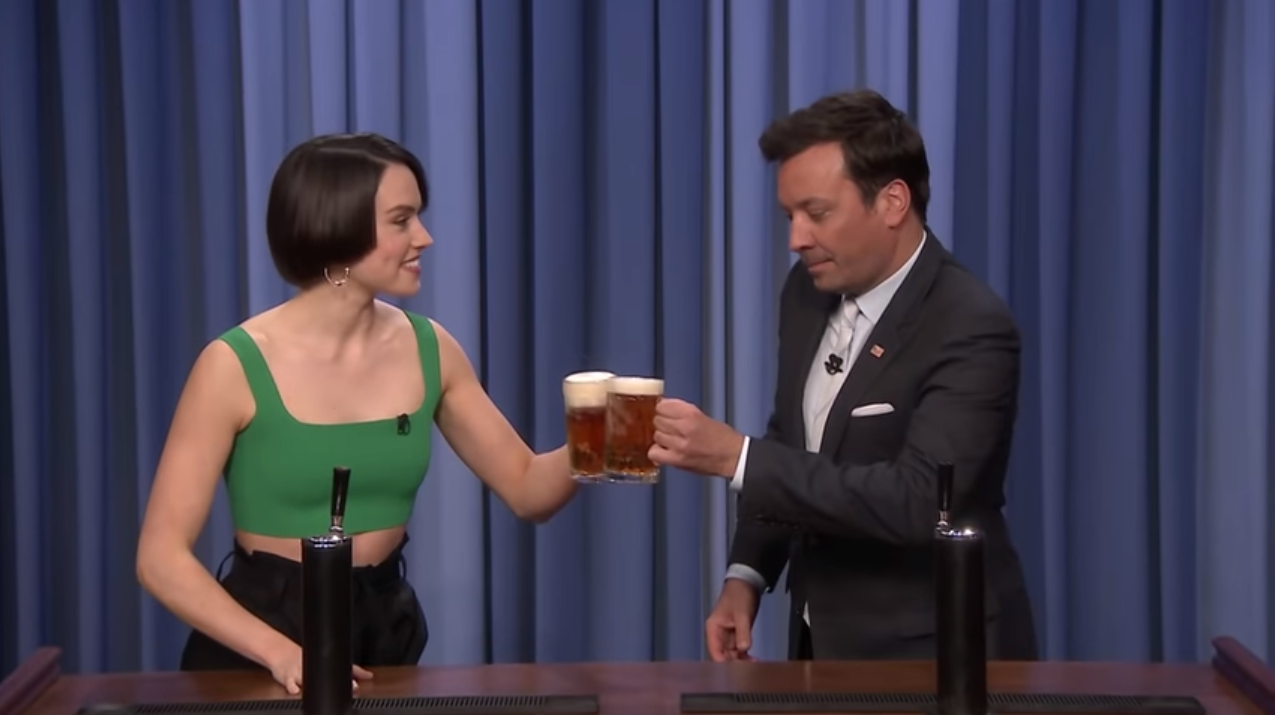 Our beloved Rey, actress Daisy Ridley, made an appearance on The Tonight Show Starring Jimmy Fallon yesterday to promote her new film Ophelia, a take on the classic Shakespeare tale Hamlet, but from the perspective of Daisy's titular character, Ophelia. Naturally though, Jimmy wasn't going to talk to a Star Wars actor without at least asking some questions about the upcoming The Rise of Skywalker. Read on to see what Daisy said about her reaction to the story and the very non-private manner that J.J. delivered it to her.
She seemed to have a great time on the show as the two of them talked Star Wars and Ophelia. Daisy even showed Jimmy the proper way to pour a pint of ale and took a minute to do some karaoke, performing Lil' Kim's part on "Lady Marmalade" for the audience. Lil' Daisy knocked it out of the park and proved once again why fans love her and gravitate to her bubbly personality.
In the interview, Daisy revealed that The Rise of Skywalker's director/writer J.J. Abrams met with her in a public café to openly discuss the movie's story. She went on to say that the story eventually changed, but how cool would it have been to be casually sitting in the booth or table next to them during this exchange.
Check out her comments on The Rise of Skywalker below, and be sure to watch the two clips from the show before you go. If you love Daisy as much as we do, we know you'll enjoy.
Jimmy Fallon: This is the last of the franchise. This is it. There's no more Star Wars.

Daisy Ridley: I mean, there's more Star Wars. There's just no more of this one.

JF: But this is, this is major.

DR: Yeah.

JF: When you first got the script…did you get the script? That's my question. Or did they give you pieces of the script?

DR: No, J.J. was like "hey, wanna meet up?" I was like "Sure". I was like "Yeah, I want to hear the story".

JF: So J.J. Abrams, the director/writer, he calls you up and says…

DR: He said "do you wanna meet up? I'll tell you about it". I was like "Sure". This was a few months before we started, and we were in a public, you know, a café. And he fully told me the story from start to finish. And he was speaking at a normal volume, and I was like "people can hear us". But regardless, the story changed. So, like, he told me the thing, and then a few months later it changed.

JF: It did? And were you happy with the ending?

DR: Um, yeah. It's…it's epic.

JF: Wow.

DR: Yeah, yeah, yeah.

JF: Oh I like that. There's no bigger word than epic.

DR: Yeah, it's very exciting.
Daisy went on to talk about her overwhelming emotions as she gave her wrap speech on her final day of filming. After that, the pair of them had a blast with a little karaoke and Daisy gave Jimmy a lesson in bartending.
Jordan Pate is Co-Lead Editor and Senior Writer for Star Wars News Net, of which he is also a member of the book and comic review team. He loves all things Star Wars, but when he's not spending time in the galaxy far far away, he might be found in our own galaxy hanging out in Gotham City or at 1407 Graymalkin Lane, Salem Center, NY.