The Resistance Broadcast – Could Rey and Kylo Ren Face Off Twice in Episode IX?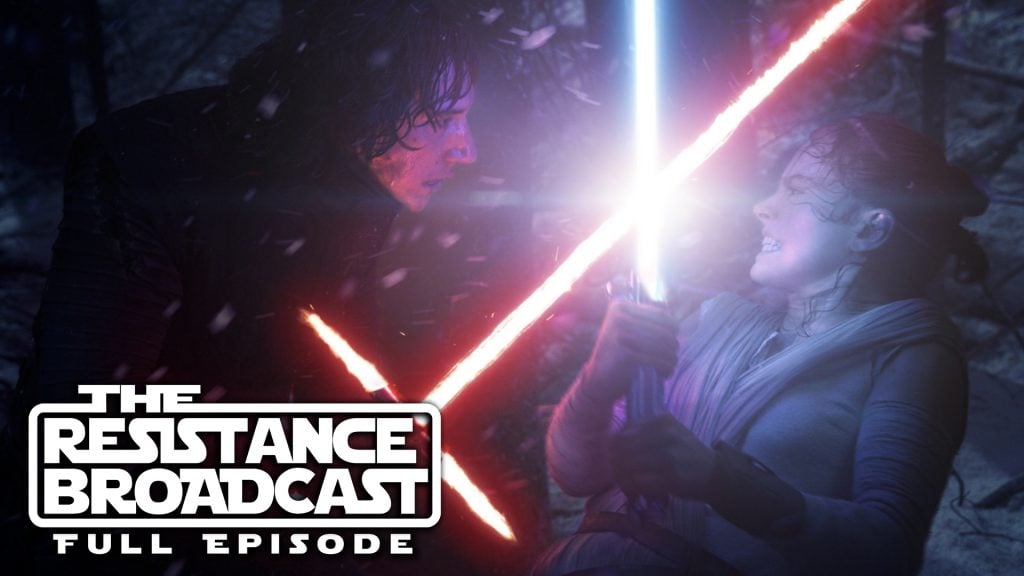 Watch or listen below! On this episode of The Resistance Broadcast we discuss the fact that Kylo Ren has yet to beat anyone in a lightsaber duel. Assuming he doesn't defeat Rey at the end of Episode IX, we discuss the possibility of the two of them facing off more than once in the film. As you might assume this conversation turns into quite the debate, grab your popcorn!
We also dive into our segment Will of the Force where we tackle questions like – Will Episode IX beat Avengers: Endgame at the domestic box office?
As always we end the show with your tweets in #ResistanceTransmissions! The Resistance base is now open, so come on in and join us!
On this transmission of The Resistance Broadcast:
John Hoey, James Baney, and Lacey Gilleran!
WATCH OR LISTEN
The podcast is now watchable on video, and make sure you are subscribed to our YouTube channel which is FREE!
If the audio version is your preferred method nothing has changed, so no worries! You can always find us on Soundcloud, iTunes!, and Spotify! Now on to this episode!
WILL OF THE FORCE
Will Bodhi Rook appear as an Imperial pilot in the Cassian Andor series?

PATRON SUBMISSION: Melo and Dani have submitted this one

Will the World Between Worlds ever be seen in a

Star Wars

film?

Will

Star Wars

ever destroy the Millennium Falcon?!

Will Thrawn be killed off in the inevitable

Rebels

finale follow up, whenever that may be?

Will a standalone Vader film ever be made by Lucasfilm?

Will Star Wars: Episode IX beat Avengers: Endgame in domestic box office total?
HOW TO SUPPORT THE PODCAST
Our podcast episodes are free as always but if you'd like access to more exclusive content and rewards and support the show and crew you can sign up for our Patreon page!
Starting with tiers as low as just 2 dollars a month, you gain access to all of our additional content, videos, commentaries, giveaways, polls, and a lot of fun daily rewards, perks, and other fun stuff! Simply click HERE and take a look at the options! We appreciate any and all support. Thank you!
Special thanks to our Patreon Generals Adam Odle, Carmelo, and Val Trichkov and our Patreon Admirals Don Boring, Brian Shellito, Tampa Movie Guy, Matt Bain, Bryan Pothier, and Jason
BUY YOUR RESISTANCE BROADCAST MERCH!
Pick up some of our awesome designs on a shirt, coffee mug, tank top, sticker, hoodie, pillow, anything! Simply go to our Resistance Broadcast store on TeePublic – check out our 40+ different design and pick what you like, like our brand new aurubesh backed logo below! You can head right to the store by clicking on the image below! Thanks for the support and enjoy the swag!!!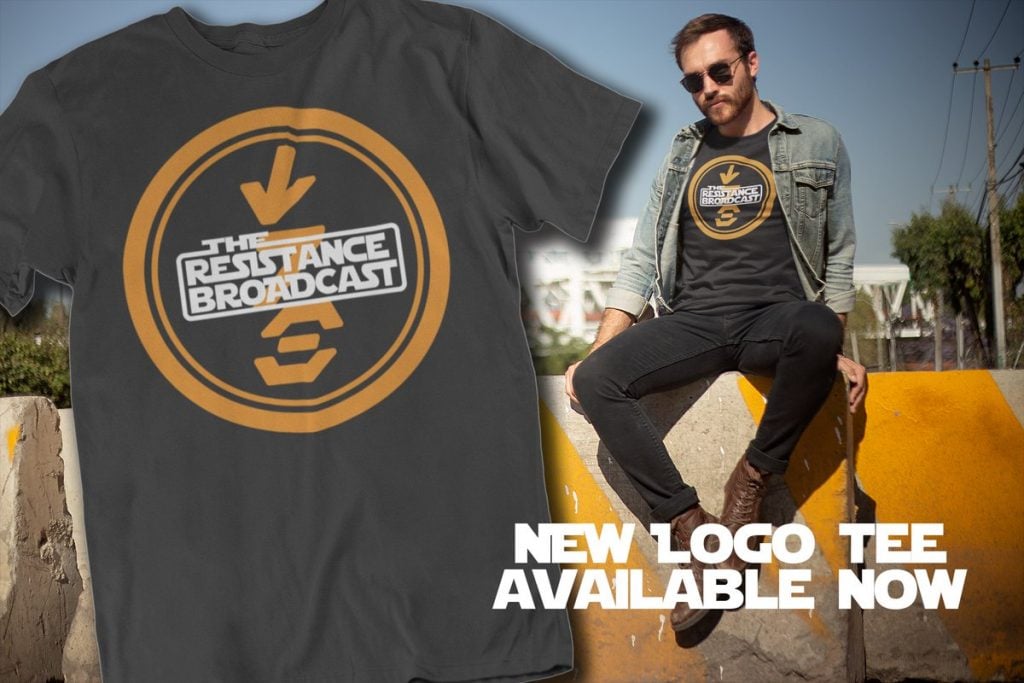 DID YOU MAKE IT ON THE SHOW?
We pitch a situation to you, and you fire away! Did yours make it on this week's Resistance Transmissions?
Listen and find out, and follow us on Twitter @RBatSWNN!
#ResistanceTransmissions is ON! Sometimes we just want to hear your take on future possibilities!

Rey and Kylo Ren are going to have an epic lightsaber battle in #EpisodeIX. But could you see them facing off more than once in the film?

Best answers will make it on the show! pic.twitter.com/cm64wrrt4K

— The Resistance Broadcast | Star Wars News Net (@RBatSWNN) January 3, 2019
Special thanks to Matt Pasterick for our theme song!
John Hoey is the Lead Editor and Senior Writer for Star Wars News Net and the host of The Resistance Broadcast podcast
"For my ally is the Force, and a powerful ally it is."