Star Wars: Episode IX – Spike Lee Confirms Adam Driver is Still Filming in London

Fresh off of his nomination for Best Director for the 91st Academy Awards, BlacKkKlansman director Spike Lee has confirmed that Adam Driver is still filming scenes for Star Wars: Episode IX. Lee also shared a brief anecdote about Episode IX's filming crew taking a moment out of today's schedule to congratulate Driver for earning his first Oscar nomination.
In a new piece by The Hollywood Reporter showcasing nomination reactions by the filmmakers, Spike Lee issued a comment about his Best Director nomination and the film's Best Picture nod. In addition, Lee revealed that Driver, who played Detective Philip "Flip" Zimmerman in his movie, is still hard at work on one of the biggest movies of his entire career:
"He's shooting Star Wars [Episode IX] in London, where they stopped production and the first AD assembled the cast and crew to congratulate Adam."
It appears Driver is still hard at work on Episode IX, which is reportedly filming through mid-to-late February. We know next-to-nothing about the film's plot, but it wouldn't be surprising if Episode IX nets Driver more screen time than he's had in the previous two films in the trilogy.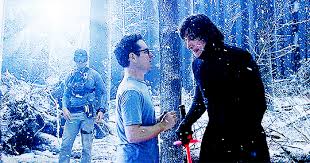 It has been known that J. J. Abrams likes to shoot his films in sequence. If that is also the case with Episode IX, knowing principal photography is ending in the coming weeks, we can assume Driver's Kylo Ren will appear well into the third act of the movie (though it's safe to say we all assumed that already).
We'll be sure to report any/all significant updates as more information about one of the year's biggest films comes to light.
Special thanks to Sleemo for the find.
Star Wars: Episode IX will be released in the United States on December 20, 2019.
Grant has been a fan of Star Wars for as long as he can remember, having seen every movie on the big screen. When he's not hard at work with his college studies, he keeps himself busy by reporting on all kinds of Star Wars news for SWNN and general movie news on the sister site, Movie News Net. He served as a frequent commentator on SWNN's The Resistance Broadcast.