Updated with the Winners! SWNN Giveaway: Win One of Two Collectors Edition 'Star Wars: The Last Jedi' Soundtracks on Vinyl with Art by Dan Mumford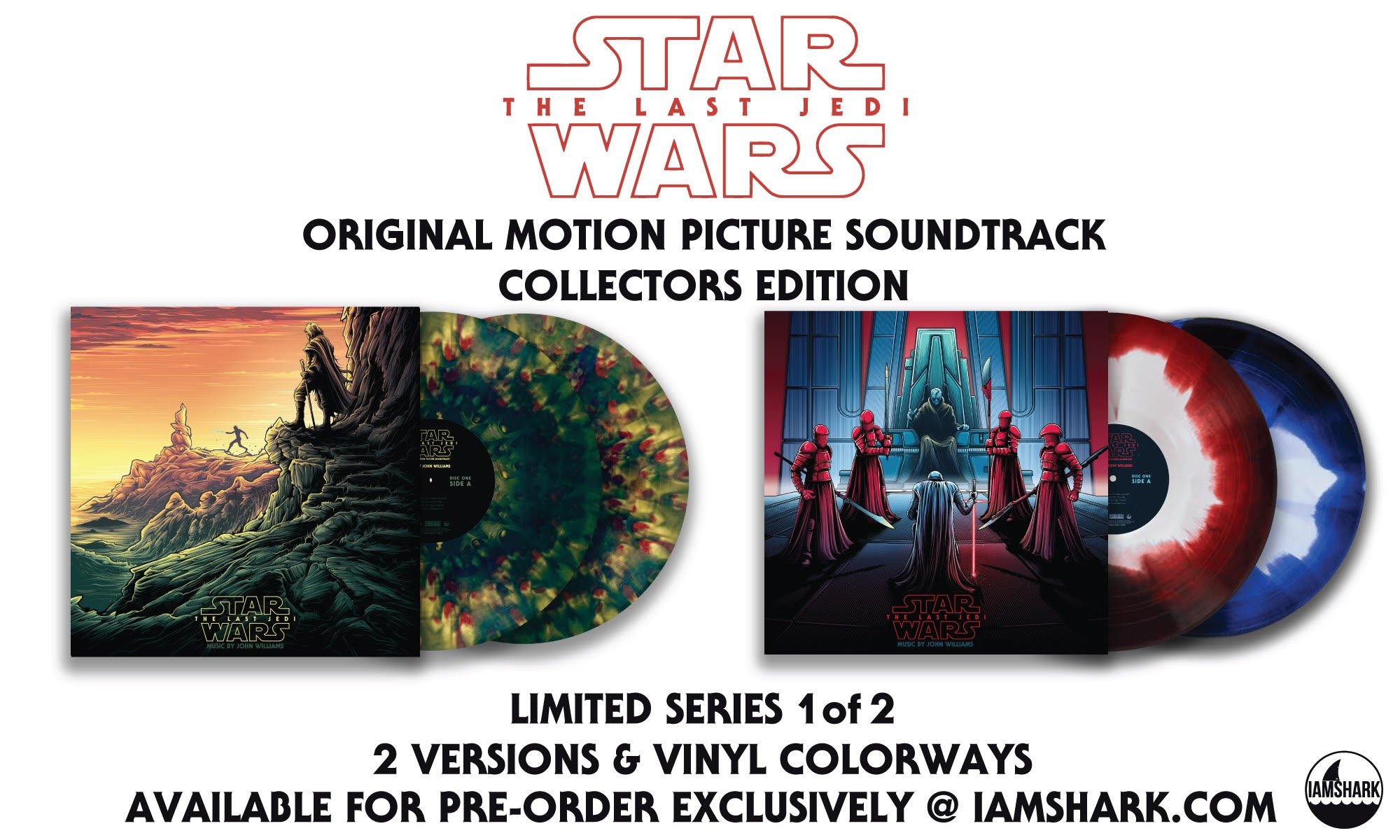 I Am Shark is returning to the Star Wars universe to present the Collector's Edition release of Episode VIII: The Last Jedi (Original Motion Picture Soundtrack) 2xLP. With original artwork created by the brilliant Dan Mumford from the UK, which includes collectible covers that share an exclusive inner gatefold and frameable inserts. 40 years after the original Star Wars theme captivated audiences around the globe, The Last Jedi soundtrack sees the return of iconic composer John Williams. His climatic score-style and underlying motifs has been an essential cog in the new trilogy, continuing the nostalgic fells while building new tracks and themes. Proceed after the jump to find out how you can win of these two limited edition pieces of art.
The Last Jedi goes on sale Friday, October 12th as an exclusive pre-order through IAMSHARK.COM, and shipping will begin November, 30th, 2018. Two of four collectible covers (Luke & Rey, Snoke & Kylo) and cohesive colored vinyl pressed on 180 gram discs are available today, each variant limited to 1,000 copies. The remaining two variants will be released later. You can visit the I Am Shark official website and social media platforms for more news, releases, and information.
Thanks to I Am Shark we are giving away two copies of the soundtrack with the two covers made by Dan Mumford. To enter the contest just tell us in the comments section below, which one of the two new Star Wars scores by John Williams is your favorite – The Force Awakens or The Last Jedi. We will announce the winners next Friday!
UPDATE!
And the two winners (picked by Google's random number generator) are:
and
The winners should send us an email at viralhide@gmail.com to organize the shipping of the prizes.