Kathleen Kennedy on the Future of 'Star Wars' Television
Vanity Fair's June cover story finally opened the thick doors at Lucasfilm and gave us a lot of details on some of the company's upcoming Star Wars projects. Besides sitting down with the creators and lead actors of their five upcoming shows (Obi-Wan Kenobi,  Andor, The Mandalorian, Ahsoka, and The Acolyte), they also had a long chat with Lucasfilm President Kathleen Kennedy.
Kennedy was knighted as the head of the studio almost ten years ago when Disney bought the company from George Lucas. She was tasked with revitalizing the Star Wars franchise in the audience's eyes, after the prequels had disappointed many in the early 00s. Then, after making three saga movies that grossed over $4 billion combined, she realized the franchise needed to steer away from the films and start focusing on the television side, something the new Disney Plus streaming service would allow them to do. As Kennedy explained, the transition into a televised form of storytelling was only natural for Star Wars:
"What's unique about Star Wars is that we're one story, basically. George was always dealing with episodes. Ironically, he was serializing his storytelling. He was influenced by Flash Gordon and cliff-hangers on Saturdays at movie theaters. All of that informed what the DNA of Star Wars is, which is why I think it's just organic that we made the transition into television."
Before the release of The Rise of Skywalker, Lucasfilm regrouped and decided to start focusing on TV, as Kennedy said:
"We all recognized, every single one of us, that this was a new chapter for the company and that we needed to all work together to create the architecture for where we were going."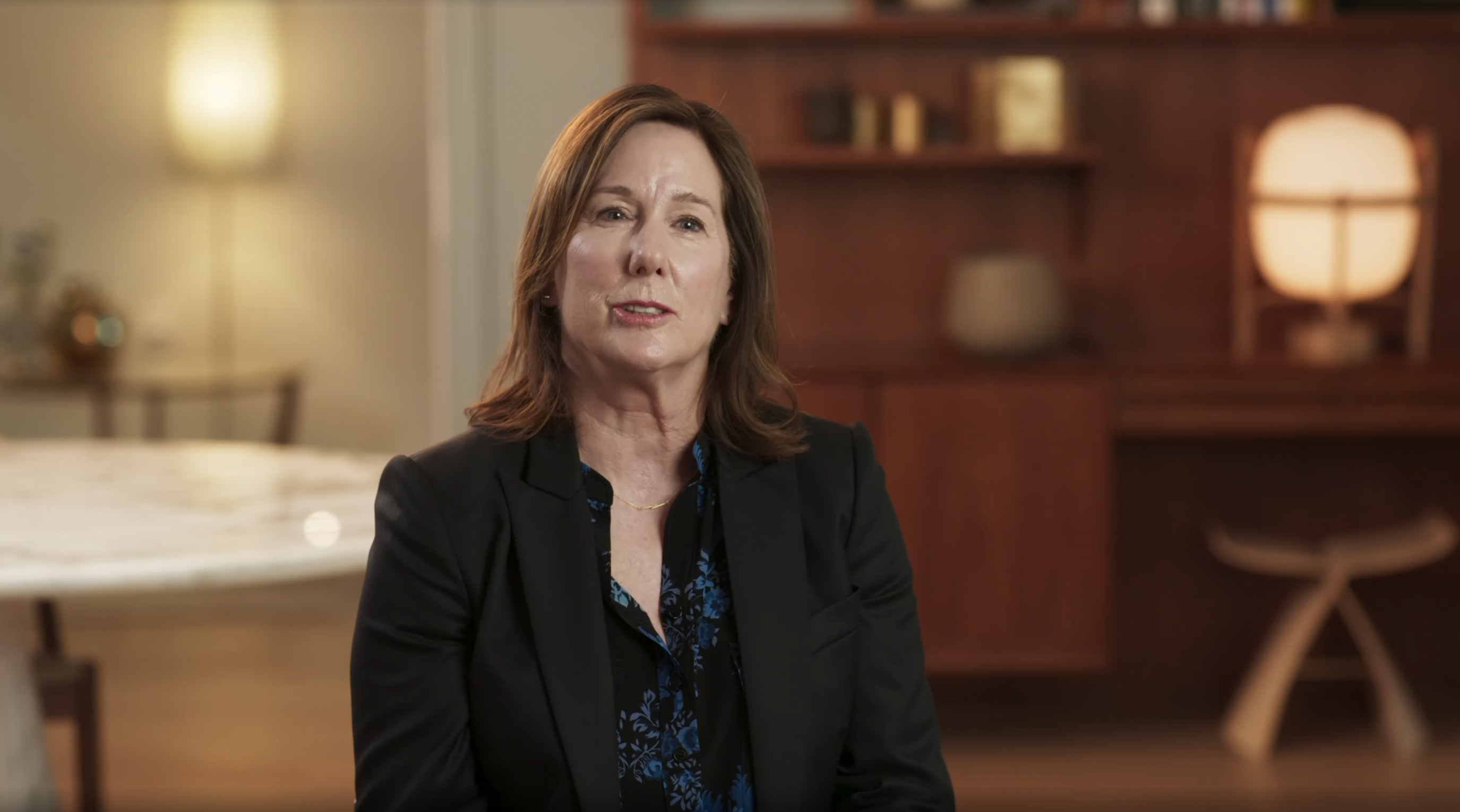 In 2017, when Iger announced plans for the streaming service, he tasked Lucasfilm with creating live-action shows set in a galaxy far, far away. This would basically become yet another revitalization of the franchise after it'd already reinvented itself with the prequels and then the Disney acquisition. To do that, Kathleen Kennedy turned to a creative that she knew was a big Star Wars fan, and who had already kicked off Hollywood's biggest franchise in 2008, Jon Favreau. She said:
"I knew that Jon Favreau was always deeply interested in Star Wars. He was the first person I went to. He said, 'Not only would I have an interest, I have an idea.' What's unique about Jon is his commitment. He's had a sole focus pretty much on this for the last several years. That's been a godsend."
Favreau started working on The Mandalorian immediately, even before he'd officially signed with the studio, as he said:
"I just started writing. So by the time I was officially hired, I had already written the first, I think, four episodes."
As soon as the idea of having a show centered around a Mandalorian crossed Kennedy's desk, she immediately turned to the biggest Mandalore expert in the house, Dave Filoni. She paired him with Favreau and they just "got along instantly, like gangbusters," as Kennedy described it. The two of them discussed extensively how to bring The Child into the show and how to portray him and his species, and they were very careful about what to say and what not to say. Filoni said:
"Honestly, it's something I never would've done because Yoda is Yoda. I think people now look back and think it was like a slam dunk, but we were very cautious. The amount of measuring, especially in the first season, for how we were framing this kid took a lot of effort."
To help make the show, Jon Favreau and ILM pioneered a new technology that will probably become the standard for how movies and shows are made in the next few years. It is, of course, the Volume, a.k.a. StageCraft, a colossal, curved LED that replaces green screens and blue screens, and helps the filmmakers and the actors immerse themselves into other-worldly environments. Initially, they built a studio in Los Angeles for season one of The Mandalorian, which then was expanded for season two. Several other Volumes have since been built around the world, including two other sets in Los Angeles, one in Vancouver, and one in London.
Almost the entirety of the Obi-Wan Kenobi series was shot in the Volume in Los Angeles, though Lucasfilm hasn't been the only studio to use the technology for their projects. In late 2020, Warner Bros. booked London's set to film The Batman after they came back from the COVID-19 lockdown, and Taika Waititi, who already worked with the StageCraft technology in his episode of The Mandalorian season 1, used it when he filmed Thor: Love and Thunder in Australia.
In fact, the technology is so revolutionary it even knocked James Cameron's socks off. The filmmaker visited the set back in 2019, when he was in a water tank right around the corner filming his Avatar films. Richard Bluff, supervisor of ILM's environmental departments, recalled the moment:
"James Cameron came to visit. He was next door working on the Avatar sequels in his water tank. Jon had asked for us to display on the monitors the test we'd shot earlier in the day.

I remember distinctly Jim taking off his glasses and leaning close to look at the quality of the image and how convincing it was. I think, for everybody, that afternoon was the eureka moment, because it was working."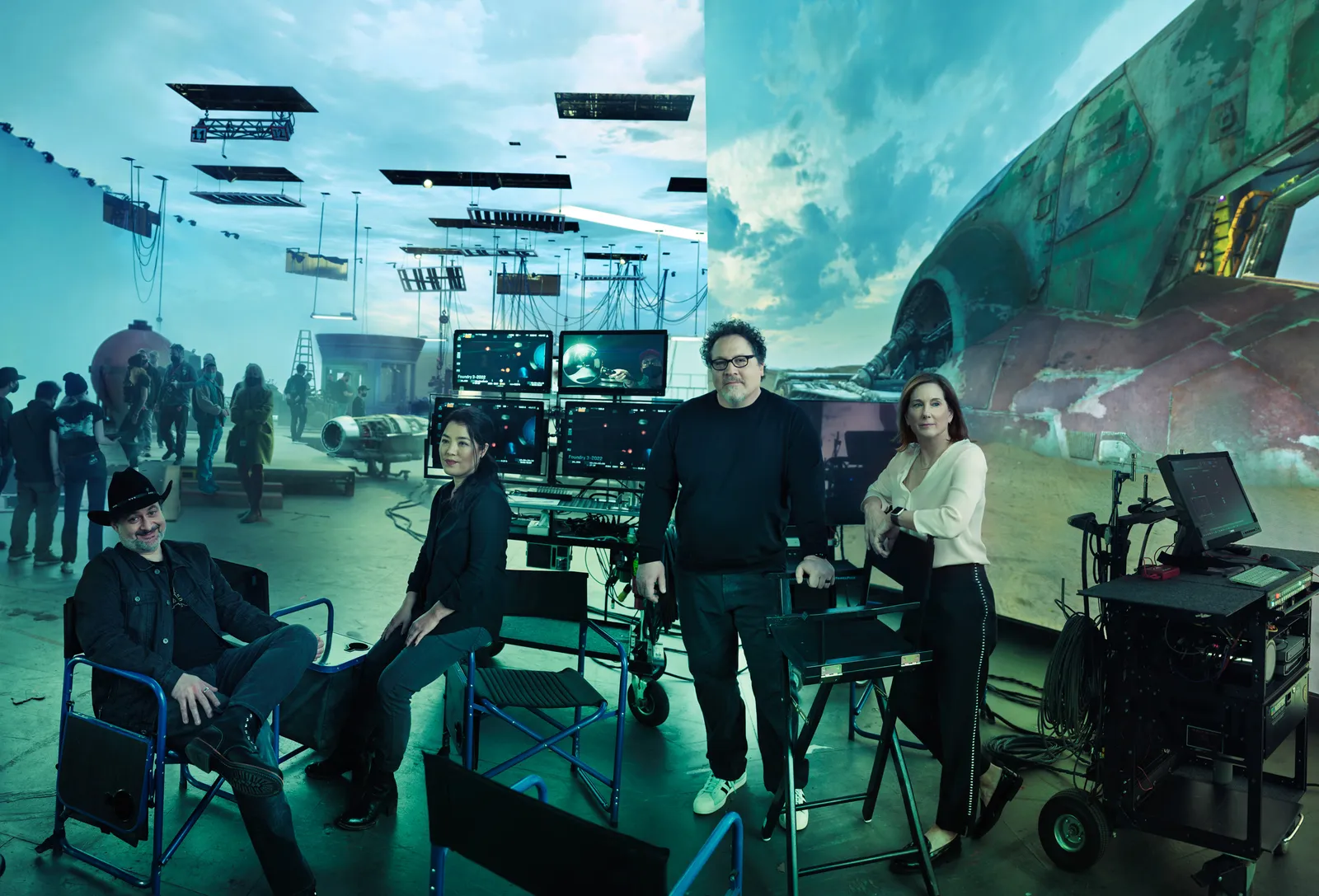 One of the many revolutionary aspects of the technology is how it allows filmmakers to cut time (and therefore costs) in their productions. When asked if the Volume allowed the team to make an entire season of The Mandalorian in the same amount of time as a full Star Wars or Marvel feature film, Favreau simply responded:
"No, it's like half the time."
The Volume technology was used for both seasons of The Mandalorian, The Book of Boba Fett, and the about-to-be-released Obi-Wan Kenobi. The third season of The Mandalorian, which Vanity Fair confirmed will be airing on Disney Plus either late 2022 or early 2023, also used it. It wrapped filming in late March. And plans for using it do not stop there. The team behind The Mandalorian and The Book of Boba Fett is currently hard at work filming the new Ahsoka series for Disney Plus, which has been filming for a couple of weeks at this point, and is also using the Volume. The Acolyte, from Leslye Headland, will also be using it.
But that is not the entire roster of upcoming shows, though. Reports of a new show codenamed Grammar Rodeo started circulating earlier this year, and now Vanity Fair is confirming that it is real. Jon Watts (Spider-Man: No Way Home) will be the creator and executive producer of a brand-new series that will be set post-Return of the Jedi and that will feature four pre-adolescent children. Apparently, the show is being internally described "as a galactic version of classic Amblin coming-of-age adventure films of the '80s." The company has not announced a title for it yet, but we might get more details during Star Wars Celebration.
A show that has been officially announced but that was not brought up by the Vanity Fair piece is Lando, which Donald Glover sort of confirmed earlier this year that was happening. Hopefully, we'll get an update on that next week. Also interesting to note, we haven't had any updates on the animation side of things or a hypothetical second season of The Book of Boba Fett.
For now, the future of Star Wars television seems bright. With Obi-Wan Kenobi ten days away, as of this posting, and Andor coming out in less than four months, there is a lot to be excited about. Stay tuned!
Miguel Fernández is a Spanish student that has movies as his second passion in life. His favorite movie of all time is The Lord of the Rings, but he is also a huge Star Wars fan. However, fantasy movies are not his only cup of tea, as movies from Scorsese, Fincher, Kubrick or Hitchcock have been an obsession for him since he started to understand the language of filmmaking. He is that guy who will watch a black and white movie, just because it is in black and white.