Star Wars Episode IX: More Details on the Reported Filming in Jordan and Other Potential Filming Locations


On the heels of the report we shared with you Monday, we came upon more potential details about this rumored shooting location for Star Wars: Episode IX in Jordan and some other potential bits about the film's production.
We spoke with someone, requesting anonymity, who shared this information with us – telling us that not only is the report accurate, but that "it is 100% for Episode IX" and painted a picture as to what type of location it is for. In addition to this they told us a few other bits about the film's production. This is not blowing a lid off of anything spoiler-wise so fear not, but these are certainly some interesting bits of information about the production. I will then sprinkle in my speculation using this information towards the end of the piece if you'll entertain me.
But first, let's go over what we were told. As with anything, if it doesn't comes from Disney or Lucasfilm it can't be considered anything more than a rumor until otherwise confirmed, though we are confident in this information.
Our source was confident in saying the report of this rumored filming location for Episode IX in Jordan is indeed correct. Being closely tied to the area, they went on to say that extensive filming is taking place there. In addition to the structures there are a lot of props there for a market scene. They have been filming there for some time now. There are strange looking baskets and unusual materials and fabrics.
Based on what they have seen and heard through set dressings and props they "surmise Abrams has incorporated a significant amount of callbacks to previous episodes" in Episode IX as a way of closing out the entire nine-episode saga. What is interesting about this is the source was not aware of the Neimoidian-looking stand-ins, as they were not on location when those were put up. So the combination of their statement mixed with what we saw here from the previous report makes it all the more curious.
Other Potential Locations and an Update on the Filming Schedule 
Beyond filming in Jordan, they went on to say that while it has not happened yet, filming could potentially occur in Ireland, Italy, and California, which instantly makes me think it's possible we see Ahch-To once more (Ireland), revisit Naboo for the first time since Revenge of the Sith (Italy), and could a shoot in California mean a return to the Redwoods for Endor? Will we see the return of Wicket and the Ewoks? In addition to the Redwoods for Endor, California was also used for parts of Tatooine in A New Hope. Admittedly those Star Wars planets (and an Ewok return) are purely joyful speculation on my end, though the source confirms those filming locations are indeed currently on the table and have been requested. As with any film production, things can change, the source made it clear that while those locations have been requested for filming, nothing has been agreed upon, and things can change.
We have heard several whispers of rewrites (which are completely normal for any film's production). Our source explained that filming will continue into next year, including one Pinewood set in particular being specifically extended for that reason. They said:
"Filming is happening in Jordan and at Pinewood. Pinewood sets are filming into next year with one of the sets having been extended to film for an additional two months due to a rewrite."
Our source got the feeling that part of Episode IX's story could be the last of the allies reaching out to previous planets and species we are familiar with to rally the troops for the final stand for the galaxy. Many fans have wondered – will we return to a planet we saw in the original or prequel trilogy? We have yet to do so in the sequel trilogy, in addition to the lack of old familiar alien species we grew to love in the first six episodes of the saga.  Perhaps it's time to let the past thrive with locations and creatures (much to Kylo Ren's dismay)?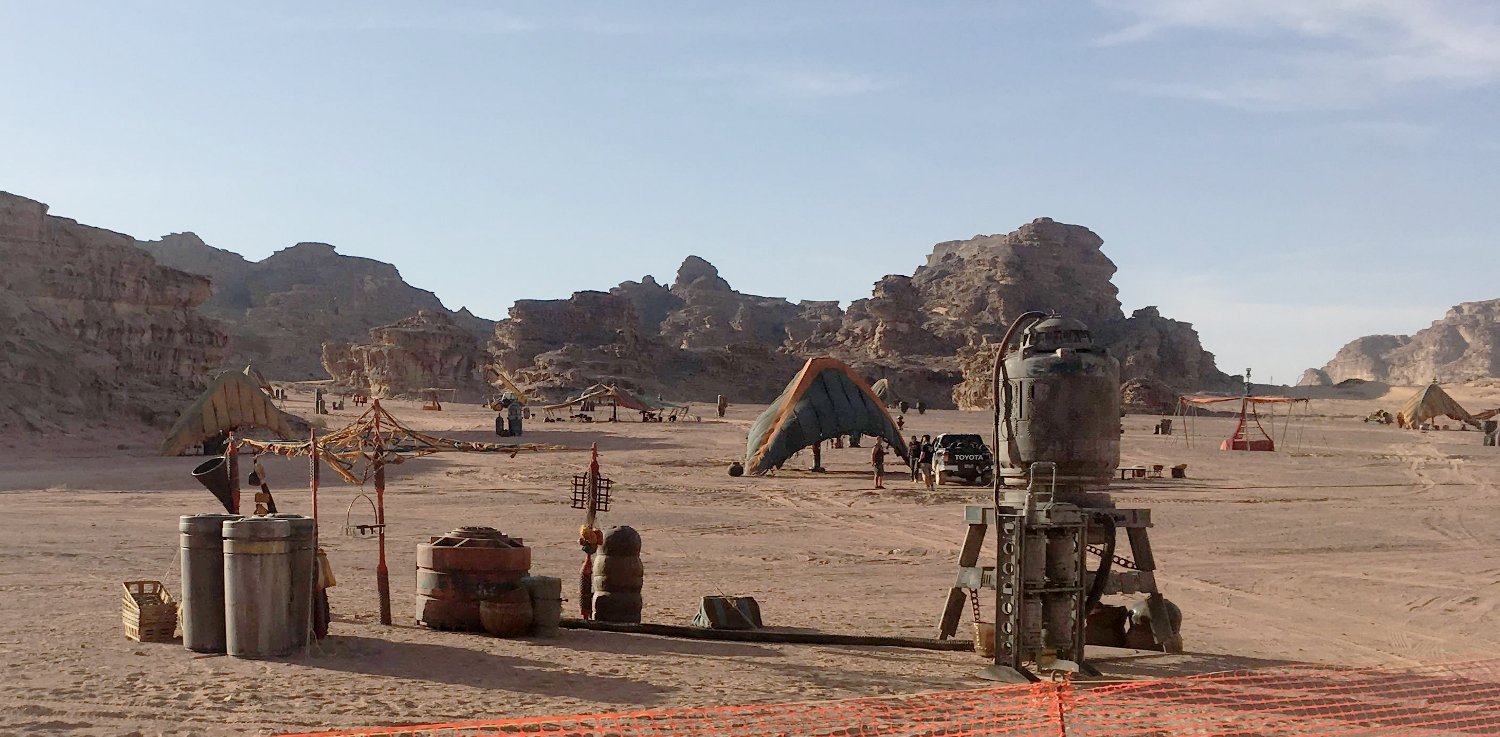 Okay back to the Jordan shoot. So a desert planet in Star Wars…real original! I don't think this is a new desert planet, because frankly, enough already. Tatooine, Jedha, Jakku, if they make another I will join Anakin and begin hating sand.
So, are we going back to nowhere, I mean Jakku? Is the saga tapping into more Jedi-lore by tying in Jedha for some reason? Or could it be we are going back to where it all started for Luke Skywalker on Tatooine? If I had to make an educated guess about what this environment is in Episode IX, I would put the probability in this order:
JAKKU: This Rey's story now, she is our main protagonist, so returning to her home planet makes much more sense to close out her story than would revisiting Tatooine.
JEDHA: It was left borderline uninhabitable, further showcased in the comics in The Ashes of Jedha, so I doubt they revisit that, as the planet doesn't exactly look like the place to go for a market anymore. Though those mountains in those shots scream Jedha to me, and Rey could be in the market for some new kyber!
TATOOINE: I think we've all had enough of Tatooine, and it doesn't fit this trilogy at all. Now if they make Solo 2 happen and bring in Jabba we'll talk!
A NEW PLANET: As I said before, enough with new desert locations. I can't see Abrams closing out the trilogy by giving us another new desert location.
But enough speculation. let's summarize what our source has told us in neat little bullets for you:
The report of the location is accurate, that they are filming in Jordan and have been for some time and that "it is 100% for Episode IX."
One set for the Jordan shoot in particular is likely for a market of some kind.
Filming could additionally take place in Italy, Ireland, and California.
Pinewood sets are filming into next year with one of the sets having been extended to film for an additional two months due to a rewrite.
Now again, because none of this is confirmed by Disney or Lucasfilm, it must all be taken as a rumor until otherwise confirmed by affiliated parties.
With that said, whatever it is, and whatever they're filming there for Episode IX, it is always exciting to hear about a tangible active Star Wars set, a pleasant reminder that another Star Wars film is being created as we speak!
John Hoey is the Lead Editor and Senior Writer for Star Wars News Net and the host of The Resistance Broadcast podcast
"For my ally is the Force, and a powerful ally it is."