SWNN Poll: The Music of John Williams
Throughout cinematic history, soundtracks and scores have been used to breathe life and emotion into the moving picture stories on screen. Without legendary composer John Williams, classic moments in Jurassic Park, Superman, Harry Potter, and Indiana Jones wouldn't have resonated or made as strong an impact in the cultural zeitgeist. In this week's SWNN poll, we're going to pit a classic theme from each of the Skywalker saga movies against one another to see which iconic composition reigns supreme!
First here are the results from last week's poll: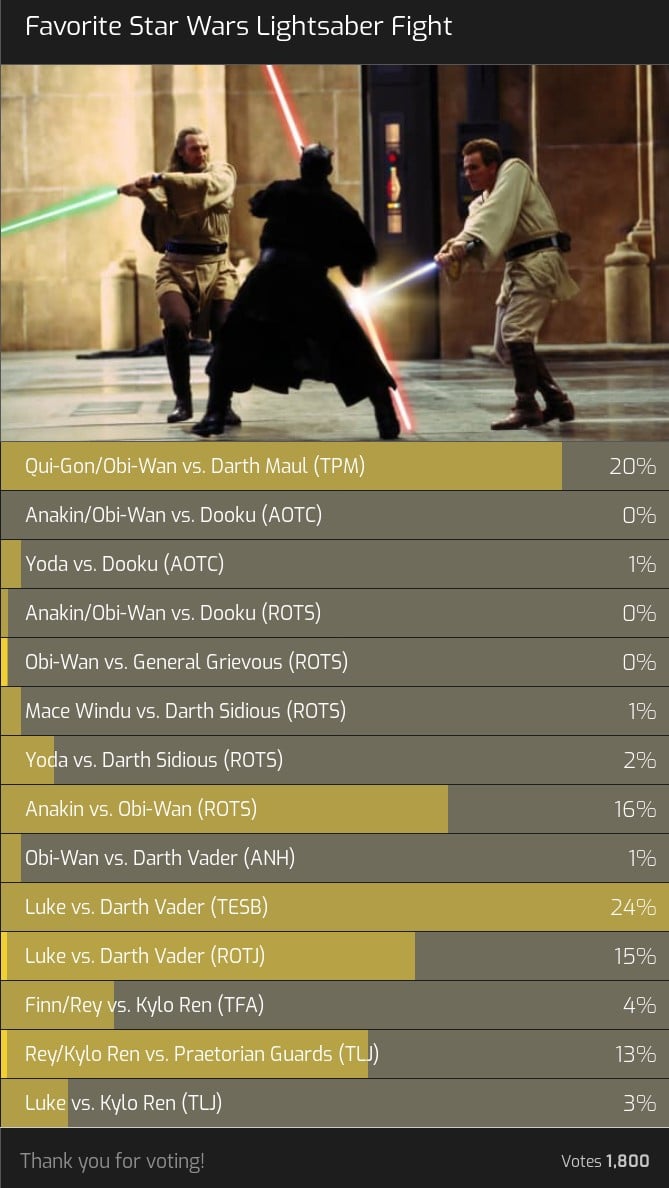 Now to the new poll.
John Williams has been composing Star Wars music for the last 41 years and continues to create new powerful and emotional themes for our favorite galaxy far, far away. But now it is time for you to vote on which composition of Star Wars music from the prequels, original trilogy, or sequel trilogy is your favorite. Do you feel a thrill when the dark chorus swells on "Duel of the Fates" as a double bladed lightsaber is ignited? Swoon for the budding romance of Ani and Padme with the romantic "Across the Stars"? White knuckle through the sounds of "Battle of the Heroes" as former friends fight to the death? Does your nostalgia creep in whenever you hear A New Hope's beautiful "Binary Sunset" as farm boy Luke stares up at the setting dual suns of Tatooine? Are you pumped whenever a sporting event introduces the opposing team to the tune of Darth Vader's "Imperial March", imagining a mass of stormtroopers laying siege to the stadium? Do you wish you could dance around with cute feral teddy bears to the joys of the "Victory Celebration"? Jumping ahead to The Force Awakens, are you with John Williams, in that "The Scavenger" is his favorite new piece of music he created for the saga? Do you get chills when you close your eyes listening to "The Spark" and imagine a grown, weathered Luke staring down the forces of the First Order alone?
These are all just the tips of the iceberg when it comes to the incredible music the maestro has blessed the Star Wars universe with – so vote now for the piece of music that speaks to you and be sure to come back next year when we're (hopefully) updating this poll with the next great musical selections from Episode IX!
Vote for your favorite Star Wars score by John Williams in the poll below, and tell us in the comments below what are your three favorite Star Wars tracks (not necessarily from the score you voted):
[socialpoll id="2522700″]
If you are using a mobile device, you can vote HERE.
Under the twin suns of Los Angeles, Chris continues to mourn the loss of Admiral Ackbar while championing the rights of Ewoks everywhere. Follow him on Twitter and Instagram @Chri5Manning for all your pun needs.