'Solo' is Available Now on Digital Download and Screenwriter Jon Kasdan Shares over 50 Notes and Facts About the Making of the Film
You don't have to buckle up any more baby, as Solo: A Star Wars Story is available today on digital download! For fans who dive right into the special features, some may be disappointed there is no audio commentary. Screenwriter Jon Kasdan offered a bit of a compromise, taking to social media to release over 50 facts and notes about the writing and making of the film including his thoughts on the prospect of and personal hopes for a sequel.
Kasdan took to Twitter to release a list of "factoids and notes" about the writing and making of Solo: A Star Wars Story. For those of you who don't have Twitter, here is his initial tweet followed by the complete list of items he posted.
In honor of the digital release of #SoloAStarWarsStory & in lieu of a commentary, here are 53 random factoids & notes about the making & writing for anybody who's interested. If you haven't seen the movie yet… maybe watch it before reading? Anyway, enjoy the movie & #MTFBWY pic.twitter.com/wHy1seDuoL

— Jon Kasdan (@JonKasdan) September 14, 2018
(Click on the images to zoom in)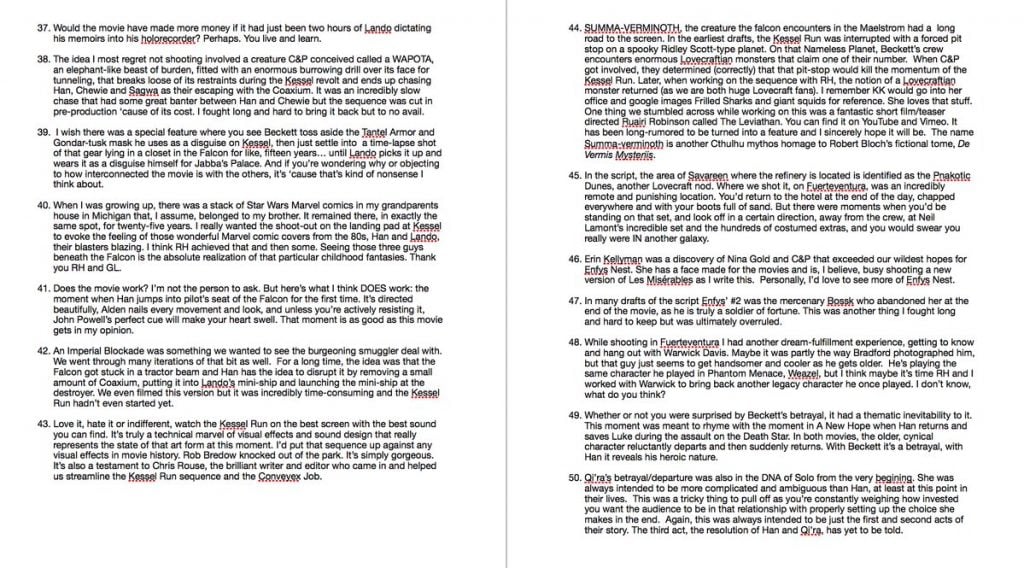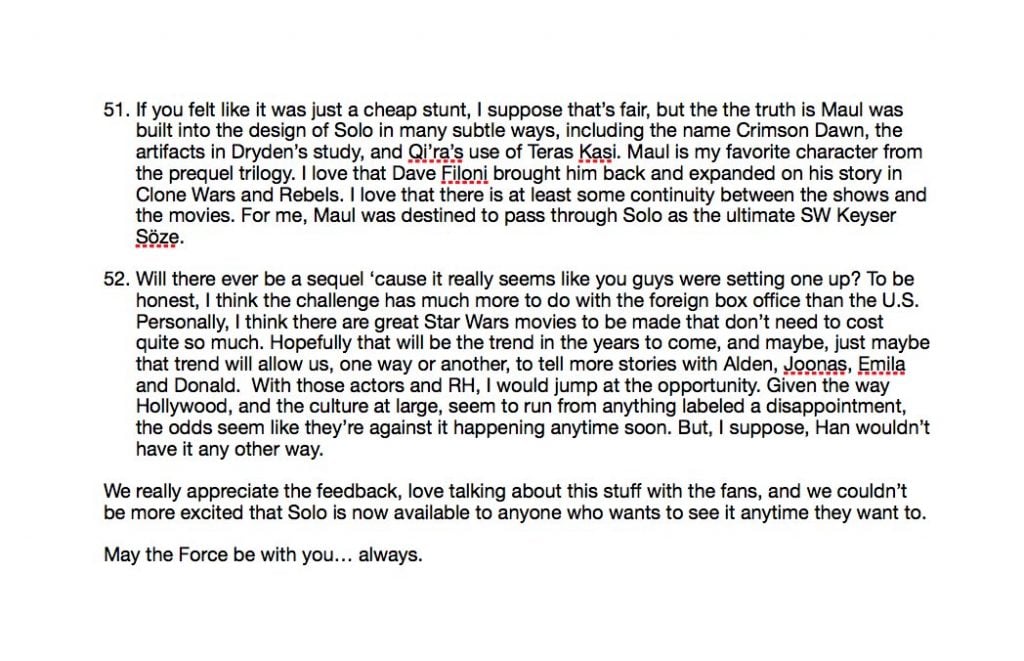 As you wipe of the sweat from your brow after absorbing all of this information, the final note has to be the most bittersweet. Kasdan notes that there are great Star Wars movies that can be made without monstrous budgets, using this point to keep hope alive for a follow up to Solo, to which Kasdan adds he would jump at the chance to write assuming the cast and Ron Howard also returned.
All we can do now is simply hope that comes true, but until then we can all enjoy Solo: A Star Wars Story whenever and wherever we please with the movie now available on digital download! And if you are able to somehow practice patience, the movie will be available on 4K/Blu-ray in 11 days which happens to also come with the digital version of the movie.
"I've got a good feeling about this."