Review – UBTECH First Order Stormtrooper Is The Droid You're Looking For!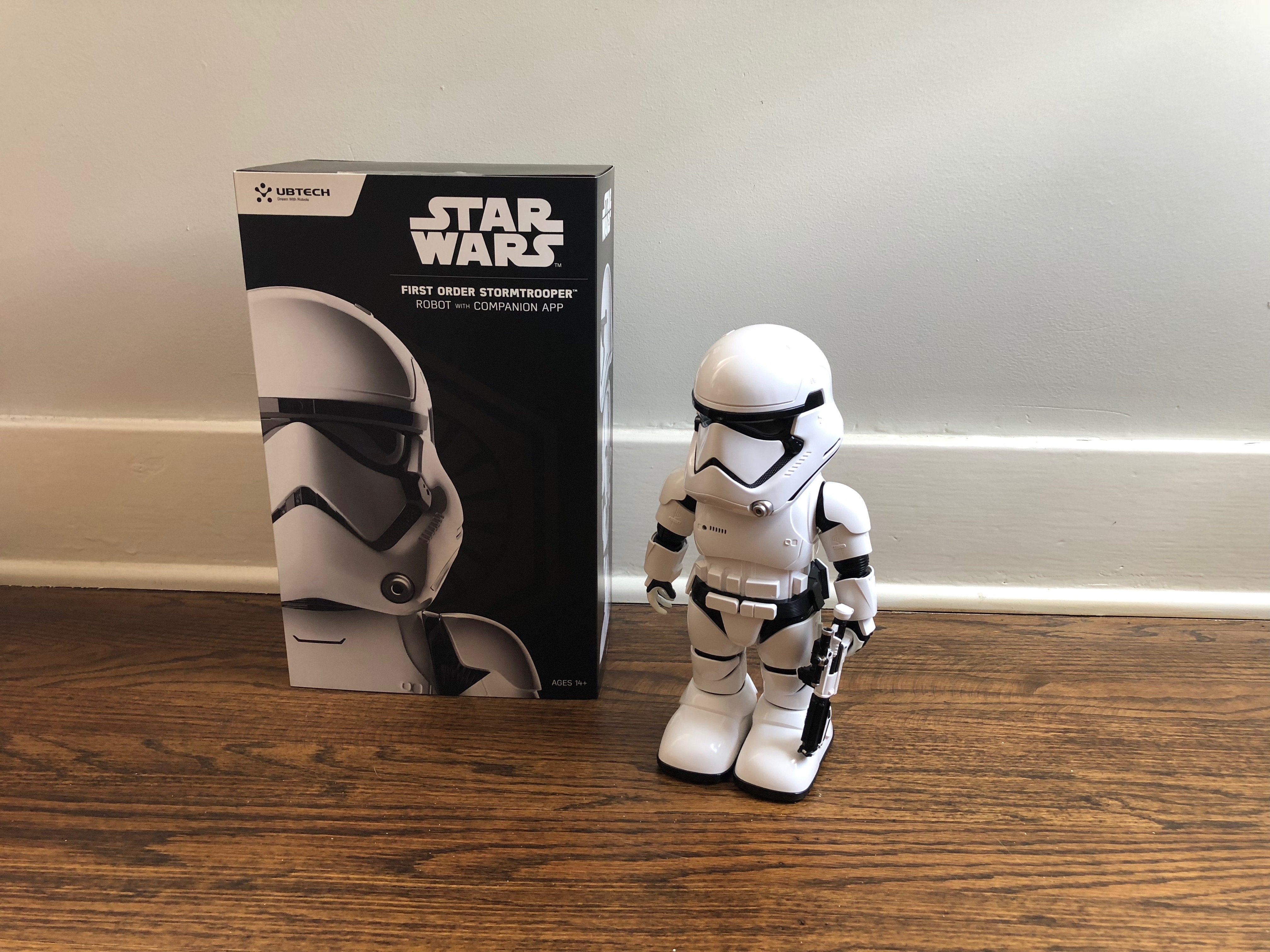 Do you like toys? Do you like robots? Do you like AR (augmented reality)? I know I like toys, but the latter two things are still a bit nebulous to me. I'm a simpleton when it comes to newer technology and the marriage between the tangible and the digital. That's why I was pleasantly surprised by how much fun I had playing around with UBTECH's First Order Storm Trooper Robot. It is the literally the best of all three worlds!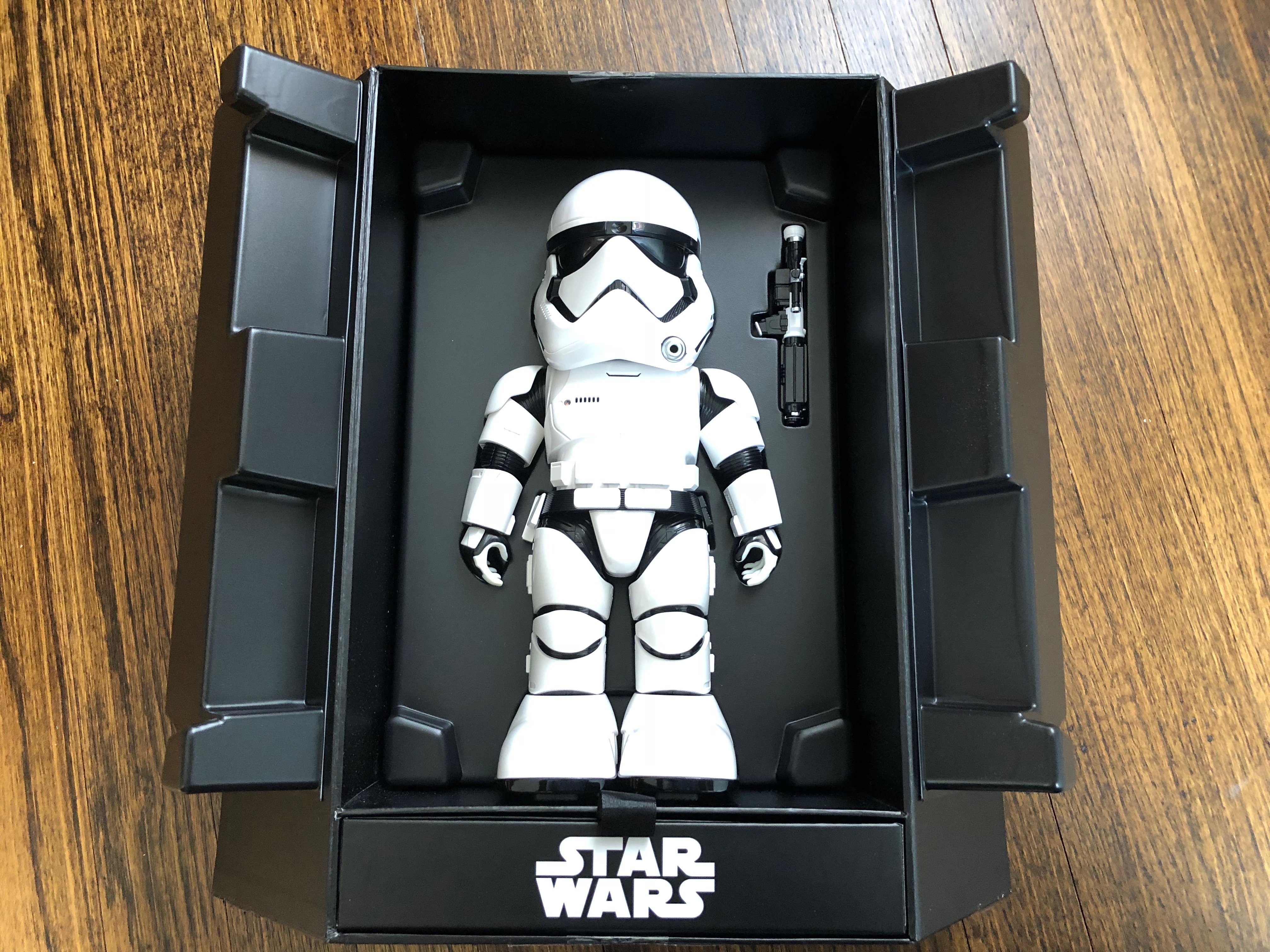 Right out of the box, I decided to give this little Stormtrooper a name. I called him Joe, just because I wasn't feeling terribly creative. As you can see, UBTECH spared no expense in creating not only a cool looking little robot, but a stellar case to display him in when it's time to put the little fella to sleep. I'm not much of a packaging nerd, but I was very impressed with UBTECH's presentation upon the initial unboxing. Enclosed is a small card that directs you to download the app, available for at the Apple App Store or Google Play. As far as I could tell, the app is only available for iOS and Android. Also, before you purchase this robot, make sure you have a compatible device, as not all Apple and Android devices are compatible.
Another thing to note is that there's a good 20-30 minutes of set-up time and make sure you are near a wi-fi signal. Out of the box, the software and firmware needed to be updated. No complaints from me, but I could see a younger child getting impatient. Just a heads up that it's not ready to go right out of the box, but the updates are self-explanatory and once they're done, you and your robot are on the road to a lot of fun!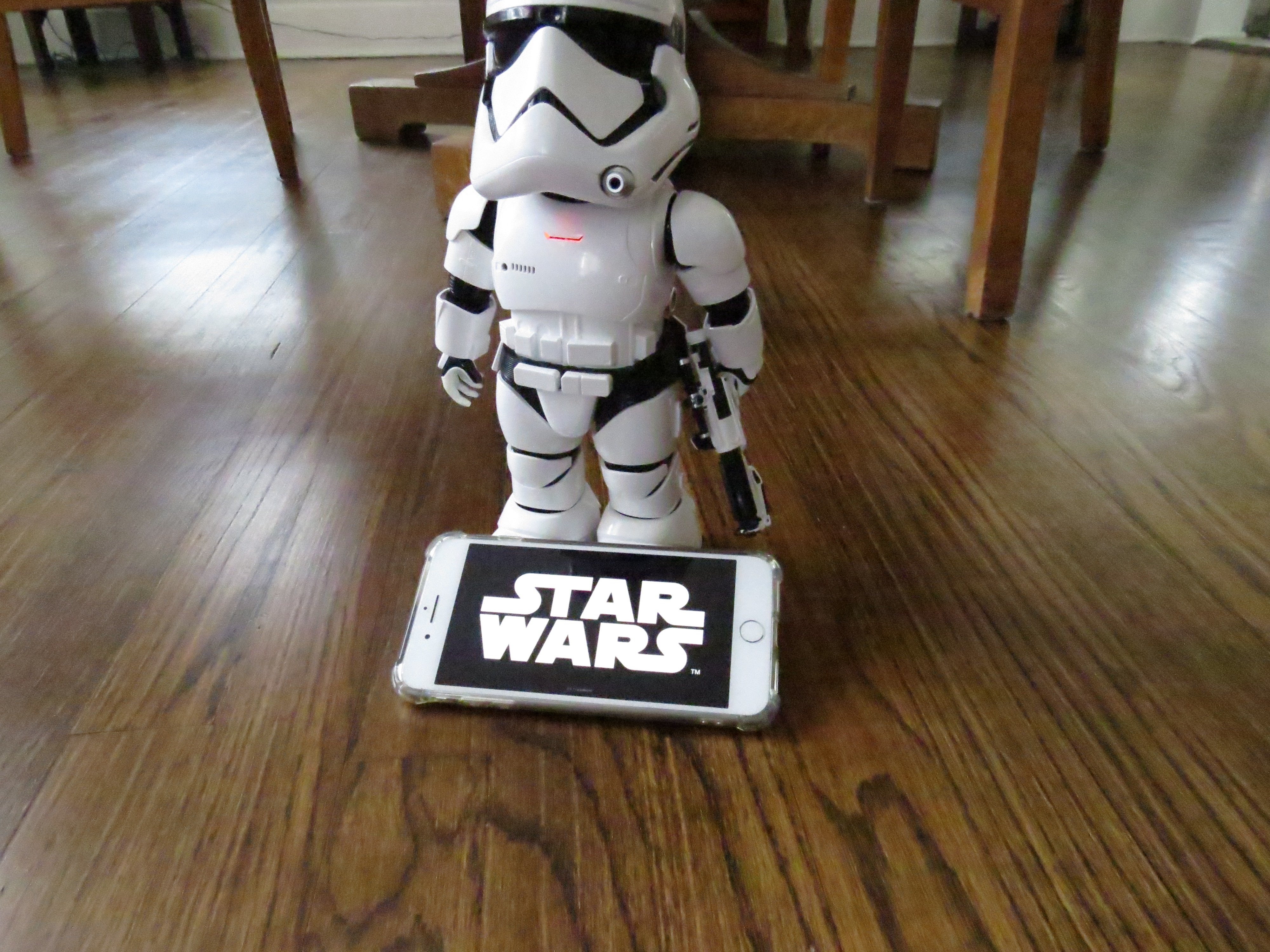 Joe was very lively once the app fired up. There's also a simple switch on his back you must turn on first, and he will demonstrate all his movements as he runs a sort-of diagnostic as he comes to life. I have to say, the child inside of me was pretty excited. He sounds just like the stock Stormtrooper in the films. Instinctually, I got a little rigid, as if the First Order were right in my living room, looking for Resistance/Rebel scum. Joe was powered up and we were ready to have some fun together.
Joe is only as smart as the app that powers him, so thank goodness UBTECH seems to have packed a ton of cool stuff into this app. I recommend 'Training' as your first destination. You'll learn how to make Joe move. There are also several different actions that are pre-programmed into the app, whether they be gestures or phrases. You can even program the Stormtrooper to follow you, though you'll have to slow down, because these little bucketheads move pretty darn slow.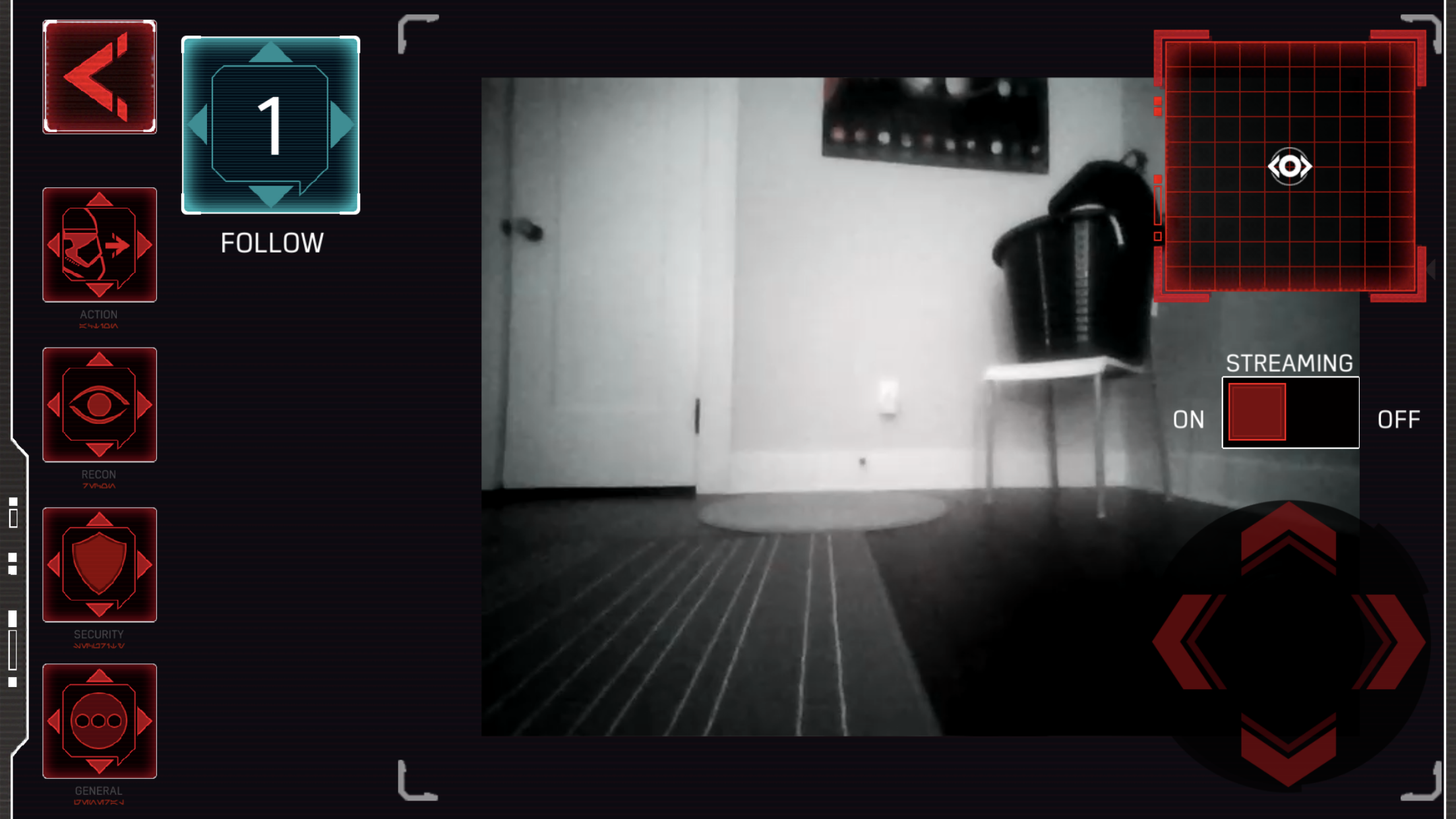 Here's a screenshot of what Joe sees. His camera is certainly not up to what most mobile phone cameras offer, but for a robot and the AR integration, it works just fine. Notice on the right hand side you can either have the streaming 'ON' or 'OFF'. Unless you are doing AR or trying to spy on someone, there's not really much of a reason to have it on during training mode. It's cool, but you pretty much see what Joe sees anyway.
The app is pretty intuitive and I think any kid who is used to navigating apps on a tablet or smartphone will pick it up very quick. For younger kids, an adult or teenager will definitely need to assist. It took me a few minutes to get comfortable with Joe and his app, but once I did, we were ready for our first mission together.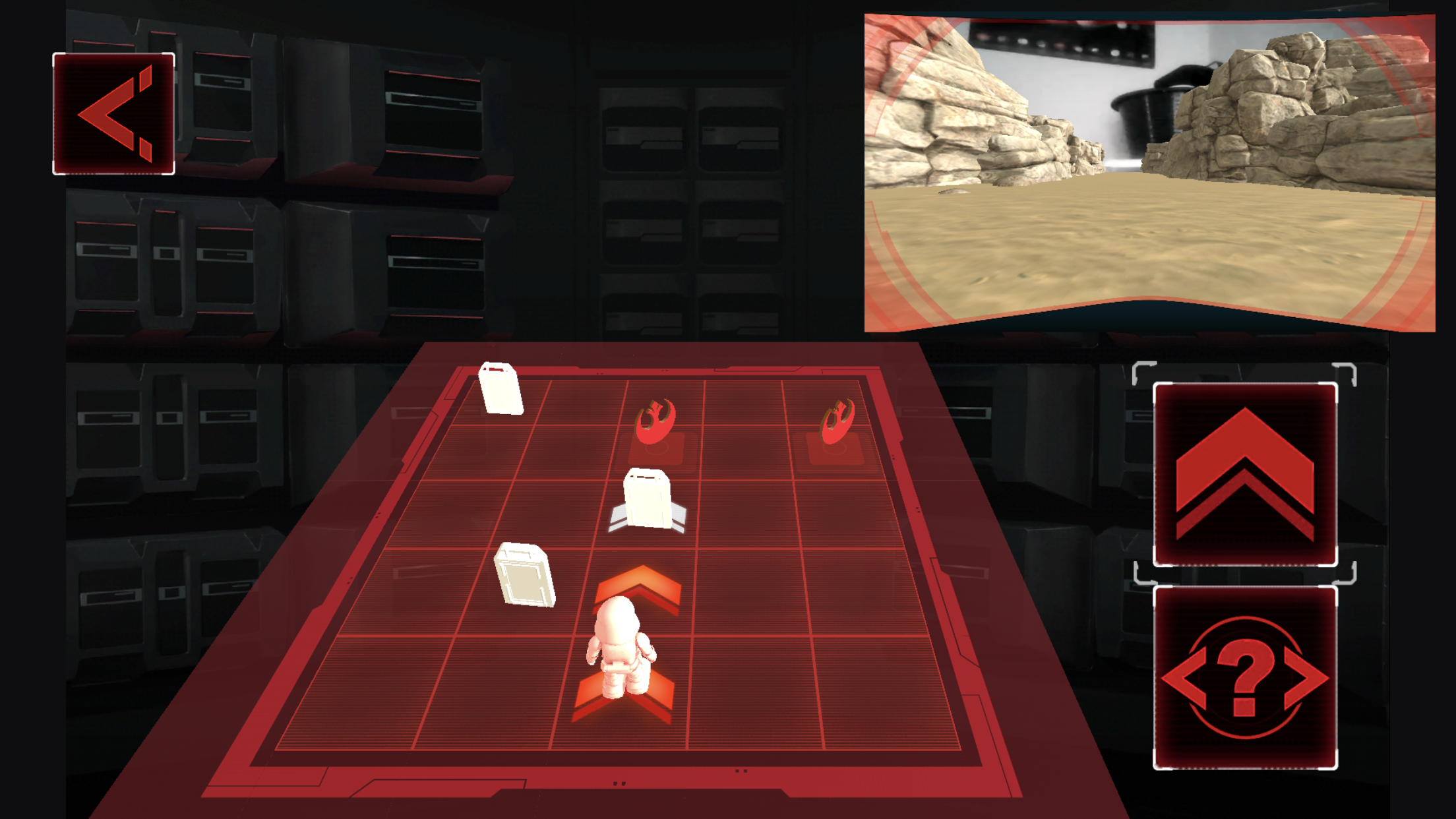 Joe and I braved the deserts of Jakku, where the First Order is looking for a few scattered Resistance data-tapes.  As you can see above, Joe moves in a grid pattern, and it kind of takes a bit to figure out where that grid relates to the real world around the user. Just be sure to make sure obstructions like shoes or chairs don't get in the way of your Stormtrooper, because these little robots don't stop for anything.  The user uses the grid to plot the Stormtroopers path and head for the data tapes. It was a lot of fun.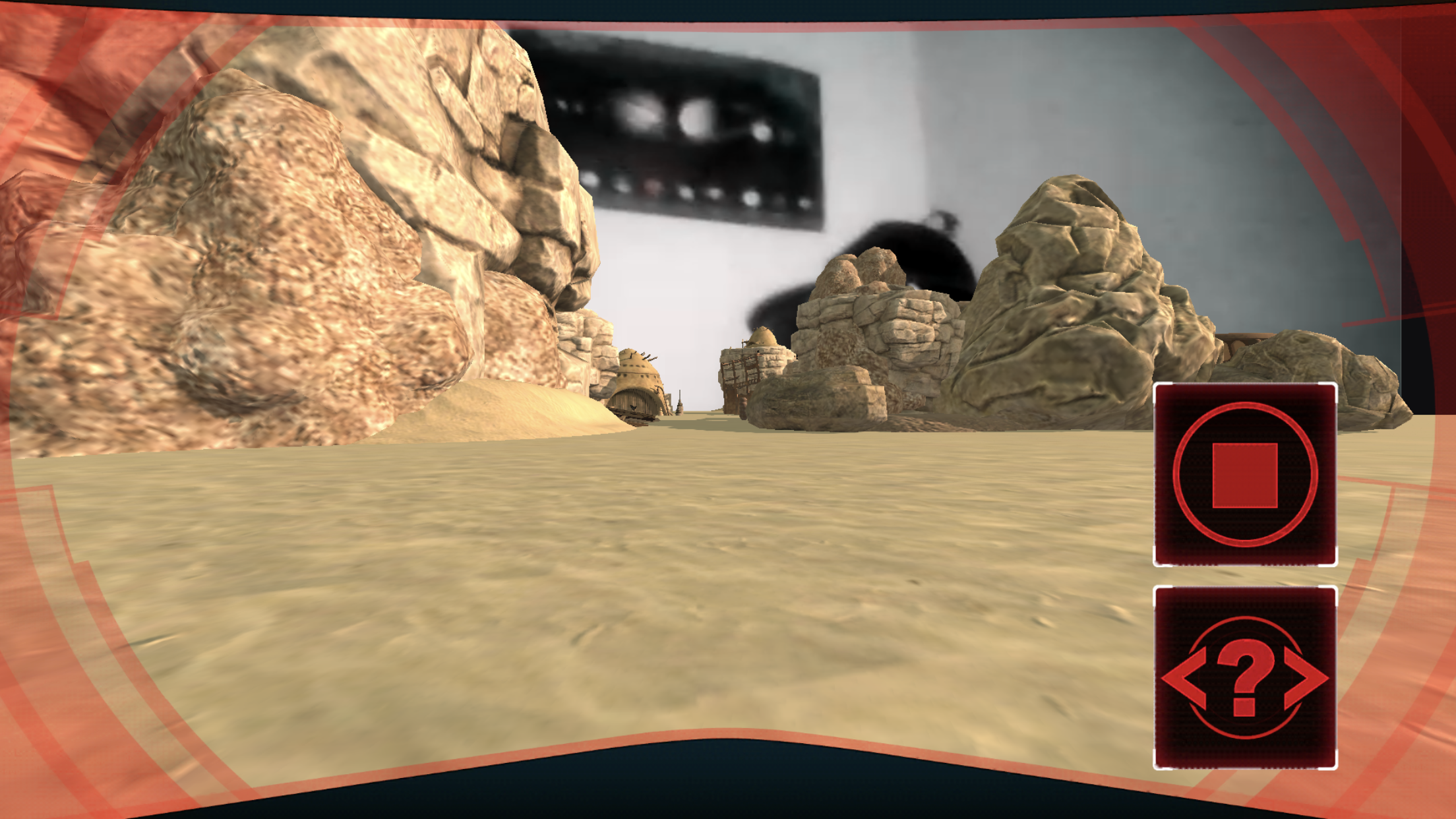 Granted, this was just in my living room and I would have taken it into my yard, but as I wrote this review, it was pouring down rain. The living room is fun, but I have a feeling these would be even cooler outside. Here's a better look at the AR aspect of the app. I was hoping to pass by the Millennium Falcon, but Joe just seemed to stay on the perimeter of the village. There are other missions, too, and it would be easy to get lost for hours exploring the world of Star Wars through this.
The last feature I had a lot fun with is 'Sentry'. You can program the Stormtrooper to stand guard and move around on patrol. You do this by mapping out what direction you want them to travel in and how far they move in each direction. I put Joe through the ringer and the little Stormtrooper came out every time. I think kids would have a blast with this. It's really cool!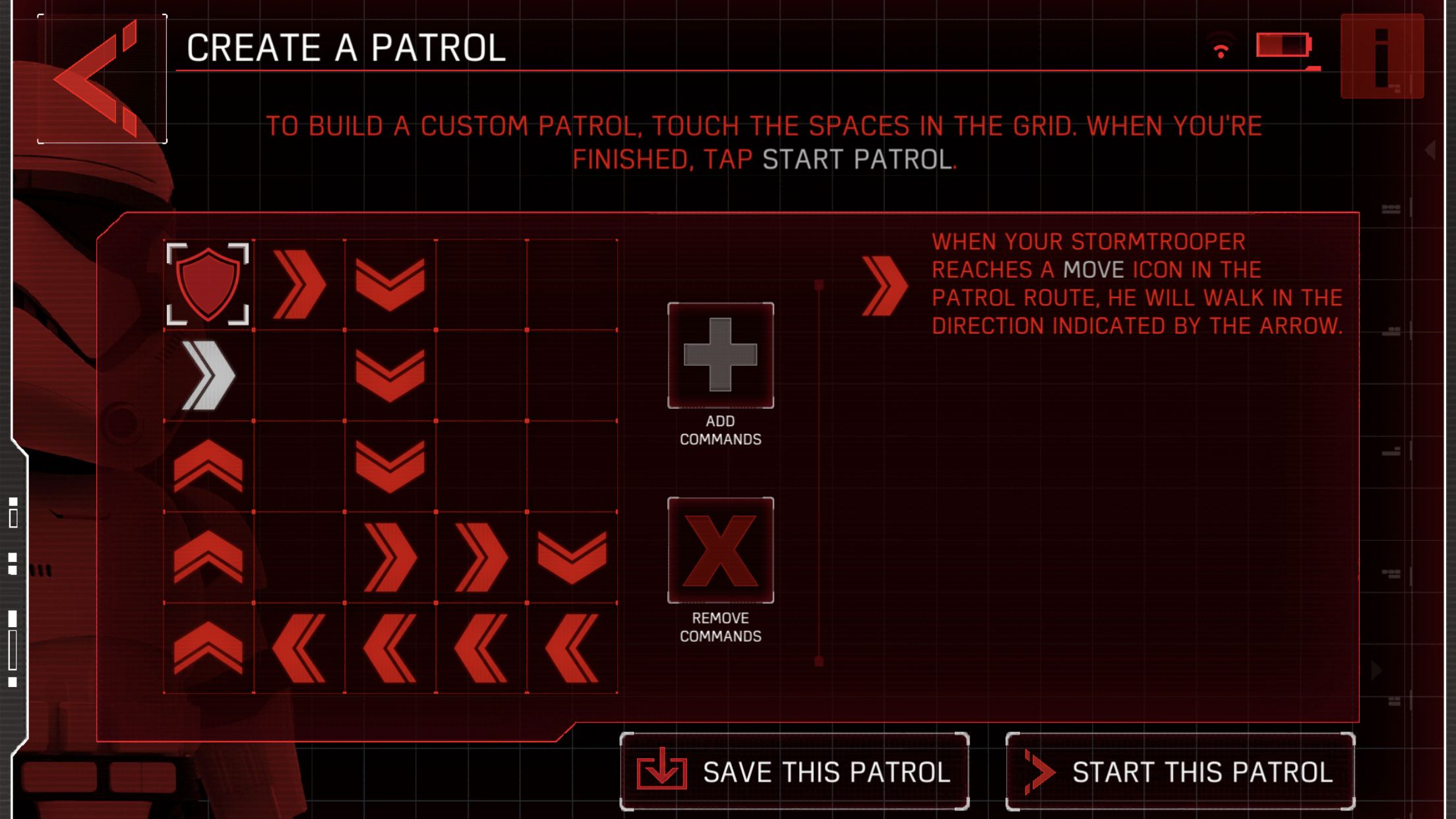 As if a walking, talking Stormtrooper wasn't cool enough, the design of this toy is really great. As soon as I got it out of the box I could tell a lot of work went into this. It doesn't appear clunky at all, but beware, it does move slow. I think this would be a great addition to any toy collectors shelf.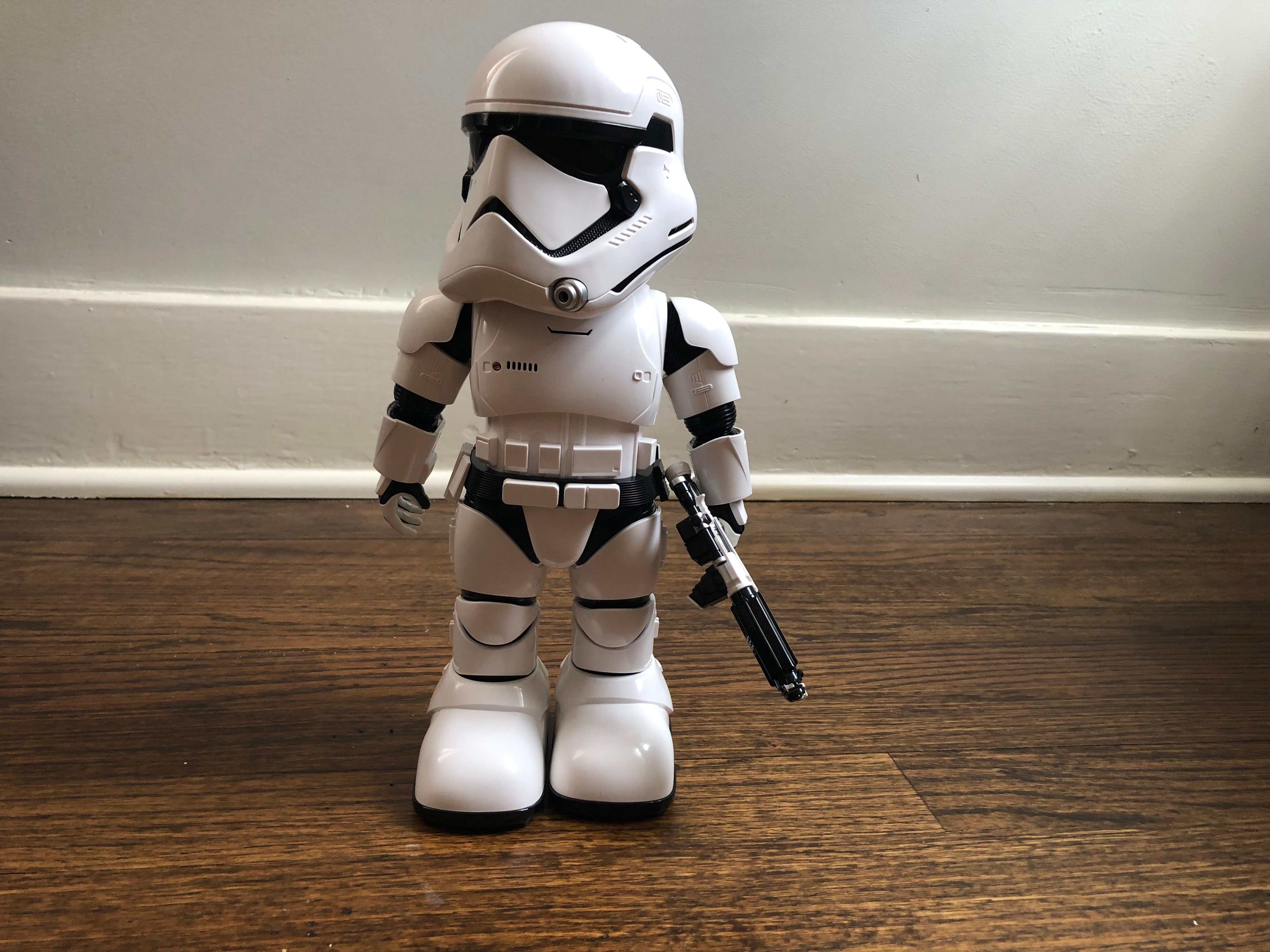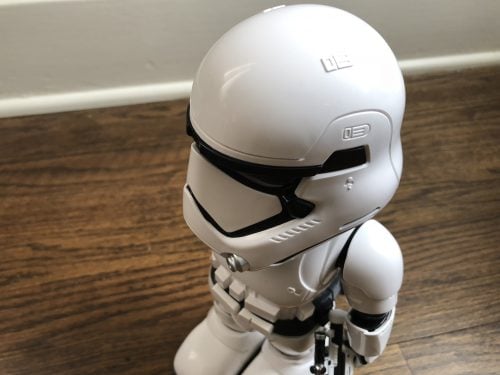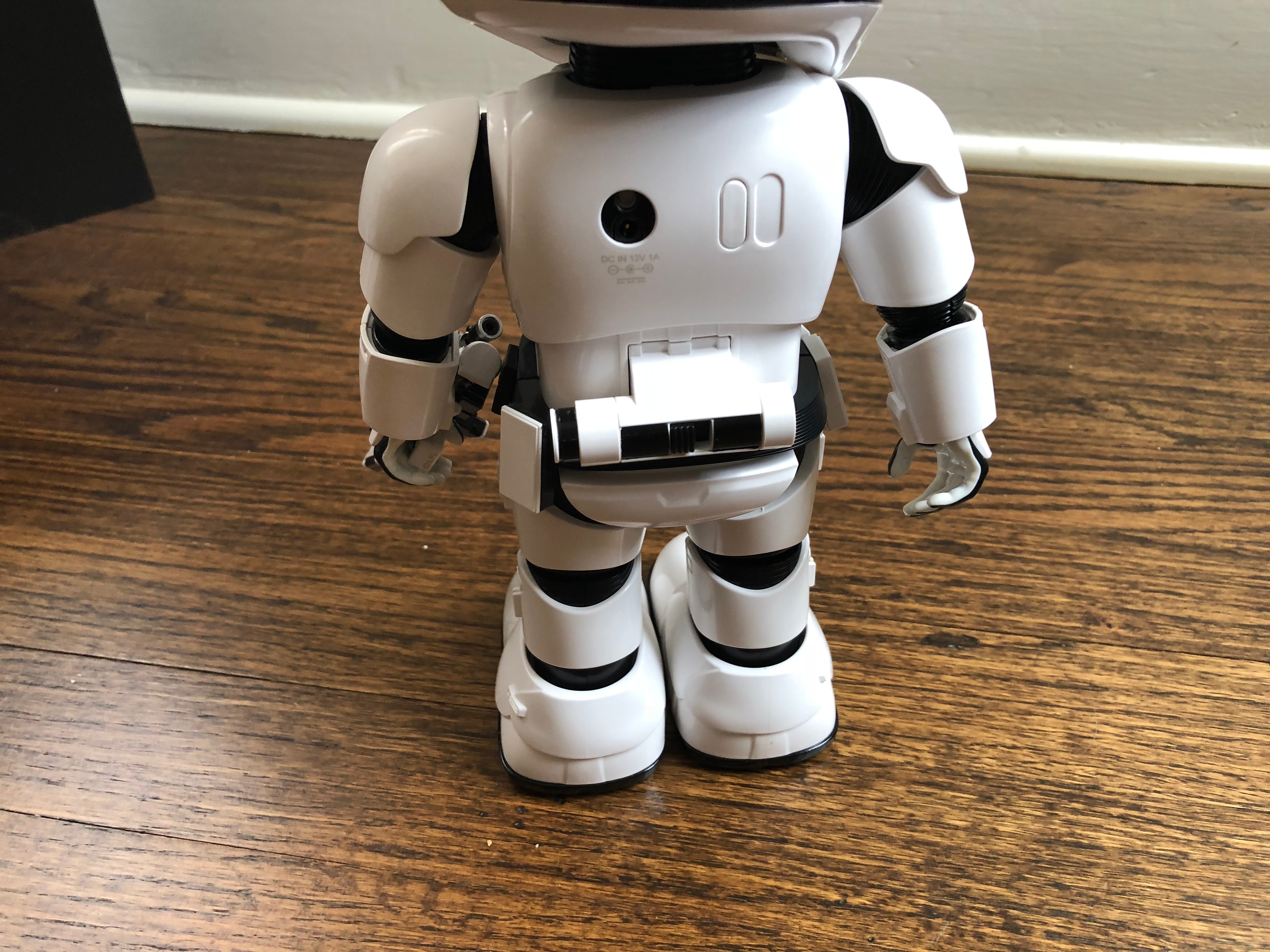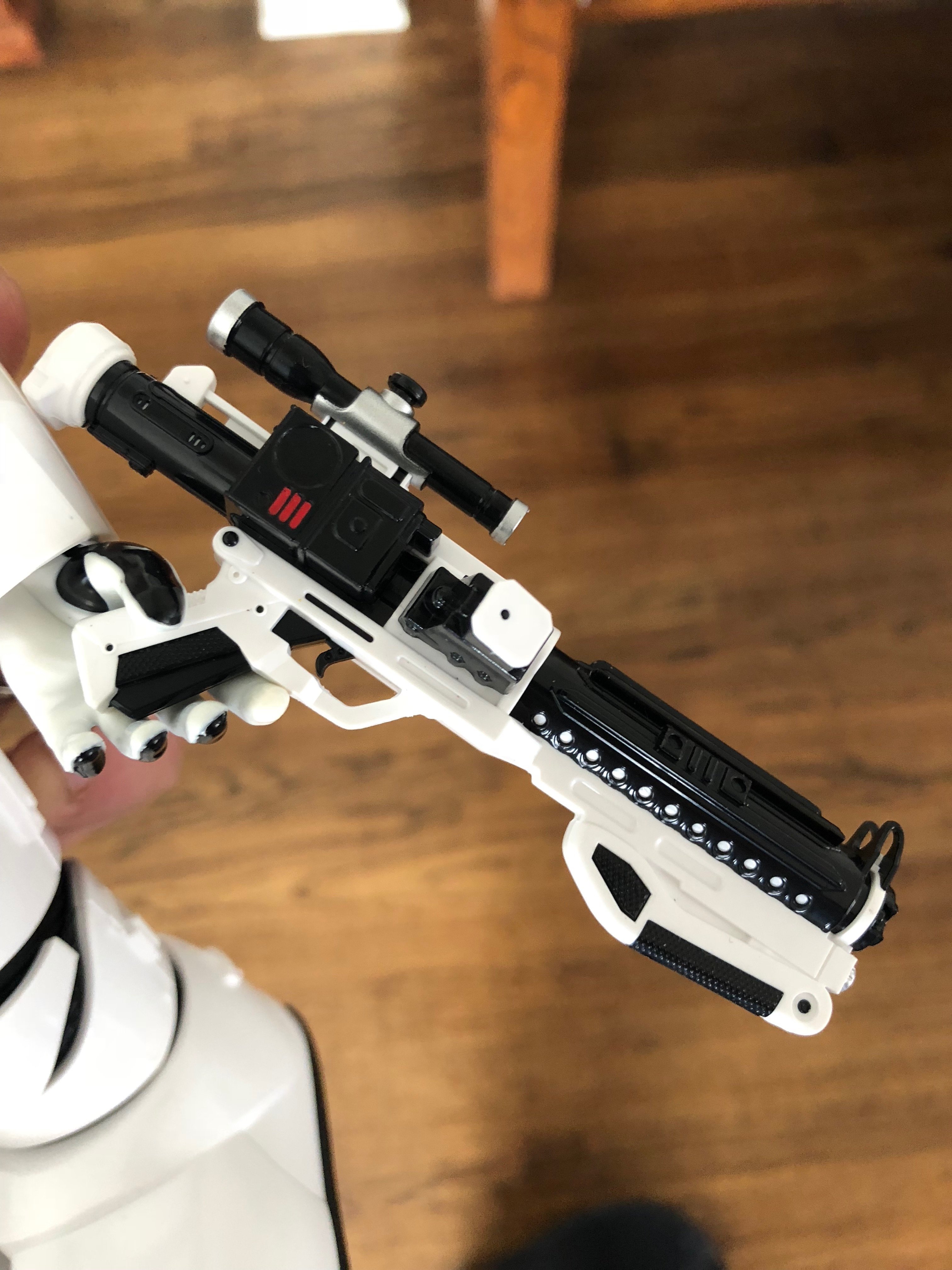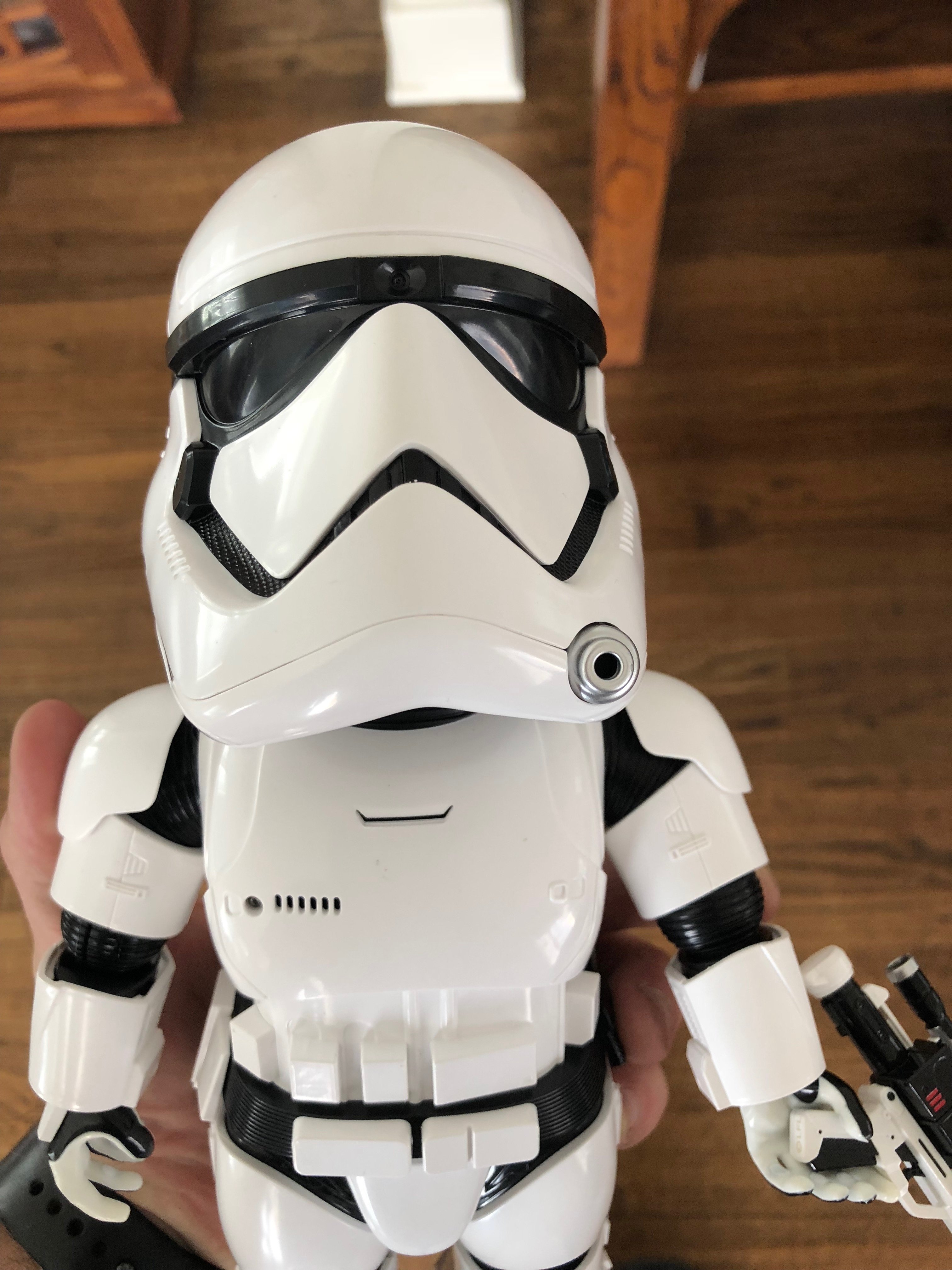 I had a lot of fun playing with Joe… I mean my UBTECH First Order Stormtrooper. I would guess there will be more missions added and features in the coming years, since the app can be updated. It's recommended for kids 14-years and older, but like I mentioned before, any kid who has a basic understanding of gaming and can operate a tablet or smartphone would have no problem. This is one of the cooler gadgets I've seen in a while, not to mention my first dive into AR. As that technology evolves, I imagine we will be seeing a lot of cool things from UBTECH.
I hope this UBTECH First Order Stormtrooper finds it's way into your collection and that you have as much fun with it as I did. You can take a closer look at it, or purchase it, here on UBTECH's site. Now, if you'll excuse me, Joe and I have unfinished business on Jakku. Why does everyone always want to go back to Jakku?
Kyle Larson lives in Portland, Oregon. When he's not running trails, he's reading and writing.