A Sneak Peek at the New Book Star Wars Icons: Han Solo
For four decades Han Solo has captured our hearts as the every-person hero in a space opera riddled with a galactic-binding Force and mystical powers. He stood for nobodies becoming somebodies, and the fact that it is never too late to become a hero.
In the new book Star Wars Icons: Han Solo, we get an in-depth look into the creation of one of the greatest fictional characters of all time. If you're a fan of this smuggling, swindling scoundrel, then this is where the fun begins.
The book is written by Gina McIntyre, including stories from the new canon, Legends, comics, and other media. Featured in the book are interviews with Harrison Ford, Mark Hamill, J. J. Abrams, Ron Howard, Alden Ehrenreich, Billy Dee Williams, Lawrence Kasdan, Jonathan Kasdan, and more.
Official Press Release:
Smuggler. Rogue. Hero of the Rebellion. Scruffylooking nerf herder. Han Solo.

Since his debut in the original Star Wars in 1977, the irrepressible Han Solo has become one of the most iconic and enduring elements of the saga.

Insight Editions is pleased to announce Star Wars Icons: Han Solo (November 13, 2018 / $50.00), a comprehensive look at the creation and legacy of one of Star Wars' most beloved characters.

Star Wars Icons: Han Solo covers the character's epic journey, from his genesis in George Lucas's first Star Wars drafts to his iconic portrayal by Harrison Ford in the original trilogy and The Force Awakens to his rebirth in Solo: A Star Wars Story. The book also takes an indepth look at Solo's role in the Star Wars expanded universe: Novels, comics, video games, and more demonstrate the indelible impression the character has made on pop culture.

Illustrated with a treasure trove of rare and previously unseen imagery, including candid on-set photography and stunning concept art, this deluxe volume also features exclusive new interviews with Harrison Ford, Alden  Ehrenreich, Mark Hamill, Billy Dee Williams, Peter Mayhew, Ron Howard, J. J. Abrams, Lawrence Kasdan, Jonathan Kasdan, and many more key creatives.

Comprehensive and revelatory, this is the definitive book for Han Solo fans across the galaxy.

About the Author:

Gina McIntyre is a veteran entertainment journalist who has covered movies, TV, and music for the Los Angeles Times, the Hollywood Reporter, and Entertainment Weekly. She is the author of Guillermo del Toro's The Shape of Water: Creating a Fairy Tale for Troubled Times and The Art of Ready Player One. Her writing has also appeared on RollingStone.com. She lives with her husband and daughter in  Riverside, Illinois.
And here's a sneak peek at the book itself (click the images for bigger version):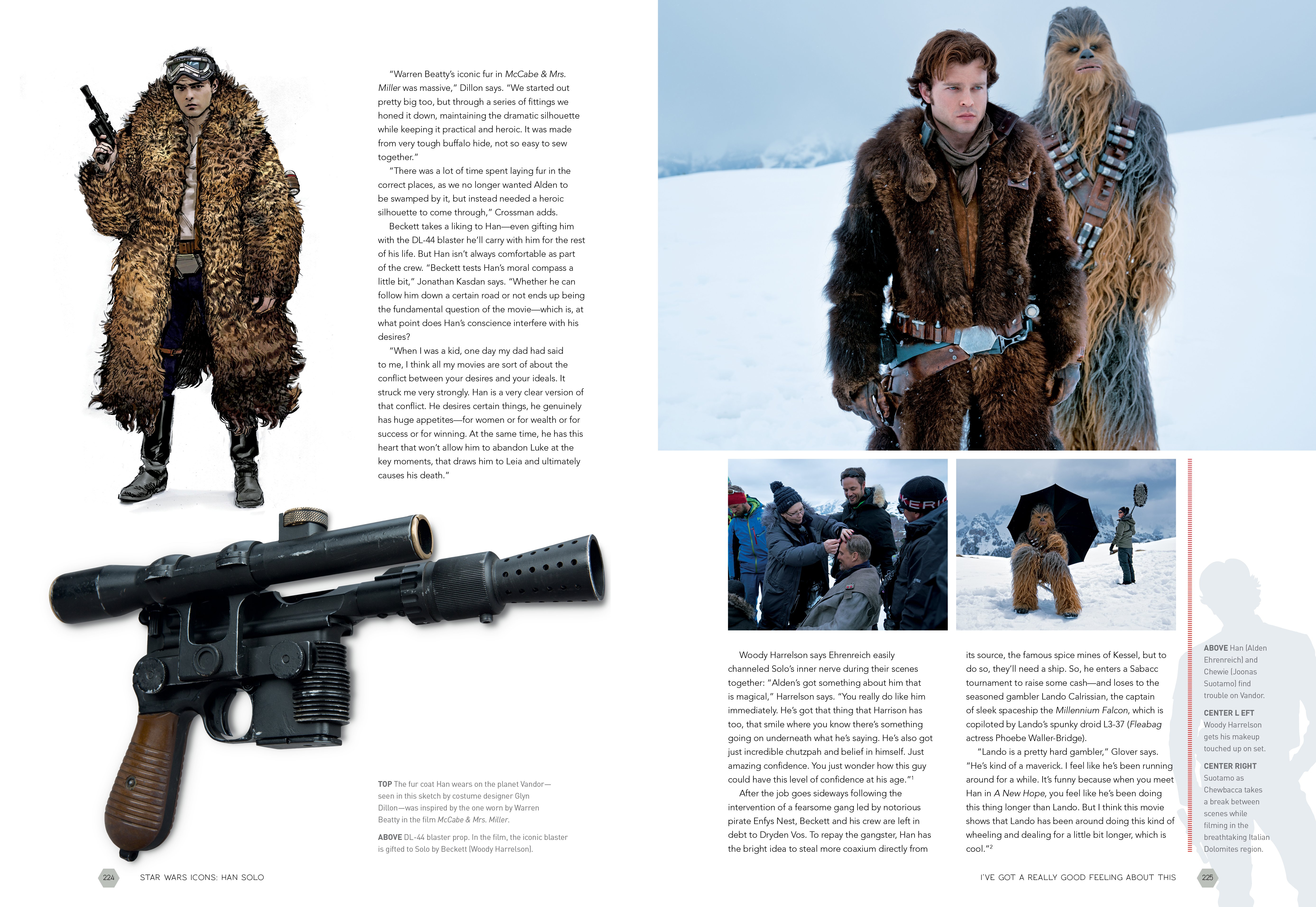 The book will be released on November 13, 2018 and it will cost $50.00.