UPDATE! Timothy Zahn Has Two More Pitches for Thrawn-Focused Star Wars Novels, but There's a Catch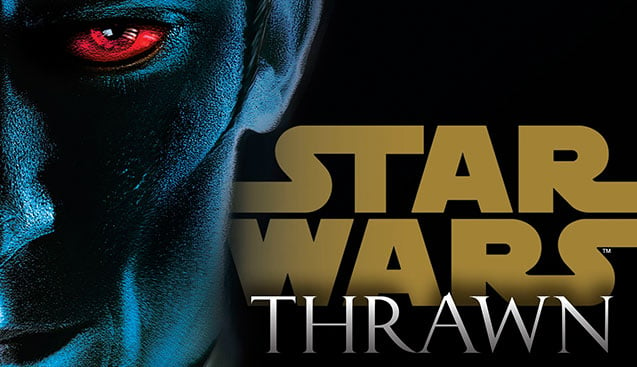 Timothy Zahn, the man who brought Grand Admiral Thrawn into the consciousness of many Star Wars Legends fans, was also a key force in re-canonizing the character in conjunction with Star Wars Rebels. In addition to last year's Thrawn book, its comic adaptation, and this year's Thrawn: Alliances, Zahn has revealed he's working on outlines for two more novels about the Imperial mastermind, but there's something that will hold him up a bit.
Speaking at Comic Con Revolution Ontario, Zahn explained that he still plans on writing two more books in what I'd like to refer to as the Thrawn tetralogy. There's one problem though – those next two stories are apparently set between the character's disappearance at the end of Rebels and the largely-undefined period of history between Return of the Jedi and The Last Jedi. Because of that, the Lucasfilm Story Group can't let him proceed until Episode IX is completed:
Zahn says he has two more Thrawn books on his deal, but they are in limbo as episode 9 gets finalized #CCROnt #StarWars pic.twitter.com/TpaPzQt49D

— Parks And Cons (@ParksAndCons) May 19, 2018
This makes a lot of sense. Right now, most stories set between Return of the Jedi and The Last Jedi are set in close proximity to either movie (a few years, give or take) with very specific narrative focuses in order to make sure that the overarching multimedia narrative of Star Wars isn't backed into a corner. I'd predict that the first of the two remaining books would clear up what happens after Ezra and the space whales sent the crew of the Chimera into hyperspace and that the second would show Thrawn's course of action leading into the Sequel Trilogy – or something to that effect. The Unknown Regions have been set up as a big mystery for writers to take advantage of, and given how Thrawn is from there, it would only make sense that he'll be important to the story going forward.
There may be other, story-related factors involving characters introduced in the sequel trilogy era that could pop up in Zahn's new narratives, and he might have to wait a little to tell his story because of this. Either way, more Thrawn is a win for all fans, even if we might have to wait a little to see the character return.
UPDATE!
Mr. Zahn has just issued a statement on his Facebook page clarifying that, while he has two pitches for more books about the Grand Admiral in place, they haven't been officially approved. He also notes that he has no knowledge about what happens in Episode IX.
https://www.facebook.com/TimothyZahn/posts/2170202906344243
Without video or audio of the panel, it's difficult to ascertain what was said and when. We apologize for the inconvenience.
Grant has been a fan of Star Wars for as long as he can remember, having seen every movie on the big screen. When he's not hard at work with his college studies, he keeps himself busy by reporting on all kinds of Star Wars news for SWNN and general movie news on the sister site, Movie News Net. He served as a frequent commentator on SWNN's The Resistance Broadcast.