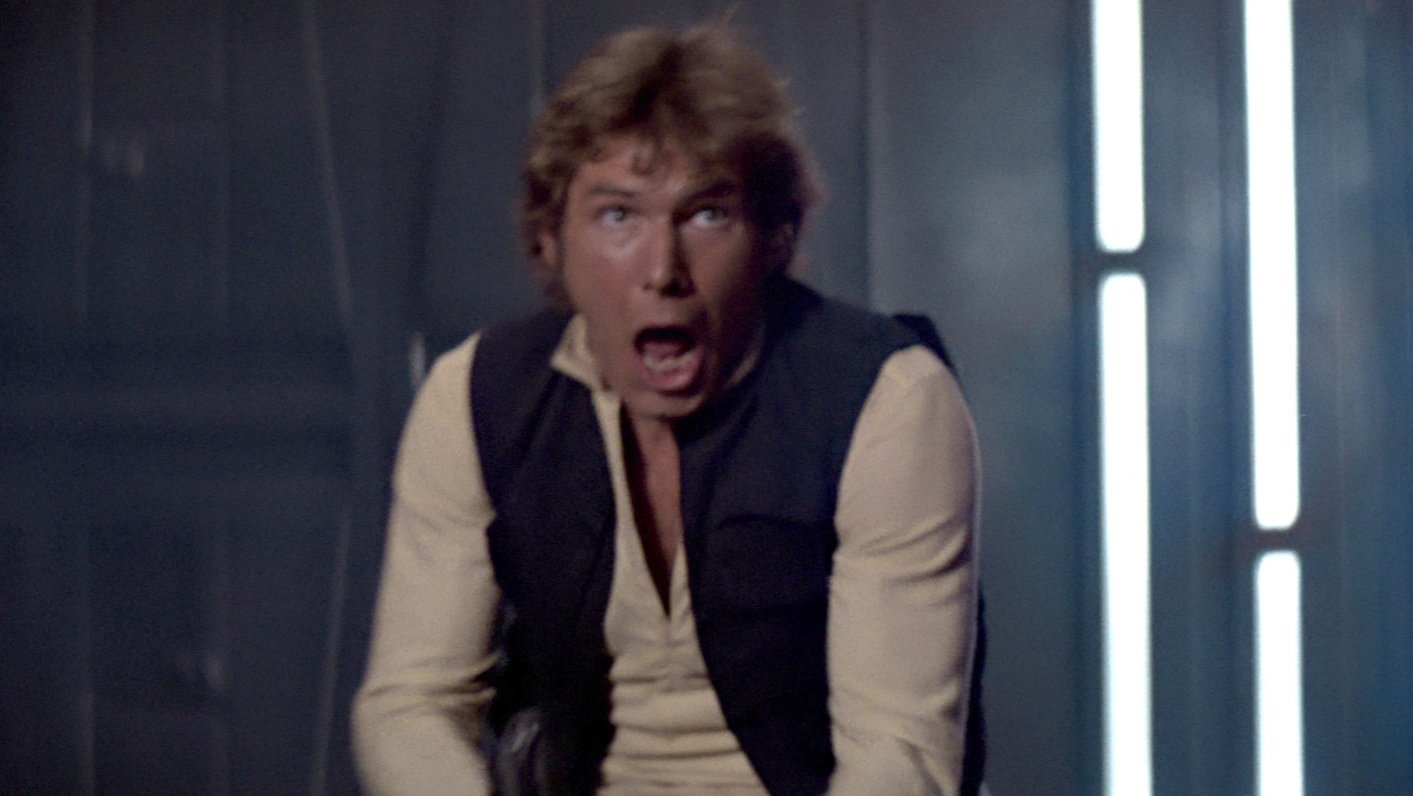 Naturally, most of the news this week centers around the upcoming Solo: A Star Wars Story which is set to premiere to general audiences in a few days. This week, we have a lengthy interview with the movie's composer John Powell, and Alden Ehrenreich discusses his new role as Han Solo. Plus, new posters are revealed, and an easter egg connection to A New Hope is discovered! In non-Solo related news, a special Star Wars exhibit comes to the Detroit Institute of Arts. Check out all of this and more this week on our Star Wars Weekly News!
Our weekly roundup of the news, notes, and chatter featuring Star Wars stories from around the world that you may have missed continues. First, we start with an interview with John Powell, one of the more popular and influential composers around, chatting with All Access in a extensive interview (53 mins) recounting the inspiration, influences, and challenges behind his stunning score for the upcoming Solo: A Star Wars Story film,  the changes in the film industry, how he finds new inspiration, and details of his early days at Media Ventures. Check out the video below:
Also, check out the new cover for his upcoming score via Film Music Reporter below.
Cover art revealed for 'Solo: A Star Wars Story' Soundtrack feat. music by John Powell & John Williams. https://t.co/RPSY9onn88 pic.twitter.com/3vS9t5d0g1

— Film Music Reporter (@filmmusicrep) May 18, 2018
Alden Ehrenreich recently sat down with travel expert Susan Simon for an exclusive chat with Solo: A Star Wars Story star Alden Ehrenreich. In the interview, Alden talks about how much of Han Solo was Harrison Ford and how much of it is was his, Ford's initial reaction to the film, what his favorite Star Wars film is, and when the actor saw his very first Star Wars film.
Q: How much of this Han Solo is Harrison Ford and how much of it is your own?
Alden Ehrenreich: Something that was really important to me was to make it feel like a real person, that you're watching a real person going through something. And you also want to feel a kind of continuity that he could grow into that guy. I basically started by watching all the original movies, very early on, and kind of trying to just absorb as much as of that as I could, so that when it came time to actually do it, I wouldn't be thinking a lot about it.
Q: What was that one Han Solo quirk that you made sure you nailed?
AE: Well there's several things, I don't want to name them because then it's like you're watching for them and I want people to just watch the story. But I think one of the qualities about him that I really love, there's a moment in A New Hope where there's a moment where they're pinned in a corner and they don't know what to do and he just starts yelling at the top of his lungs and running at them. And I feel like that's a great quintessential thing of the essence of this guy.
Q: You just saw Harrison Ford, did he tell you his reaction to the movie?
AE: He loved it, he thought it was awesome, he thought it worked like gangbusters. He thought I was really great and he said I'm going to make hundreds and hundreds of dollars.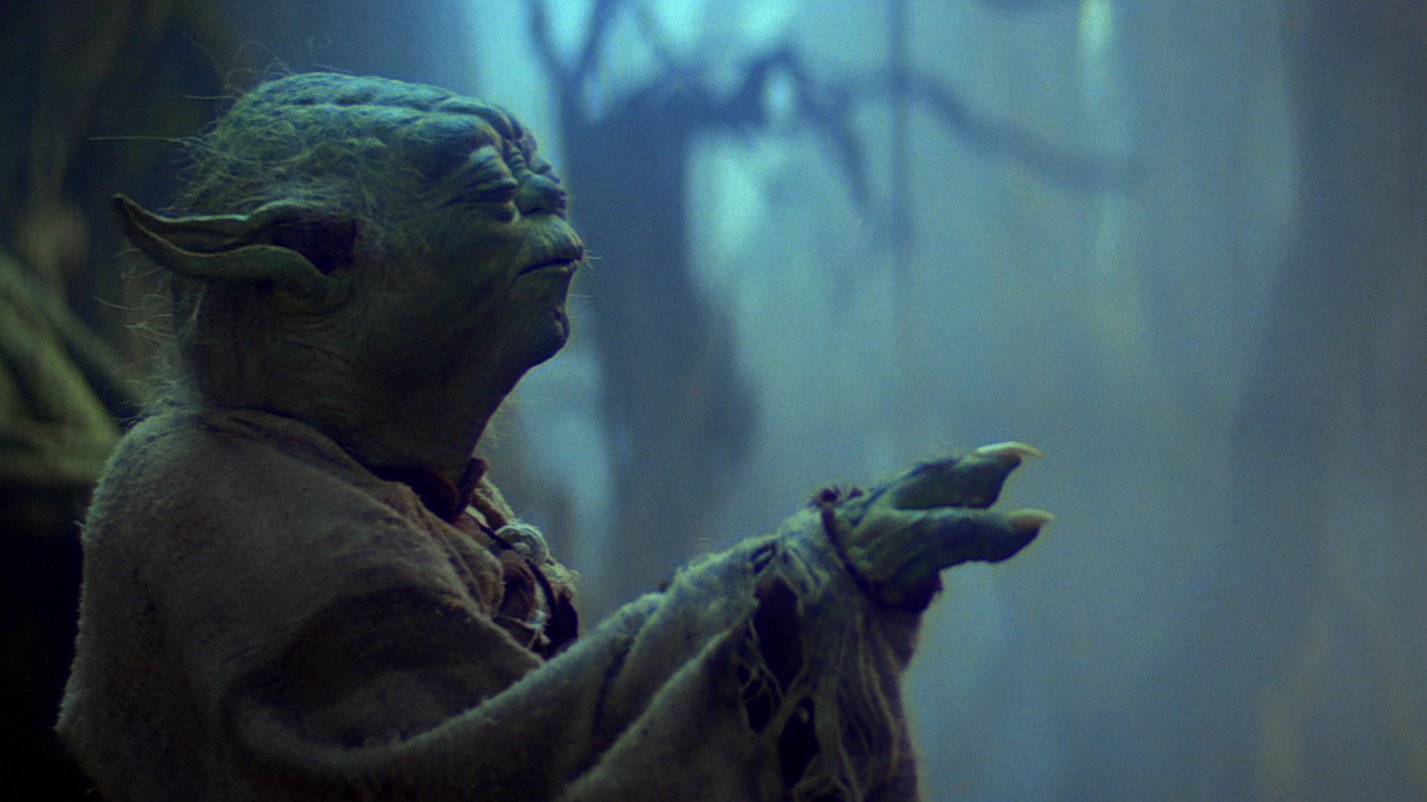 Q: What is your favorite Star Wars film?
AE: I think Empire Strikes Back. I love Yoda a lot. And I just think it's really cool to have a movie this kind of movie with so much like real wisdom in it and this kind of deep philosophical background that's put into terms that are so clear and communicable to so many people. And it's just cool.
Q: When did you see your first Star Wars movie and how did you like it?
AE: I loved it, I was five, I think and I saw it on VHS, and I had all the toys and all the action figures and pretended. In fact, when I got to do my screen test on the Millennium Falcon, it was so familiar to me from just imagining that I was on it as a kid, it kind of put me at ease. Walking through the hallway… everything! Certainly really-really exciting.
Read the full interview HERE!
Reddit user Fusionbomb happened to find an easter egg in a recently released Solo: A Star Wars Story TV spot. The minor spoiler involves a glimpse of Chewbacca and Woody Harrelson playing holochess aboard the Millenmium Falcon. Chewbacca's a smart Wookie, but when it comes to Dejarik holochess, clearly he throws logic out the window if things aren't going his way, when a couple holograms get smashed off the board when he swipes the table figures.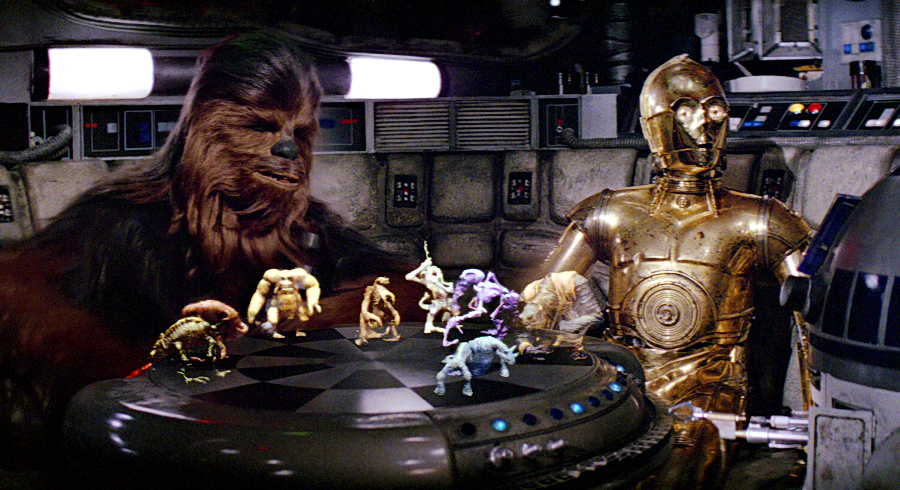 You'll notice a spark and a button pops off the board as the green and red figures glitch off the board. Its fitting that these two characters are "broken" by Chewbacca since they were originally designed for ANH (A New Hope), but were never used. Jon Berg and Phil Tippett originally created ten Dejarik chess figures but (George) Lucas only chose eight for ANH because he felt that's all that could fit on the board. The remaining two were lost to time until fairly recently when Tippett used recreations of the figures as incentives for a crowdfunding campaign. Kinda cool that the effects team on Solo took the time to include them and give them a backstory of why they're not in ANH.
Nice find. "I like this kid".
After seeing an advanced screening of Solo: A Star Wars Story, Roz Weston gave his initial (spoiler-free) reaction during ET Canada's Television Live show! What makes the review interesting from many others is that Roz didn't really have anything good to say about Star Wars: The Last Jedi when he spoke about the film last winter. Well, it seems that he's flipped a Falcon cockpit switch with regard to this chapter of the Star Wars series. This bodes incredibly well for fans that didn't find The Last Jedi enjoyable. Over 110,000 YouTuber's have viewed his review and reaction below!
Walt Disney Pictures and Lucasfilm have released four new character posters for Solo: A Star Wars Story featuring Han ( Alden Ehrenreich ), Chewbacca, Lando ( Donald Glover ), and Qi'ra ( Emilia Clarke). What's exciting about these new posters is that they differ from previous Star Wars posters in truly playing up the fact that this film has an old western feel. Where do these posters rank in your personal favorite Star Wars character posters? Let us know in the comments. You can see the poster of Han Solo below:
And check out the rest of the posters here:
LEGO Star Wars is celebrating next week's release of Solo: A Star Wars Story with a series of new sets, including those related to the new film. Our understanding is that some of these sets will be available before the end of the year at various LEGO retailers and the Online LEGO Shop. Check back with us as we get closer to the release of these sets.
Introducing the newest LEGO @starwars recruits! Joining the action this Fall. #LEGOStarWars pic.twitter.com/MukvamkXwV

— LEGO (@LEGO_Group) May 17, 2018
Artist Daz Tibbles (follow him @daztibbles) decided to catch that 70's vibe with a cool sketch of Val from the upcoming Solo: A Star Wars Story film. His incredible level of high detail clearly illustrates the dedication of a truly passionate, driven artist. Check out his other sketches, videos and art here:
Love Val's 70's vibe. Monday night sketch done with @Procreate . #solo #starwarsfanart @starwars @thandienewton pic.twitter.com/taVBuMBccw

— Darren Tibbles (@daztibbles) May 14, 2018
Through a partnership, the Smithsonian Institution and the Lucas Museum of Narrative Art bring over 60 original movie costumes and design sketches to the Detroit Institute of Arts for a special exhibit starting May 20th. Visitors get an up-close and personal look at the costumes of various Star Wars characters.
"This exhibition allows visitors to explore the creative processes behind the art of costume design, while discovering the unexpected ways in which these works relate to art from the DIA's collection," said Salvador-Salort-Pons, DIA director. "You get to see how an idea is born, how it comes to paper, and how it gets turned into this reality."
Costumes range from Han Solo, Darth Vader, Princess Leia, Queen Amidala, Stormtroopers, X-wing Pilots, C-3PO and R2-D2 and many more.
More details can be found here.
The red carpet at the Solo: A Star Wars Story  71st Festival de Cannes premiere in France was filled with dazzling celebs, including star Alden Ehrenreich, who plays the swashbuckling smuggler Han Solo. The great group of people got together for a few photos before the screening.
SOLO: A STAR WARS STORY by RON HOWARD 📸#Cannes2018#HorsCompetition#OutOfCompetitionpic.twitter.com/ODljrgXhZN

— Festival de Cannes (@Festival_Cannes) May 15, 2018
BEFORE YOUR GO: 
Some movie theaters are going out of their way to promote the upcoming Solo: A Star Wars Story film. Apparently, stationed inside the Arclight theater in Hollywood are some of the actual costumes used in the movie. Very cool indeed!
Actual costumes used in Solo: a Star Wars story are being shown at the Arclight theater in Hollywood pic.twitter.com/d8ieL7we07

— Lumberjack Nick ✖️ (@lumberjacknick) May 20, 2018
More next week. May the Force be with you….
Click HERE to check out and comment on this topic in our forum The Cantina