The Resistance Broadcast Takes the Solo Challenge!
On this episode The Resistance Broadcast has put on a Solo: A Star Wars Story guessing challenge contest simply called the #SoloChallenge, and we have taken our crack at guessing what will happen in the movie ourselves! We also answer your final 'Solo' questions before the movie comes out in #AskTheResistance!
The Resistance Broadcast Takes the Solo Challenge!
On this transmission of The Resistance Broadcast: John Hoey, James Baney, and Lacey Gilleran!
To enter the Solo Challenge simply click HERE and guess what you think will happen in Solo: A Star Wars Story! The contest is WINNER TAKE ALL!!! The highest score will win the following prizes brought to you be us and our friends Star Wars Explained and Black Series Rebels!
Be sure to subscribe to our YouTube channel or follow us on Soundcloud so you are alerted when new episodes post! If these formats aren't your thing, subscribe to us here on iTunes!
ASK THE RESISTANCE!
Did your question make it on the show? If so, great! If not, be sure to ask us your question for next time! If you would like to submit questions for the show you can tweet at us on our Twitter account @RBatSWNN, message us on the Cantina Forum in the questions and comments thread, or send an email to resistancebroadcast@gmail.com. Your support and comments are highly appreciated and you always make the show more fun! If messaging us on Twitter, make sure to include #AskTheResistance so we can access your questions directly every week.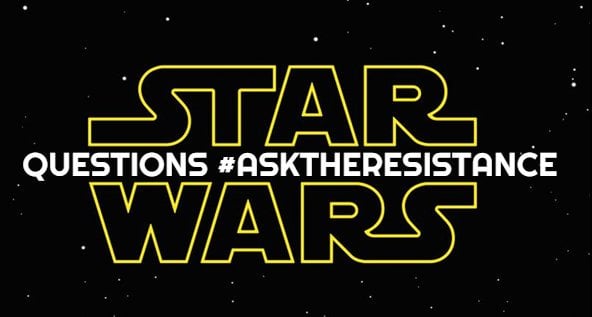 New SOLO styled merchandise in our store, check this out!
Just launched some new #SoloAStarWarsStory Shirts! Han, Chewie, and Both together!
——
Grab 'em now while they are 30% off and lock in what you're wearing to the movie! Check them out HERE: https://t.co/YPMDxtLOOZ #StarWars pic.twitter.com/PudbI22Xh1

— The Resistance Broadcast | Star Wars News Net (@RBatSWNN) May 7, 2018
Special thanks to Matt Pasterick for our theme song!
John Hoey is the Lead Editor and Senior Writer for Star Wars News Net and the host of The Resistance Broadcast podcast
"For my ally is the Force, and a powerful ally it is."