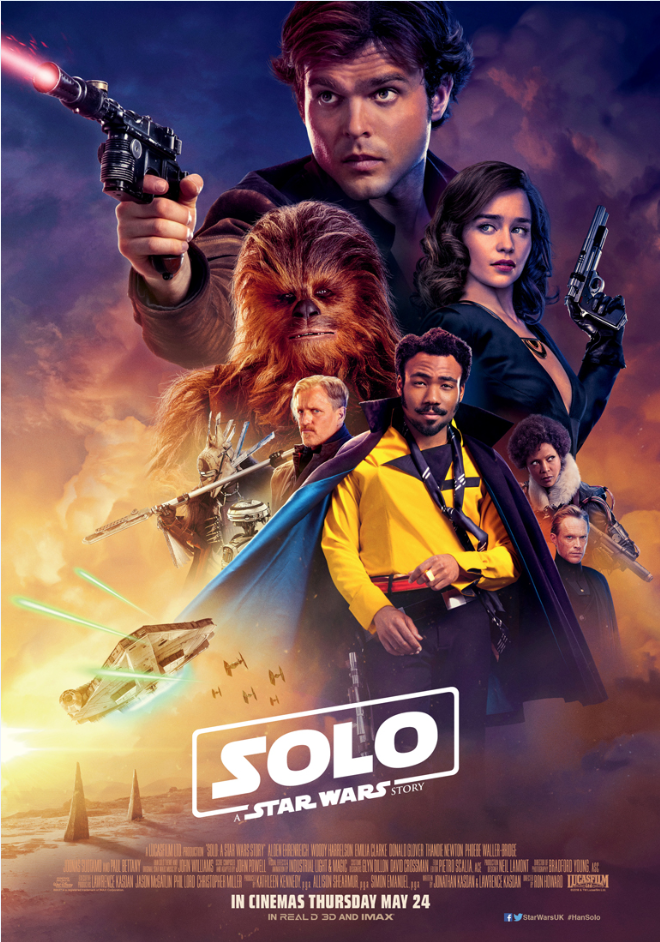 It has been widely agreed that it would make a lot of sense for theater tickets for Solo: A Star Wars Story to go on sale on Star Wars Day May 4th! Well guess what, it's happening, as theaters across the country are beginning to confirm this via their social media accounts.
Theaters are beginning to tweet the confirmation in droves, confirming the widely assumed idea that theater tickets for Solo: A Star Wars Story will be going on sale May 4th, and showtimes should be available soon.
Tickets for #SOLO A Star Wars Story go on sale this Friday, May 4th. Showtimes are coming soon. #MayThe4thBeWithYou #BTV pic.twitter.com/hmbBWe57bS

— Essex Cinemas (@EssexCinemas10) May 1, 2018
This Friday we'll have tickets for #SOLO A Star Wars Story going on sale. https://t.co/ArBtIRLMbI #Plattsburgh #MayThe4thBeWithYou pic.twitter.com/I1nV08nQxH

— Cumberland12 Cinemas (@Cumberland_12) May 1, 2018
We imagine like with previous recent Star Wars releases that there will be Thursday showings on 5/24 prior to the official opening date of 5/25 in the United States. Expect a larger announcement coming soon from the big sites like Fandango and StarWars.com, but theaters wouldn't start putting this out there if it wasn't official.
So we only have one question for you. Will you be buying your opening night tickets this Friday?
"For my ally is the Force, and a powerful ally it is."
John Hoey is the Co-Lead Editor and Senior Writer for Star Wars News Net and the host of The Resistance Broadcast podcast
"For my ally is the Force, and a powerful ally it is."
Click HERE to check out and comment on this topic in our forum The Cantina