Review: Mon Cala Rebels in Marvel's Star Wars #48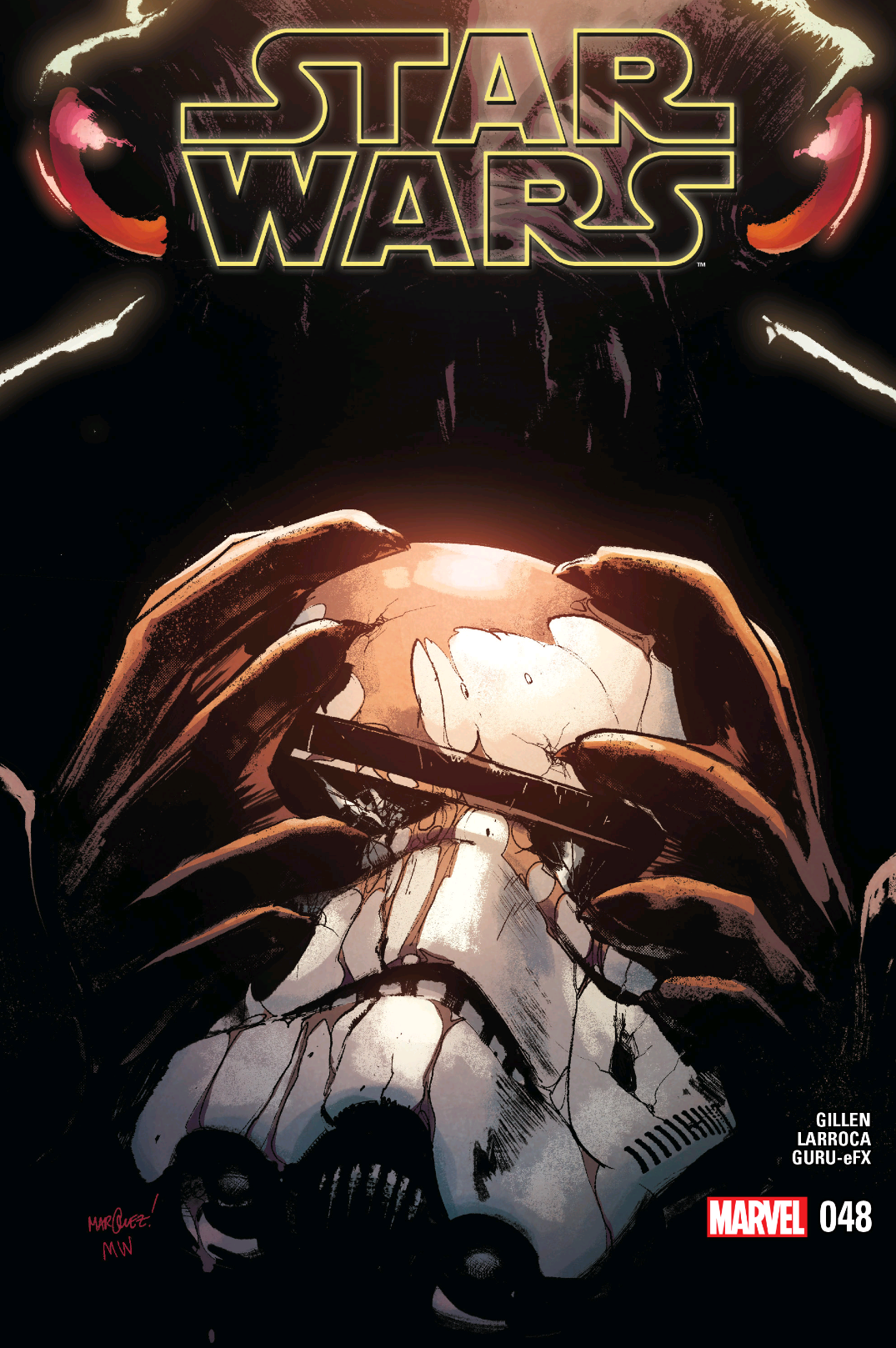 This week in issue #48 of the titular Star Wars series by writer Kieron Gillen and artists Salvador Larroca and Guru-eFX, the Mon Cala king attempts to unite his people in their resolve against the tyrannical Empire, Luke and Leia's plan goes south, and the rebels find their hope renewed once more, but at what cost? Spoilers ahead…
If you've been following the recent runs of Star Wars (by Kieron Gillen) and Darth Vader ( by Charles Soule), then you will know that the two story arcs are closely linked with both of them taking place on the water world of Mon Cala. In Vader, we are following King Lee Char, Raddus, and Ackbar as they defend their world against Imperial invasion from Grand Moff Tarkin while the Sith Lord and his inquisitors seek out Char's Jedi advisor.
As things are looking bleak for Mon Cala and its king in that series, we see the end result of that conflict (albeit years later) in Gillen's current Star Wars arc. As Leia, Luke, Han, Chewie, and the droids attempt to inspire Mon Cala to rise up against the Empire once again, they are met with no small amount of trepidation from Mon Cala's Grand Admiral Urtya, who fears the ramifications of standing up against the Empire after they were so devasted years before for doing so.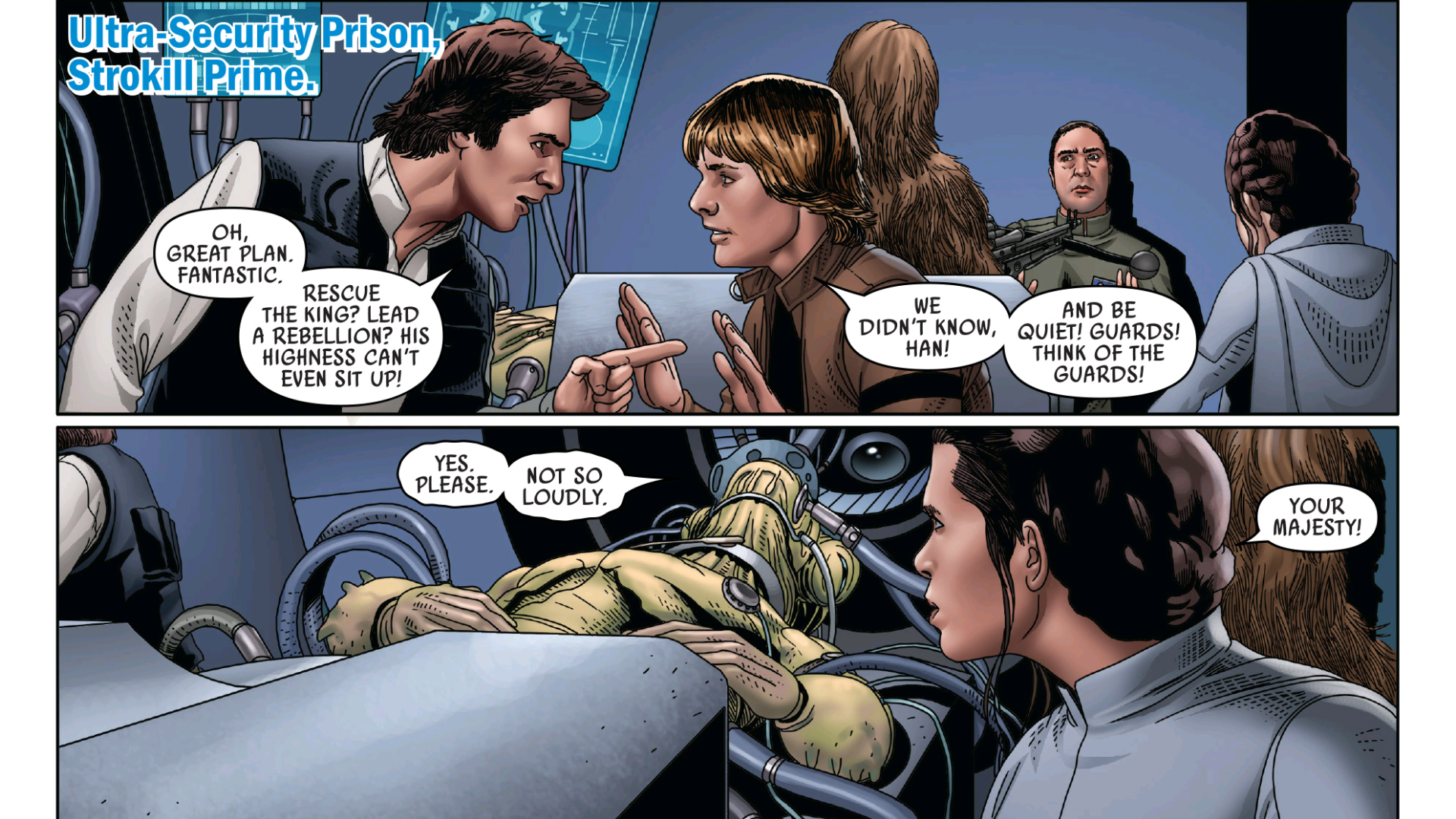 To convince the Admiral and his people that the time has come for them to take their stand once again, Leia and Luke concoct a plan to rescue the captive king so that he can unite the people against Imperial tyranny. But Luke and Leia's plan to extract the king goes south when they discover the king's ill condition will prevent him being moved. However, hope is restored when the king reveals that he is down but not out, recording a final message to his people that he entrusts the rebels to deliver.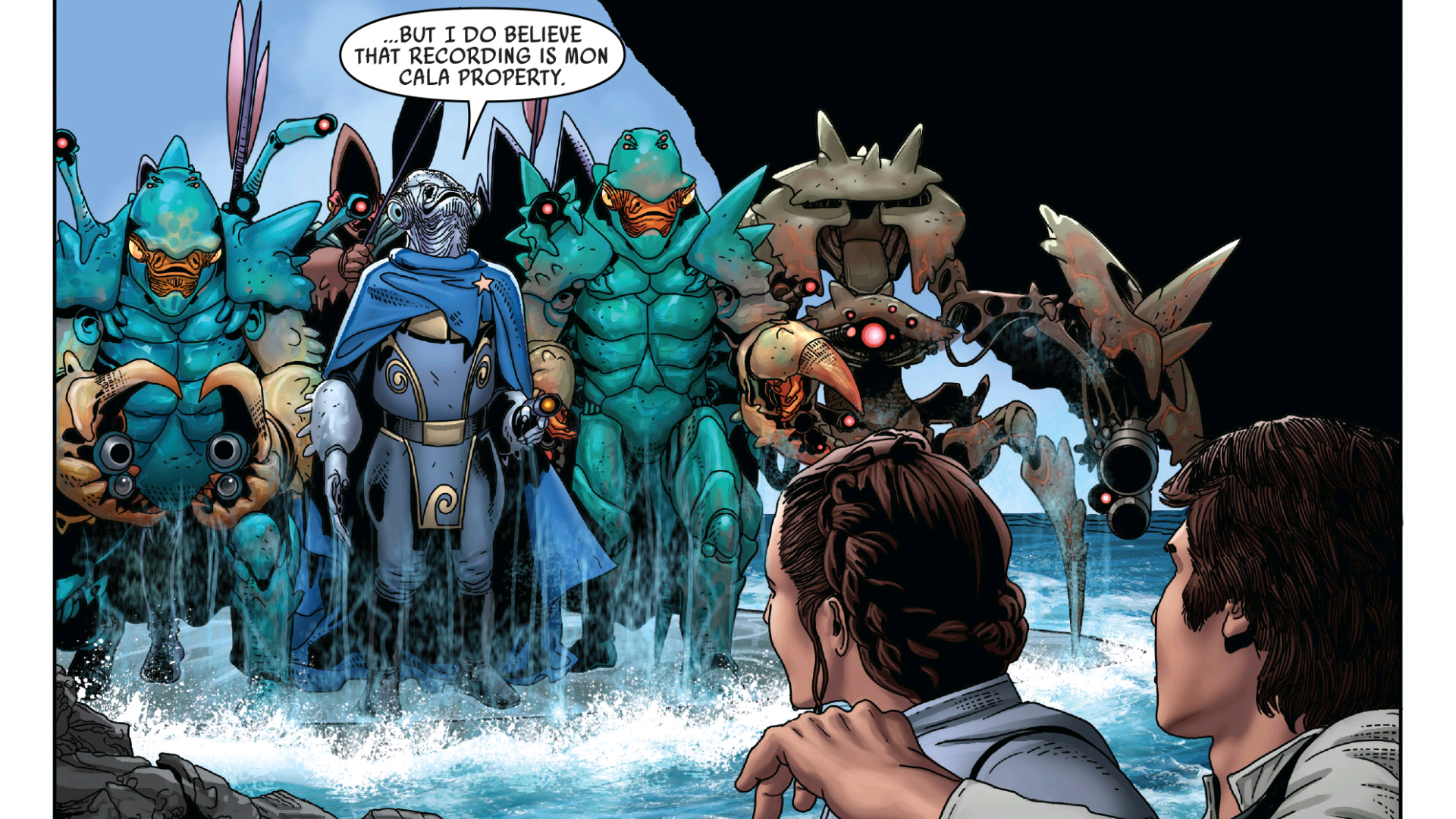 After their escape, the rebels rendezvous with the recording in hand, only to be apprehended by Urtya, who stuns Leia and grabs the recording, stating that the information therein belongs to the people of Mon Cala. Thinking that Urtya's cowardice would prevail, the rebels leave Mon Cala in defeat, only to soon discover that the Admiral had played the message across an open channel, delivering Lee Char's message and revealing his death at the hands of Imperial stormtroopers.
The uprising has begun. Although the rebels are releaved to see Urtya take a stand, Leia recognizes the danger of his quick decision to play the message, having not properly planned for the fallout that would undoubtedly follow. We know that the Mon Cala fleet will play a vital role in the Rebellion moving forward, but just how much of it will be lost due to Urtya's knee-jerk reaction? If only Urtya had listened, perhaps a larger portion of the fleet would have survived to aid in the upcoming battles of Hoth and Endor. But alas, the Force wills as it pleases, and we know that the ultimate victory over the Empire will not be deathly hindered by this mistake.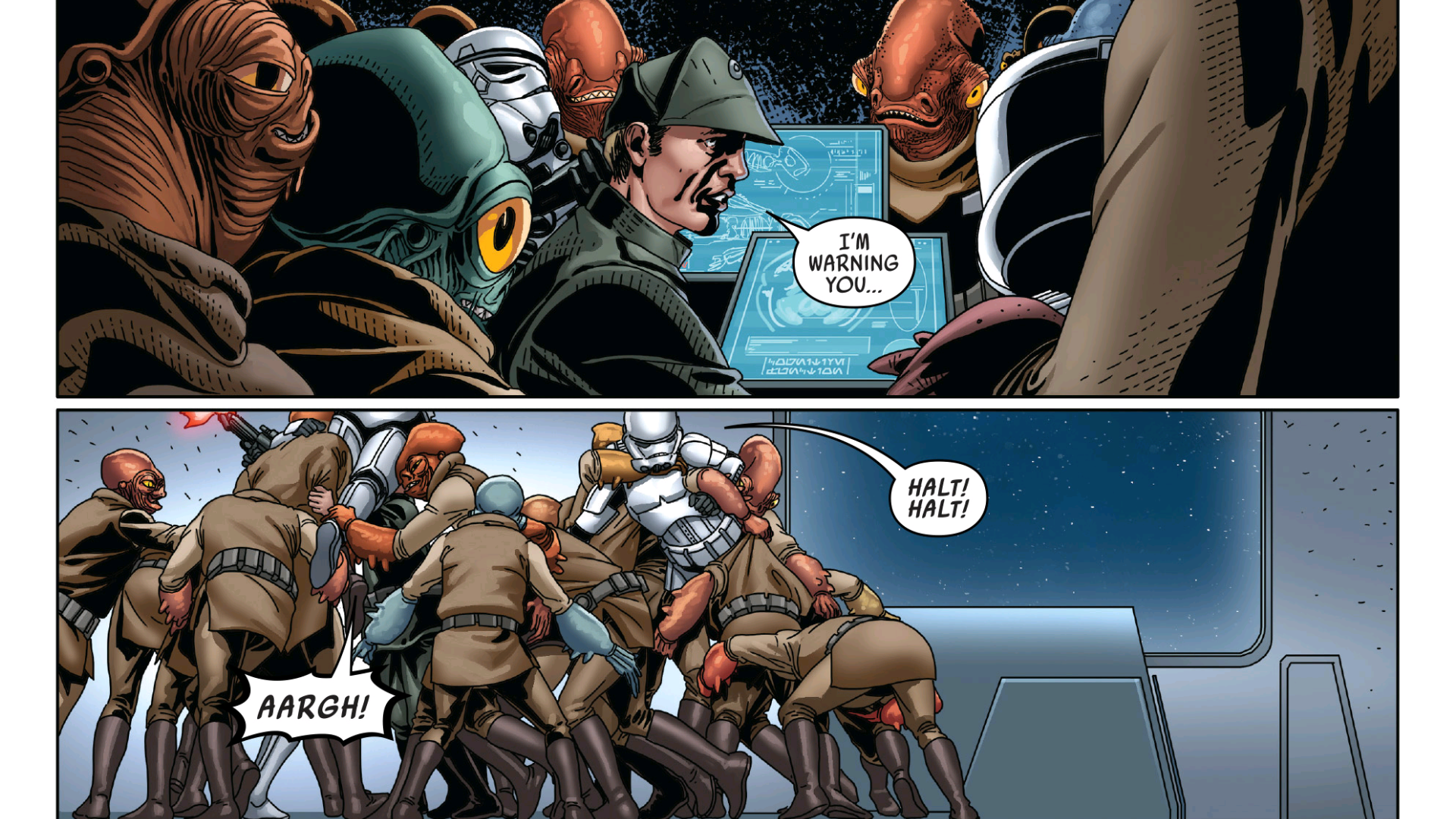 I always wondered why so few Mon Cala ships are seen aiding the rebels in the movies when they were rumored to have such a strong naval presence. It seems like the next issue will answer that question as the fight on Mon Cala concludes in issue #49.
I continue to enjoy Gillen's writing in the Star Wars universe, both on the main series here and on Doctor Aphra. His quirky style and untethered storytelling make for some fun and exciting scenarios for the characters in his books, and he has an uncanny ability to make the plot play out in interesting and unexpected ways.
His style does lend itself better to standalone stories like Aphra where you genuinely have no idea where the story will end up, but a good writer is a good writer, and Gillen is one of the best in comics in my opinion. I recently re-read his run on Journey Into Mystery  with kid Loki (man, it is so good), and I have thoroughly enjoyed his work on Uncanny X-Men and The Wicked + The Divine in the past as well. Although I tire of Larroca's artwork, I am happy to have Gillen on this series until he's ready to move on.
To the regular comic book reader, this particular issue may not be earth-shattering, but for me, a huge Star Wars fan who loves comics, it was great to see the Mon Calamari finally make their stand against the Empire, and the issue left me genuinely excited to see the inevitably bloody conclusion next month. Some of the more entertaining moments in the book actually come from C-3PO, surprisingly, as he and the clawdite impersonator buy the rebels more time by performing a play in front of the Mon Cala assembly. Threepio really enjoys the spotlight, and Gillen has a lot of fun with this aspect of the story.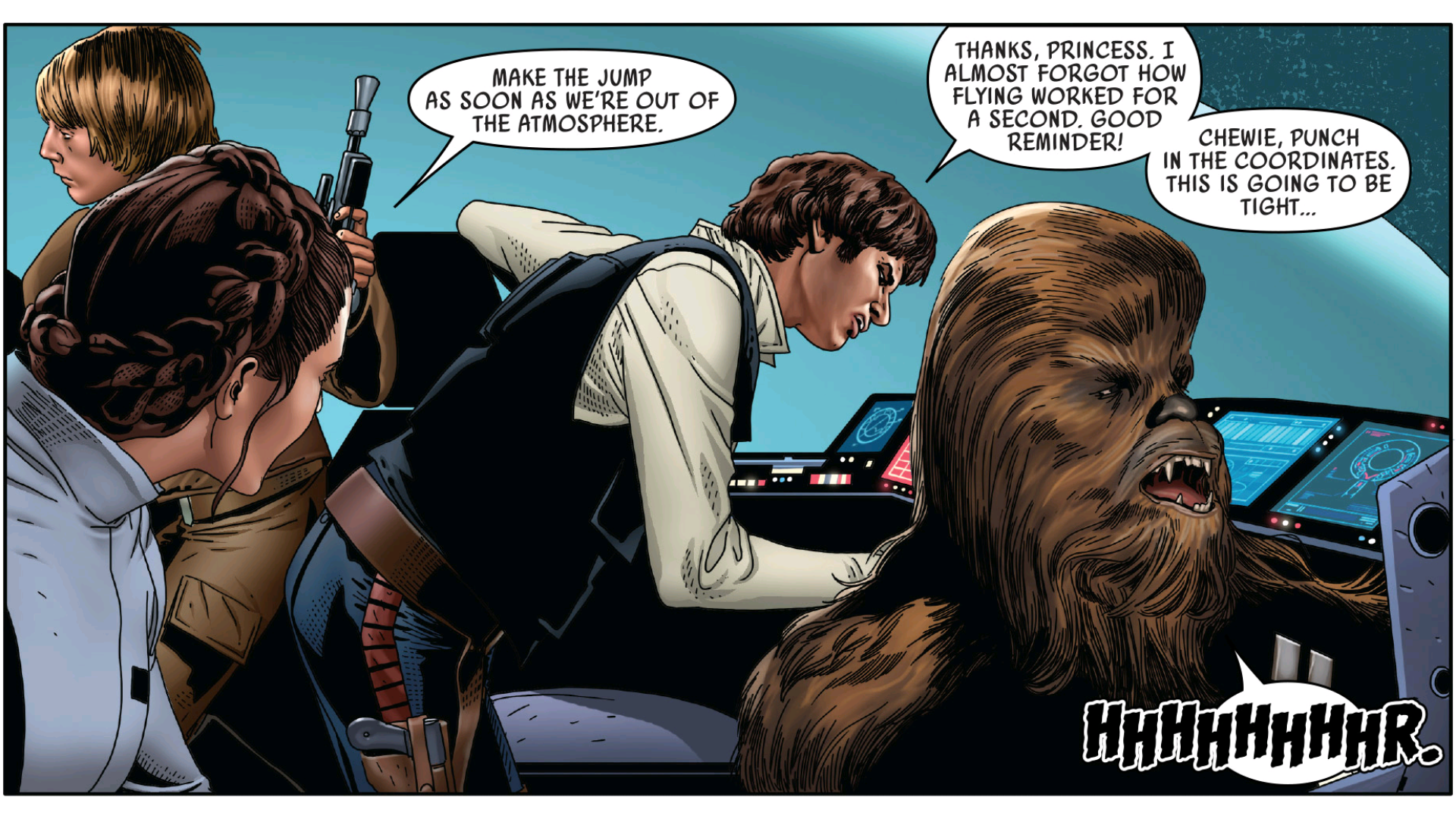 As usual, Larroca excels in his depiction of ships and the various technological surroundings but is very hit and miss with his characterizations, displaying the usual unnerving photorealism that actually manages to shatter the illusion rather than perpetuate it, with some of the characters just looking downright weird at times. Gillen continues to do a great job with the material he has to work with, but this story's weakness is that we kind of already know where it is heading, which is not necessarily Gillen's fault. He makes it an enjoyable enough ride along the way though, and the issue was an entertaining read overall. It's ultimately just not one of the more interesting Star Wars stories right now in my opinion which lets some of the air out of it, despite Gillen's skill at bringing the story to life on the page.
Score: 6.5/10
Star Wars #48 is available now in a comic shop near you or online at Comixology. Happy reading comic fans!
Jordan Pate is Co-Lead Editor and Senior Writer for Star Wars News Net, of which he is also a member of the book and comic review team. He loves all things Star Wars, but when he's not spending time in the galaxy far far away, he might be found in our own galaxy hanging out in Gotham City or at 1407 Graymalkin Lane, Salem Center, NY.