Mark Hamill Considers Carrie Fisher 'Irreplaceable' as Princess Leia
There is a storm coming, and until we have concrete answers on the cast and future for Princess Leia in Star Wars: Episode IX, we will go through waves of wonder, wishes, and speculation over how to handle the iconic character in the wake of its 40 year tenant Carrie Fisher's passing. In what should come as a surprise to nobody, her space-twin Mark Hamill doesn't know how they'll handle it, but feels that Carrie is irreplaceable.
In an interview with Steve Weintraub of Collider, Hamill shared his thoughts on the idea of potentially recasting Princess Leia in Star Wars: Episode IX. As many would expect, the actor isn't very fond of the idea, going as far to say that in his opinion, Carrie can't be replaced.
"I don't know what the specific plans were for that character, but since Han was more prominent in VII, Luke was more prominent in VIII, we assumed that Leia would be more prominent in IX, especially with the dynamic of Kylo Ren being her son. I think it would be tough recasting because she's so indelibly linked to that character."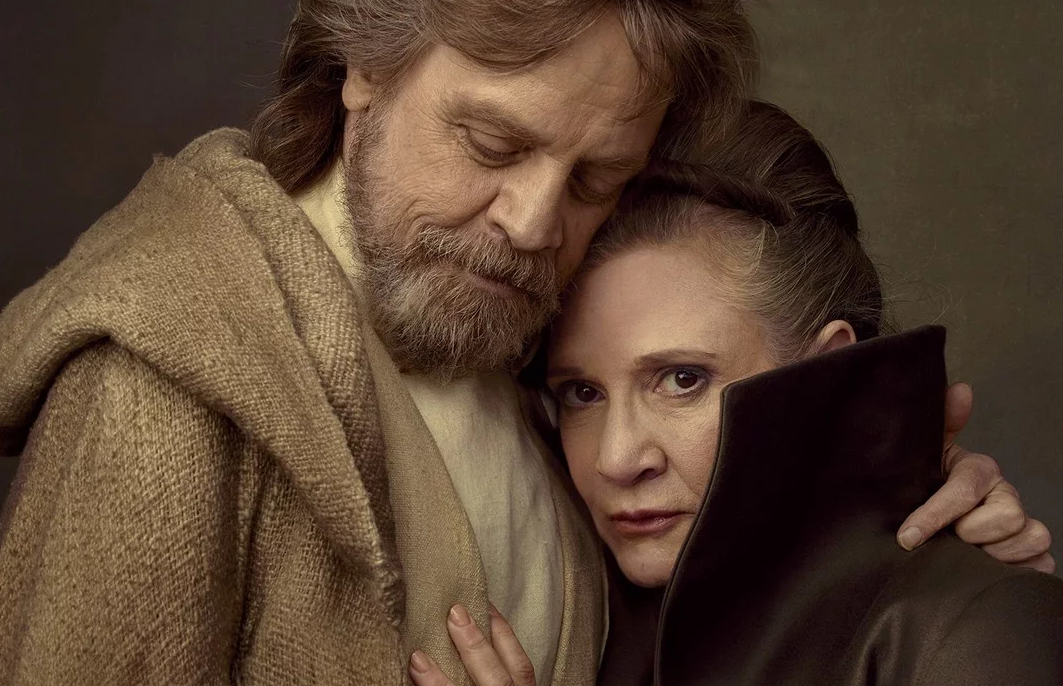 Hamill references Lucasfilm President Kathleen Kennedy's previous statements about Carrie regarding Episode IX:
"They've already ruled out the idea of computer generating her performance like they did with Peter Cushing, so gee, that's got to be a really, not an insurmountable problem, but I know the script had been developed enough so when we lost her they had to go back to square one. She's irreplaceable as far as I'm concerned."
Within a certain context that quote by Hamill is interesting, but it appears a bit dated. We know Colin Trevorrow had a story for Episode IX so he did indeed have to re-work it with Lucasfilm once Fisher passed, however he was jettisoned from the project last August and replaced by J.J. Abrams and Chris Terrio, who have since written a new script for the film. Many, including myself, have speculated Trevorrow was dismissed due to story disputes, considering nothing for Episode IX had been done aside from the story development.
In regards to the "computer generating" comments, Hamill is alluding to Kathleen Kennedy who has (at least up until last summer) being quite direct that there will be no CGI rendering of Fisher and that the actress will not be in IX. However, Kennedy has not spoken on the subject since Abrams took over, and it can't be ruled out that the story he and Chris Terrio have developed could have swayed Kennedy to bend those rules, if even a little bit. Just because Kathleen Kennedy spoke on something last year when a different writer and director was in place, doesn't mean things can't change.
Weintraub goes on to point blank ask Hamill if he'd have interest in coming back as a Force ghost in Episode IX. Hamill talked about his grand entrance in Episode VII and his grand exit in Episode VIII and whether or not he is a part of IX or not is up to Chris Terrio and J.J. Abrams, but claims he has no idea one way or the other at this point.
Here is the complete video interview between Collider's Weintraub and Mark Hamill
In trying to get ahead of the storm of speculation, The Resistance Broadcast had a lengthy discussion/debate back in January about what they should do about Princess Leia in Episode IX.
We then asked our listeners what they thought they should do and they overwhelmingly voted that her death should be mentioned in the crawl for Episode IX.
We debated how they should handle Leia in IX. Kennedy said no CGI and that Carrie won't be in IX, but will they still use a shot of her for a Force ghost? Will Leia be recast? Death mentioned in crawl? Books/comics? Which do you like best? #StarWars #pollhttps://t.co/N4hNmodhHr

— The Resistance Broadcast | Star Wars News Net (@RBatSWNN) January 22, 2018
If you haven't read it yet and would like to, here is my tribute to Carrie Fisher.
Luke Skywalker himself feels Carrie Fisher is irreplaceable – that should be enough right? Sure Kathleen Kennedy said they will not bring back Carrie with any unused footage or CG rendering but again that was long before J.J. Abrams took over, so is it at least possible they may have bent on that a little if Abrams pitched them something appropriate and feasible? Time will tell what Lucasfilm and Abrams landed on, but fully expect this topic to consume a lot of the media and fan attention surrounding the film as it begins production this summer. If they don't recast Leia with another actress, knowing Abrams' reputation, we may not find out what they decided to do about Leia until December 2019 when Star Wars: Episode IX hits theaters.
"For my ally is the Force, and a powerful ally it is."
John Hoey is the Lead Editor and Senior Writer for Star Wars News Net and the host of The Resistance Broadcast podcast
"For my ally is the Force, and a powerful ally it is."