Update! Steven Spielberg Reveals Some of the Star Wars References in 'Ready Player One'
Steven Spielberg is no stranger to Lucasfilm, having worked closely with his longtime friend and confidant George Lucas for decades. Star Wars Easter eggs are no stranger to Spielberg, having included them in some of his other films like E.T. the Extra-Terrestrial and even Lucasfilm's Raiders of the Lost Ark. The tradition continues in his latest film Ready Player One. In addition to various other movie, game, and toy references, Star Wars will have a couple of nods as well.
The revelation, courtesy of Yahoo! Entertainment, didn't come without a brief moment of media-frenzy drama, perhaps due to some miscommunication. During a press conference last Thursday Spielberg evidently misspoke by saying:
 "We couldn't get any Star Wars rights. … We [tried] very hard. They wouldn't give up the rights."
No more than 24 hours later, Spielberg flipped the script by saying there are indeed Star Wars references in Ready Player One.
"We requested [intellectual property] from almost all of the [movie] studios, and also game companies and toy companies, and everybody jumped on board, including Disney," Spielberg said
As I mentioned in the opener, this wouldn't be anything new for Spielberg, which is why we couldn't imagine there being an issue with him being allowed to use any of the characters (regardless of Disney being the new owner). Spielberg and Lucasfilm have always had a wonderful relationship, and considering E.T.'s producer Kathleen Kennedy is the boss of Lucasfilm, the thought of Spielberg being denied is borderline ridiculous. E.T's species even appeared in The Phantom Menace!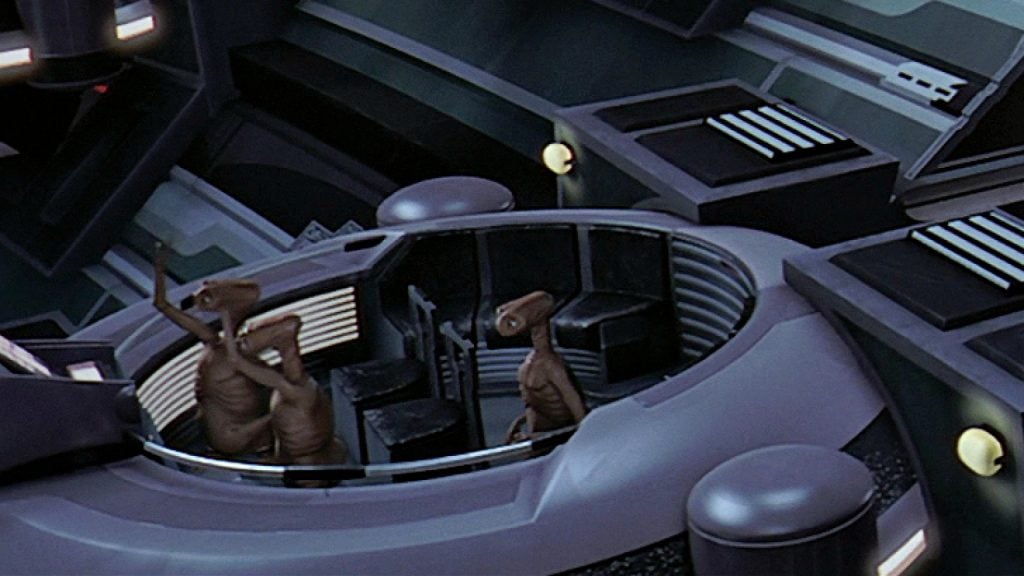 …years after Yoda (as a Halloween costume) appeared in Spielberg's E.T.!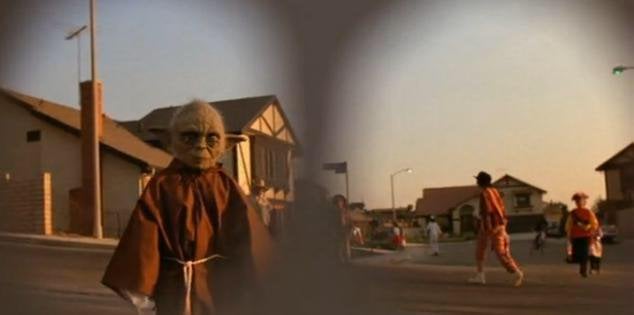 Now before you start preparing yourself to spot Kylo Ren and BB-8 in the background of a scene, Spielberg made it clear he is dating his references back to the original trilogy era, long before the sequel trilogy characters were a glimmer in J.J. Abrams' eye.
"I didn't think it would be good to do the contemporary characters in all of the [new] Star Wars films, because our film takes place in 2045 but everybody has returned nostalgically to the 1980s," he said. "Disney was very generous in letting us basically cherry-pick the little items we needed."
The director didn't stop there, as he even gave a hint as to who or what we may see pop up in the film, including R2-D2 and an X-wing, stating:
"[They are] in the periphery of the painting," he said.
R2-D2 and an X-wing? Does that mean Luke might make a brief appearance in a fly-by? Let's not get greedy!
Artoo is quite the popular character, as he even appeared in J.J. Abrams' Star Trek. Easter eggs are always a fun find in movies, especially when it's a Star Wars Easter egg appearing in a Spielberg movie! There are more Spielberg/Star Wars crossovers to reference, but I'll let you do that in the comments!
Source: Yahoo
"For my ally is the Force, and a powerful ally it is."
Update!
Thanks to Wolwo from our comments section, we can add that R2-D2 and an X-Wing were both mentioned in the "Ready Player One" book as well. Artoo is mentioned as a DJ in a club, and also the main character Parzival has an X-Wing in the OASIS. So this news shouldn't come as a surprise to everyone who read the book.
John Hoey is the Lead Editor and Senior Writer for Star Wars News Net and the host of The Resistance Broadcast podcast
"For my ally is the Force, and a powerful ally it is."