SOLO Actress Phoebe Waller-Bridge Discusses the Impact of the Film's Director Change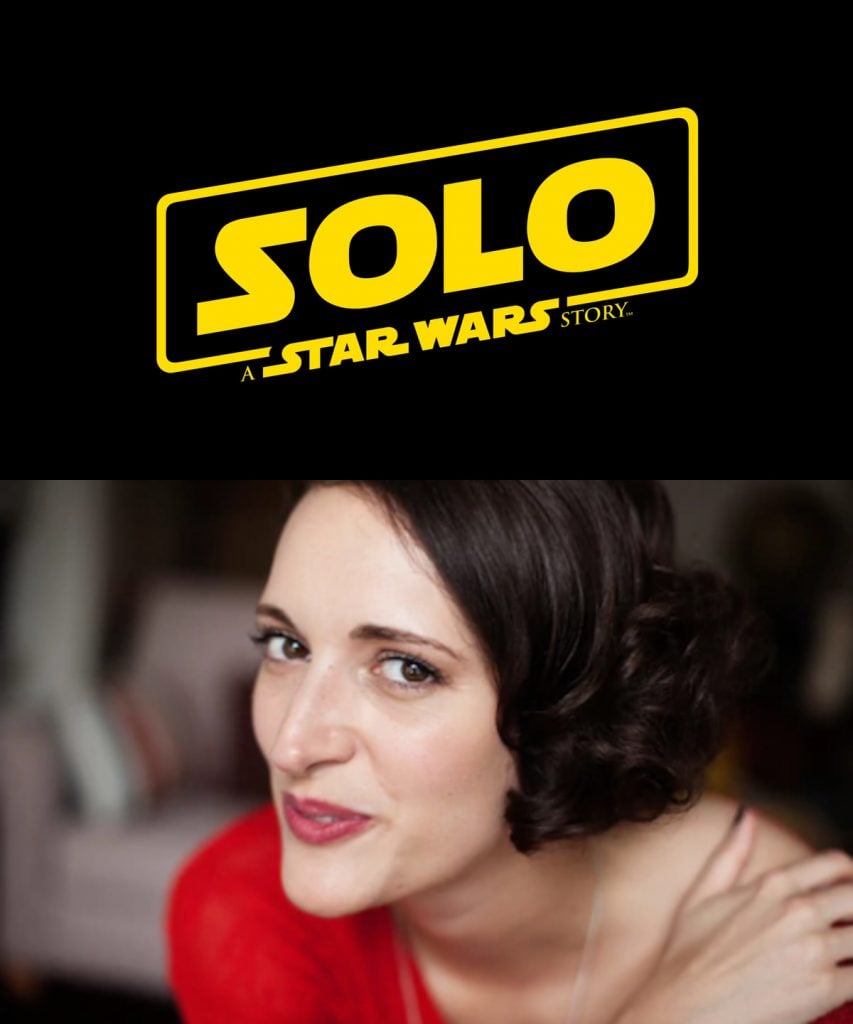 A lot of films encounter at least some level of drama throughout their production process, but no film productions garner attention like a Star Wars film. A franchise built on legacy and the need to deliver, high expectations are pinned upon Star Wars films by its fan-base, and rightly so. Actress Phoebe Waller-Bridge spoke briefly about the film, specifically the transition to Ron Howard and its handling by all involved. We also touch on the widespread rumors as to what character she is playing, and when we should expect a teaser/trailer to finally arrive!
Phoebe Waller-Bridge, who reportedly plays a CGI-based role in Solo: A Star Wars Story, spoke with IGN about the film, giving her take on the reported "drama" from last year's director change and how things have gone since then. From IGN:
"The handover there was done with such warmth and generosity from everybody, and Ron's just a master at his craft; he's going to make a beautiful film out of it," she said of the transition between directors. "You just really trust him and it was just really exciting to work with him. I mean, it would've been exciting to just pass him in a corridor, let alone for him to be parachuted in to the film you're working on."

When asked how much of her role was reshot compared to Lord and Miller's version of the film, Waller-Bridge said, "We'd done some really, really great stuff with Chris and Phil that everyone was really thrilled with, and I think a lot of that will still be in it."
We don't expect an actor to publicly slam a director, so the quotes aren't shocking, but for a movie of this magnitude that has undergone such a public shake up, it never hurts to hear this sentiment from someone in the film.
WHO IS SHE PLAYING?
Many recent, but unconfirmed reports, are pointing at the droid revealed in leaked toy lines called DD-BD as the character Bridge is playing.
At face value (from what we are used to anyway), this droid doesn't look like the type of droid that would speak English, but moreso beep and chirp like an astromech droid similar to R2-D2 or Chopper. It would be interesting to see a droid like this speaking English. Perhaps we'll get a confirmation of that soon in the upcoming trailer.
WHEN WILL WE SEE FOOTAGE FROM SOLO?
When asked about a trailer for Solo on Twitter, Ron Howard responded that we will see something soon now that The Last Jedi has had its stage!
Hang in there :-). Now that ep 8 is out there it won't be long https://t.co/EcqApp8ROs

— Ron Howard (@RealRonHoward) January 8, 2018
A lot of speculation has pointed to one surfacing this month, so we imagine we will finally get our first look at footage of the film within these next two weeks.
Solo: A Star Wars Story will open in theaters on May 25th, just a little over four months away! The film has an incredibly talented cast, an Oscar winning director in Ron Howard, and a legendary writer in the eyes of Star Wars fans, Lawrence Kasdan, who has stated this will be his final contribution to the franchise. With production drama long in the rear view, it is now time for Solo to stake its claim in the Star Wars galaxy.
SOURCE for Waller-Bridge interview: IGN
You can find me on Twitter @JohnnyHoey talking a lot about our favorite scoundrel over the next four months!
"For my ally is the Force, and a powerful ally it is."
John Hoey is the Lead Editor and Senior Writer for Star Wars News Net and the host of The Resistance Broadcast podcast
"For my ally is the Force, and a powerful ally it is."