Star Wars: Galactic Starcruiser Blasts into Walt Disney World Resort in 2021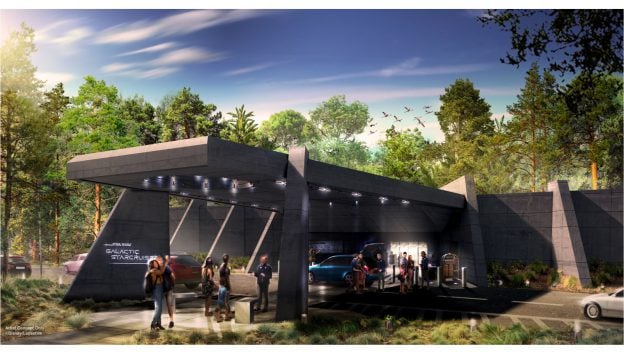 Disney Parks Blog recently announced that the Star Wars: Galactic Starcruiser hotel will begin transporting guests to a galaxy far, far away from Walt Disney World Resort starting in 2021.
In this brand new immersive vacation, guests will experience a two night cruise style itinerary draped in 24/7 Star Wars storytelling. New concept art gives us an idea of what guests will experience when they arrive to the Galactic Starcruiser Terminal to start their adventure. From the Galactic Starcruiser Terminal guests will enter a launch pod that will transport them to the Halcyon, your starcruiser among the stars for your voyage to a galaxy far, far away. The launch pods viewports will provide the illusion of travelling through space as you approach the massive galactic cruiser.
Naturally a visit to Black Spire Outpost on Batuu (otherwise known at Star Wars: Galaxy's Edge) is included in your itinerary, where special transports will take you to an exclusive spaceport at the outpost. These transport ships were specifically designed to keep guests totally immersed in the experience. You can check out a bit of new concept art of the transports above.
Be sure to check out all the new exciting details about Star Wars: Galactic Starcruiser coming to Walt Disney World resort in 2021.
Writer and Star Wars lover located in Florida, USA.
"I don't like sand. It's coarse and rough and irritating and it gets everywhere."
– Anakin Skywalker