Entertainment Weekly: The Theme of Hope Remains with Carrie Fisher's Leia through The Last Jedi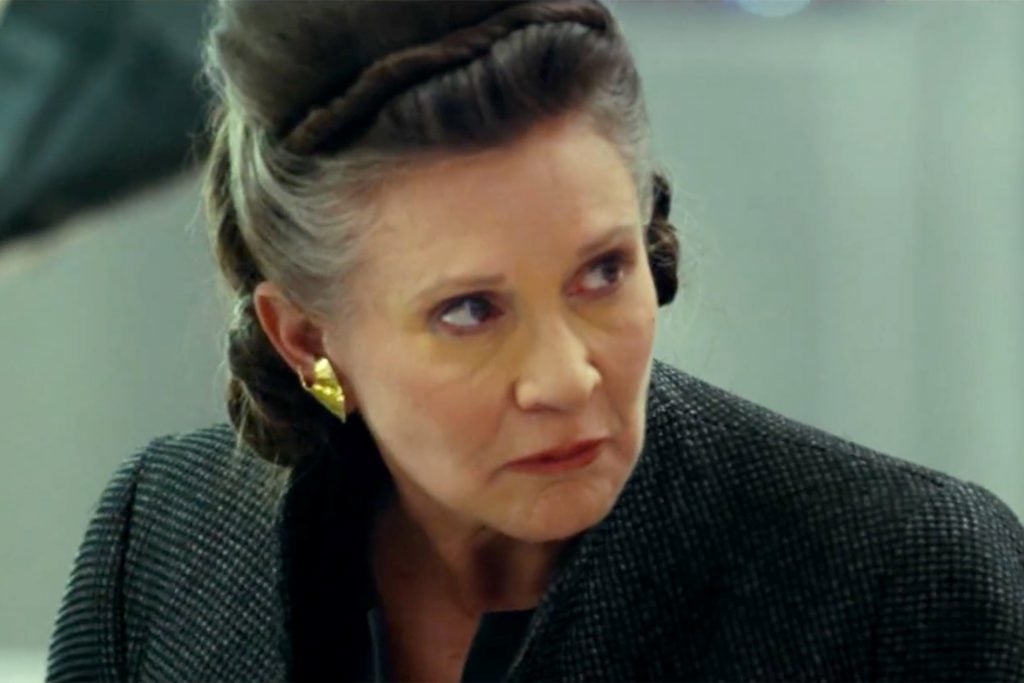 Princess Leia is the focus of the next Entertainment Weekly piece by Anthony Breznican. Rian Johnson delves into the status of the Resistance, Leia's unwavering resolve, and Carrie Fisher's dynamic final performance in the Star Wars saga.
Thanks to Anthony Breznican, we have yet another great article in Entertainment Weekly. Although the Resistance destroyed the First Order's Starkiller base, the Republic was left DECIMATED with the capitol among other planets in the republic being destroyed by the super weapon. A character not unfamiliar to loss and despair (see Alderaan), Leia must once again remain strong, with resolve and lead the only way she knows how:
"Her character to some degree or another has been defined by loss through this whole saga, starting with the loss of her home planet. She's just taken hit after hit, and she's borne it, and she focuses on moving forward and the task at hand," says writer-director Rian Johnson.
Anyone who expected the Resistance to fill that void and maintain order would be mistaken. "No, no, no. Not at all," Johnson says. "They're a small band that's now cut off, on its own, and hunted when the Republic is shattered. When the First Order did that hit, the Resistance is isolated, and they're very, very vulnerable. That's where we pick them up."
Johnson goes on to talk about his collaboration with Fisher, a very talented writer in her own right, about where Leia's state of mind is amidst these recent dark times:
"She's suffered quite a bit," Johnson adds. "While I was figuring out what her deal was going to be in this film, it's one of the things I talked about with Carrie before I started writing: where the character would go."
Oscar Isaac, who grew close with Fisher on the set of The Force Awakens spoke about Poe and Leia's relationship, and how it ultimately shapes what type of leader he is capable of being:
"Poe is in some ways a surrogate son for Leia," Isaac tells EW. "But also I think she sees in him the potential for a truly great leader of the Resistance and beyond."
"Poe's arc is one of evolving from a heroic soldier to a seasoned leader, to see beyond the single-mindedness of winning the battle to the larger picture of the future of the galaxy," Isaac says. "I think Leia knows she won't be around forever and she, with tough love, wants to push Poe to be more than the badass pilot, to temper his heroic impulses with wisdom and clarity."
As we know Poe and Leia have a lot of scenes together in The Last Jedi, Isaac has previously joked about how one of the first days on set involved Carrie slapping him, taking upwards of twenty takes to get it right. We know, just as their characters are, these two became close in real life, and there is no doubt Carrie has left a lasting impact on Oscar Isaac.
"One of my favorite things that would happen from time to time on set would be when Carrie would sing old songs," he says. "Whenever that would happen I would offer her my hand and we would waltz around the set – on a starship, in a Rebel base, on an alien planet, and she would sing and we would dance. So surreal and beautiful to think about now. For all of her delicious, wicked humor and fiery energy she also had such sweet grace. I miss her dearly."
One of the new characters in The Last Jedi is Admiral Holdo, played by Laura Dern. We don't know much about the character, other than she is a part of the Resistance, and it appears with purpose, that Rian Johnson wants to keep it that way for now:
"The secrecy does have a purpose in that part of the fun with Laura's character, with Admiral Holdo, is figuring out what her relationship is to everybody as you go along through the movie," Johnson says.
"I don't want to tip the hat too much, but I will say that the heat is immediately turned up on the Resistance," Johnson says. "Everybody is put in a pressure cooker right away, and relationships crack and strain under that pressure. That was really interesting to me, the notion of putting this small army under a lot of external pressure and showing some of the results within the Resistance itself."
Johnson concludes by echoing what we've been hearing. That although this is Carrie's final performance in Star Wars, the film was made obviously having no expectation of that being the case. Nevertheless, it appears we are truly in store for a great swan song from the Star Wars legend, which is now only four months away.
"There's no way that we could've known this would've been the last Star Wars movie she would be in, so it's not like we made the film thinking that we were bringing closure to the character," Johnson says. "But watching the film, there's going to be a very emotional reaction to what she does in this movie."
Lucasfilm has confirmed that Episode IX is being rewritten out of respect for Fisher's passing, although "Leia's impact will continue to reverberate". This may all but confirm that they will not recast the character for the final episode of the sequel trilogy.
Here is Breznican talking about Carrie Fisher/Leia in The Last Jedi:
As we prepare for Carrie Fisher's final Star Wars film, we leave you with her simple yet tear inducing final quote from the behind the scenes reel at D23.
"It's about family, and that's what's so powerful about it"
You know we'll be discussing this on The SWNN podcast The Resistance Broadcast this week as well! You can find me missing our highnessness on Twitter at @JohnnyHoey and be sure to follow our official SWNN account at @starwarsnewsnet and The Resistance Broadcast at @RBatSWNN.
John Hoey is the Lead Editor and Senior Writer for Star Wars News Net and the host of The Resistance Broadcast podcast
"For my ally is the Force, and a powerful ally it is."