The Resistance Broadcast – What Scene Would You Show to Someone Who Has Never Seen Star Wars?
On this episode of The Resistance Broadcast we discuss our picks for scenes or clips we would show to someone who has either never heard of or seen Star Wars! A clip that represents the franchise so much so that we could say, "THIS is Star Wars!" We run through our list of 12 scenes, and then we reveal your choices via your tweets in RESISTANCE TRANSMISSIONS! Did your tweet make the show?!
This week we bring back THE WILL OF THE FORCE, where we ask ourselves yes or no questions like – Will Dave Filoni direct a Star Wars film? The Resistance base is now open, so come on in and join us!
WHAT SCENE WOULD YOU SHOW TO SOMEONE WHO HAS NEVER SEEN STAR WARS
On this transmission of The Resistance Broadcast: John Hoey , James Baney, and Lacey Gilleran!
Be sure to subscribe to our YouTube channel or follow us on Soundcloud so you are alerted when new episodes post! If these formats aren't your thing, subscribe to us here on iTunes!
THE WILL OF THE FORCE
Will you buy the entire saga in a 4K set, episodes I – IX? Because you know that is happening.
Will Boba Fett return in The Mandalorian?
Will the post ROTJ novel The Alphabet Squadron incorporate Han, Luke, and Leia at all?
Will Dave Filoni direct a Star Wars film?
Will we learn how Maz got Luke's lightsaber in Episode IX? And follow up Will it be a big deal or an anti-climactic story?
Speaking of lightsabers, our final question, will Episode IX have more than one lightsaber duel?
DISCUSSION
This week's discussion takes us on the KESSEL RUN! We run down our list of 12 items about a particular topic, and this week it is what scene or clip would we show to someone who has never heard or seen Star Wars to say to them, "THIS is Star Wars!"
Listen to our list of 12 moments we'd show someone and then let us know what your picks would be in the comments or on Twitter @RBatSWNN!
RESISTANCE TRANSMISSIONS!
We pitch a question to you, and you fire away! This week's was the same as our discussion! What moments would you show to somebody who has never heard of or seen Star Wars to best represent what the franchise is all about! Saying, "THIS is Star Wars!" Did your pick make it on the show? Listen and find out! 
If you could only show a few minutes of #StarWars to someone who has never heard of or seen it, what do you show them to say "THIS is Star Wars"? #ResistanceTransmissions

RETWEET this one please, we want this one to go across the galaxy! pic.twitter.com/nJcI1Opuxg

— The Resistance Broadcast (@RBatSWNN) October 3, 2018
BUY YOUR RESISTANCE BROADCAST MERCH!
The only way to support our ability to give you two free weekly episodes is by buying some of our awesome designs on a shirt, coffee mug, tank top, sticker, hoodie, pillow, anything! Simply go to our Resistance Broadcast store on TeePublic – check out our 30+ different design and pick what you like.
We created the hashtag #MakeSolo2Happen! Join the campaign! Grab yours on sale HERE – let's make it happen!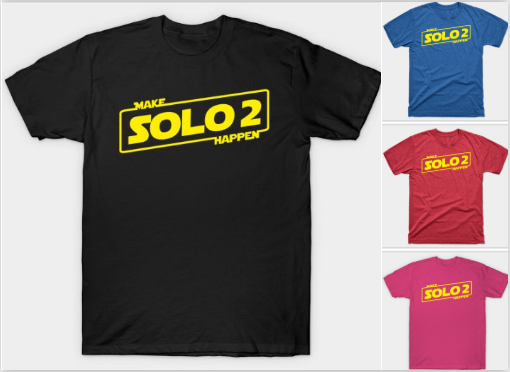 Special thanks to Matt Pasterick for our theme song!
John Hoey is the Lead Editor and Senior Writer for Star Wars News Net and the host of The Resistance Broadcast podcast
"For my ally is the Force, and a powerful ally it is."