Updated with New Videos! D23: Carrie Fisher and Mark Hamill Officially Become Disney Legends! Recap of the Panel.
Disney's D23 Legends panel just wrapped up, officially cementing Carrie Fisher and Mark Hamill as Disney Legends! Bob Iger spoke on Carrie's behalf, and Hamill appeared to accept his honor. In addition to the fantastic honor bestowed upon them both, there were some interesting takeaway quotes from the event!
Disney Chairman/CEO Bob Iger took the stage to accept the title of Disney Legend on Carrie Fisher's behalf. The Hollywood Reporter emphasized that it was an emotional moment, which of course was expected:
"Carrie has been an iconic part of the Star Wars franchise and will always hold very special place in our hearts," said Disney Chairman and CEO Bob Iger. "We miss her talent and wit."

Iger touted the humor Fisher brought as General Leia in December's Star Wars: The Last Jedi, her final film performance.

"Carrie Fisher was an original and there will never be another," said Iger
.@carrieffisher is next to be honored at the Disney Legends ceremony. #D23Expo2017 pic.twitter.com/Evglpg8E7X

— Inside the Magic (@InsideTheMagic) July 14, 2017
The emotional peak found its place when Iger read a letter written by Carrie's daughter Billie Lourd, which included a simple yet sweet quote:
"Getting to be a Disney princess and a Legend would have been her ultimate dream."
Although many of us can imagine Fisher accepting this honor with a more colorful tone showcasing her irreverent wit, she always seemed to have her finger on the pulse of when to dial it back and appreciate her status as an icon of not only Star Wars, but Disney as well.
Mark Hamill was then honored with his Legend status, and Bob Iger pulled no punches in the hype machine for The Last Jedi:
Iger then introduced Hamill, saying his performance in Last Jedi is "worth the wait" and his "best performance to date."
Now Iger may very well believe this, but it should be noted that the job of a CEO is to make shareholders and consumers happy, so these types of statements should be expected. However, if Bob personally felt Hamill was merely decent in The Last Jedi he may not have said anything at all about his performance. We'll find out in five short months!
.@HamillHimself takes the stage to accept his award. #DisneyLegends #D23Expo2017 pic.twitter.com/nCwjLBR1v2

— Inside the Magic (@InsideTheMagic) July 14, 2017
As he always does Hamill removed any level of stuffiness from the room by shining the light on how he always saw Carrie, full of humor and light-heartedness:
"I know if Carrie was here this morning, she would have flipped me the bird at least twice already," Hamill joked, fondly remembering his co-star. "I loved her and we were like siblings. We would fight — but we loved each other."
In a very classy move, Hamill was sure to thank the creator and those that brought the once humble space opera to life:
He thanked Star Wars creator George Lucas and the "thousands who worked on the film in front of and behind the camera."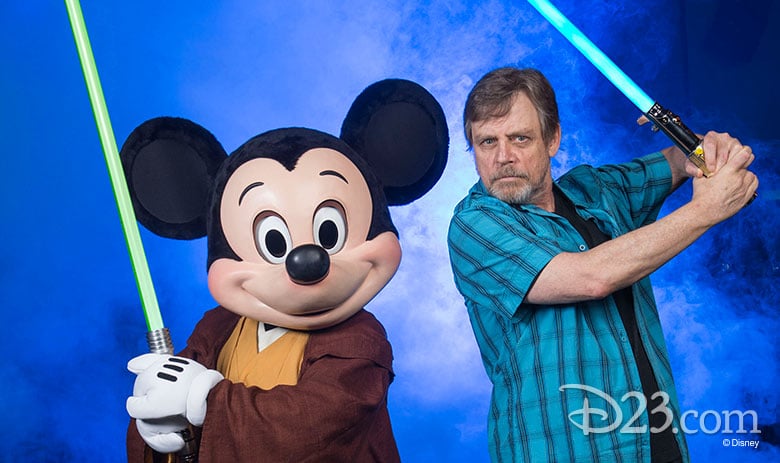 Thank you to @InsideTheMagic for the tweets covering the event and this interview with Mark Hamill about the honor and remembering Carrie Fisher:
UPDATE!
And check out also their videos from the panel:
Are you happy our favorite Star Wars icons have now joined the pantheon of Disney Legends?
What do you make of Bob Iger's comments about Mark Hamill's work in The Last Jedi? Is it a smart CEO appeasing shareholders and customers or do you think it's an honest opinion of his performance? Both?
Sound off in the comments and of course in the Cantina!
You can find me on Twitter @JohnnyHoey to talk about it.
"For my all is the Force, and a powerful ally it is."
John Hoey is the Lead Editor and Senior Writer for Star Wars News Net and the host of The Resistance Broadcast podcast
"For my ally is the Force, and a powerful ally it is."