Meet The Inferno Squad from Battlefront II and Read a New Excerpt from Christie Golden's Novel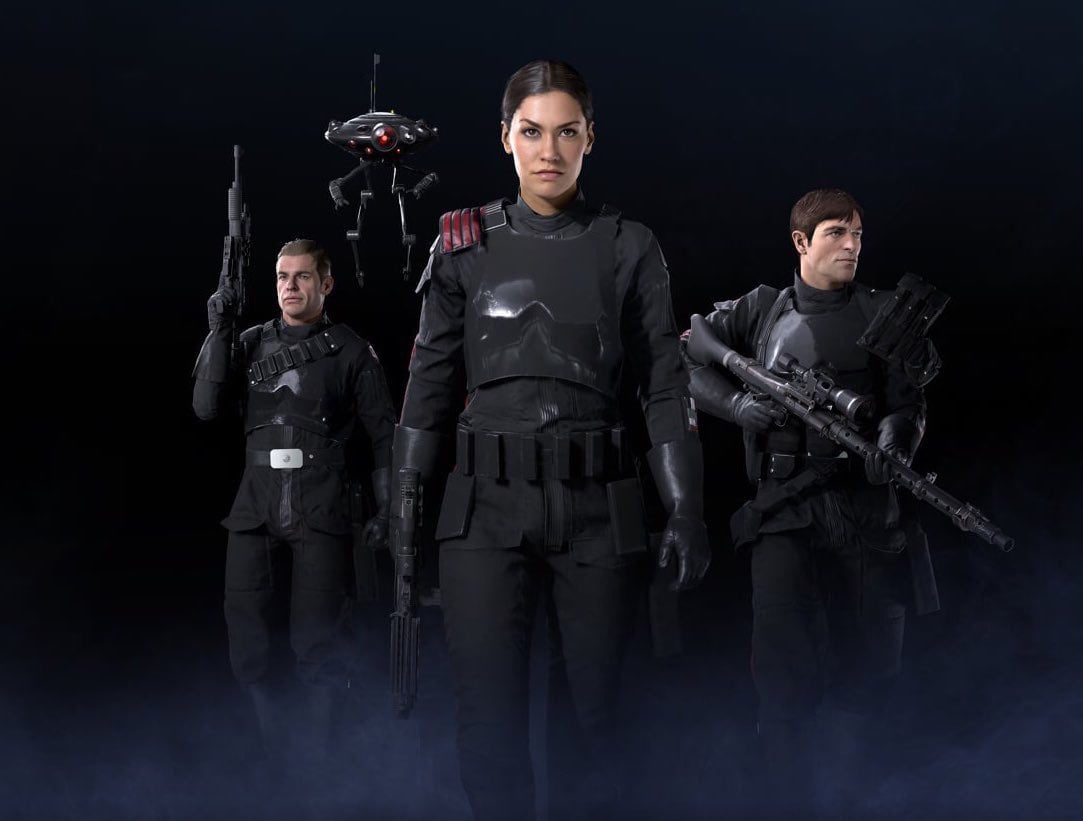 We are 4 months away from the release of EA's highly anticipated game Star Wars: Battlefront II. Many fans are excited for the game after it's been revealed that it will have a story campaign and that the game will include worlds and characters not only from the new movies, but also from the prequel trilogy and the original trilogy. Actress Janina Gavankar, who plays the game's lead character, recently shared a new image from the game showing her crew, known as the Inferno Squad (and possibly a huge spoiler about it). Also making the long wait for the game's release more bearable, the official Star Wars site has just release a new excerpt from Christie Golden's novel Battlefront II: Inferno Squad, which is a prequel to the game and will be released on July 25. Read on for the details.
Christie Golden's novel Battlefront II: Inferno Squad is set between the events of A New Hope and The Empire Strikes back and follows the Imperial Inferno Squad led by Iden Versio who are tasked to hunt members of Saw Gerrera's Partisans to avenge the destruction of the first Death Star. Here's a new excerpt from the novel via StarWars.com:
The four young officers obeyed and turned to look at Admiral Versio expectantly. He had offered them no refreshment, and indeed Iden knew the members of the little gathering could count themselves for­tunate they had been invited—or, rather, ordered—to sit.

Versio's dark eyes roamed over each of the faces turned toward him, settling on his daughter's. The stern visage gentled, ever so slightly.

"Lieutenant Versio," he said, "I'm glad you could join us."

Iden felt a quick flush of warmth. Gideon had been right. Her fa­ther was glad to see her.

"Thank you, sir," she said.

That was, apparently, enough sentimentality for the admiral. He turned to again address the entire gathering. "I direct your attention to the holoprojector in the center of the table."

Iden went rigid.

She suspected what they were about to see. And she realized it had been she who was responsible for it being here.
Iden watched along with the others, stone-still. The only part of her that moved was the quick pulse of the vein in her slender throat. She saw the battle unfold, again, heard the sound of orders being is­sued. The countdown. The flash of light, the chaotic careening of her ship.

She forced herself not to look away, but out of the corner of her eye she registered the reactions of her fellows. Meeko's face displayed shock. Marana's eyes were wide and her lips parted slightly. Even Gideon had turned a shade paler, and she could tell he was forcing himself not to glance over at her, to illogically confirm with his own eyes yet again if she was all right.

Her father, mercifully, ignored her completely.

"I believe we all know what this is," Versio said, pausing and then deactivating the hologram. "This recording is currently being ana­lyzed and evaluated as one of a handful recovered from ships that were out of the direct blast area."

Iden was grateful he didn't single her out, but from the sidelong glances of Meeko and Marana, she suspected they knew anyway.

"This was a dark day for our Empire. A very dark day. But, as you can imagine, and perhaps already know, we are working on plans for retaliation against the Rebel Alliance on every level open to us. We have plans from the very grand to the very intimate. And the latter is where the four of you come in. There's a particular front in this battle that I have suggested be addressed, and I have been given authorization to proceed."

Iden's father was using that voice. That voice meant something very big, very significant, and very personal to him was going on. That he was including her in it made Iden feel proud—but it also put her on high alert. She sat erect in her chair, her eyes on her father, her breath­ing slow, and listened.

"Our glorious Death Star was destroyed by something very small indeed—a tiny flaw, implanted by one man who single-mindedly be­trayed the Empire over the course of years. One person, in an X-wing fighter, hit a target only two meters wide."

He squared his shoulders. "We were arrogant," he said, and only Iden—and, perhaps, Gideon—knew what that admission cost him. "We paid a terrible price for that. And we will not make that mistake again.
For the full excerpt make sure to go to StarWars.com
The novel is now available for pre-order. Also don't forget that the novel will be available for purchase at San Diego Comic-Con with its exclusive cover (see the image above) and signed by the author. You can get it at the Del Rey booth (#2913-F). The audiobook version, thanks to some Force-like synchronicity, will be read by actress Janina Gavankar — Iden Versio of Inferno Squad in the game.
The actress shared a new image on Twitter of a render from the Battlefront II game, featuring her character Iden Versio and the rest of her Inferno Squad crew. Check it out:
May I introduce to you…Inferno Squad@PaulBlackthorne @tjramini pic.twitter.com/o4tIL2uRxk

— janina gavankar (@Janina) July 13, 2017
Maybe we're reading too much into it, but it is interesting that there are only three members of the squad pictured in Janina's tweet (Iden, Gideon, and Meeko presumably). Could this be a subtle and perhaps unintentional spoiler regarding the fate of master cryptologist and linguist Seyn Marana, the unpictured 4th member of Inferno Squad? I guess we'll find out in a few weeks when the book hits the shelves.
We mentioned in the beginning of this article that 4 months seems like a rather long wait for the game. Still, recently EA revealed how you can play the game a whole month earlier. Here's how. From EA:
We've heard you loud and clear: you want to try your hand at epic encounters with iconic heroes, massive battles across detailed landscapes, and thrilling dogfights in space. You want to play Star Wars™ Battlefront™ II. Well, we have good news for you: the Star Wars Battlefront II multiplayer beta is on the way, available for PlayStation® 4, Xbox One, and Origin for PC in October.

Fans who pre-order Star Wars Battlefront II will be able to play the beta early, starting October 4**. The beta opens to the public two days later on October 6, and there's a lot to explore.
For more info on the Beta go to EA.