Ancient Force Artifacts Don't Always Go To The Highest Bidder in Marvel's Doctor Aphra #10
Call me a simpleton…but if I had an ancient Force artifact descended from an order that split away from the Jedi and I didn't know exactly what it was capable of…I wouldn't go selling it on the black market to the highest bidder to a group of unsavory contenders. I guess no one could ever accuse Doctor Aphra of being simple, because that's exactly what she's up to in Marvel's Doctor Aphra #10.  SPOILERS AHEAD….
Before we go any further into the story, I'm going to let you all know I'm starting to get nervous that the Aprha series is getting close to falling off the rails. I was pretty 'meh' when it came to "Screaming Citadel" and I feel like her series never should have been sidetracked for the sake of that event. Don't get me wrong, I love the character, but the last couple of issues have left me scratching my head. The series had such a strong start, so I hope writer Kieron Gillen can steer it back. Just wanted to let it be known I'm not a fan where the series is at, but I'm hopeful there are more great issues ahead. On with #10…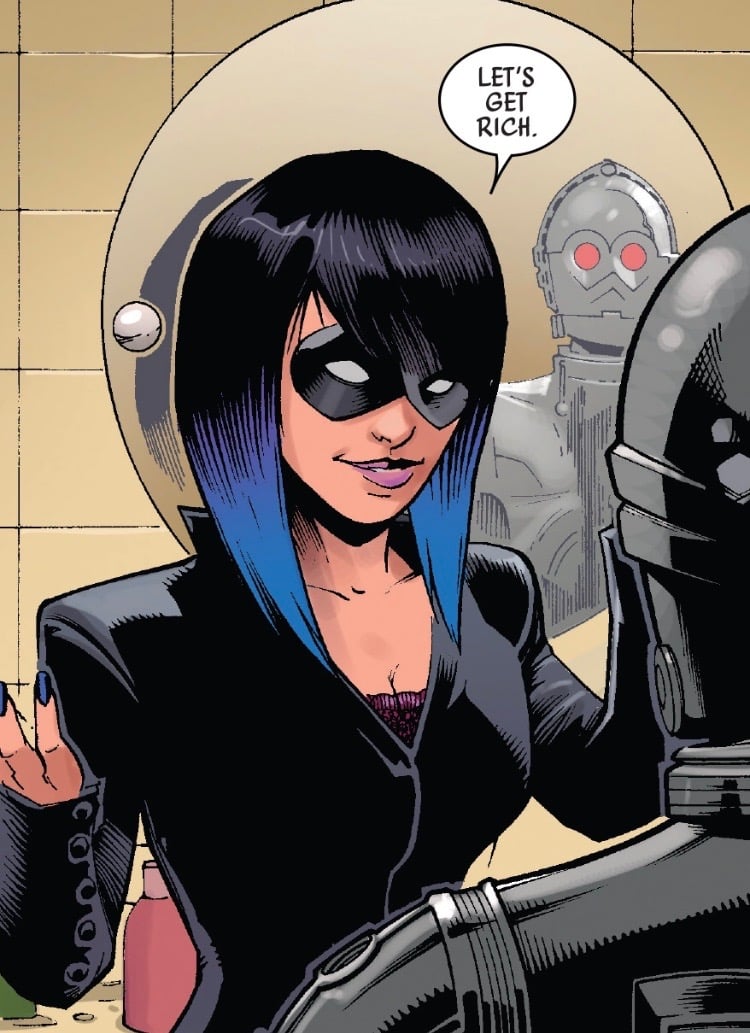 Doctor Aphra is in full profit mode. Not only that, she is in disguise as she meets up with potential buyers. With all that's happened, it's easy to forget that Aphra faked her own death to avoid having to look over her shoulder for Darth Vader the rest of her life. This new arc, "The Enormous Profit", has done little to move her story forward, and that's why I'm annoyed. The prospect of Aphra exploring the galaxy for ancient artifacts, coupled with her brilliance, makes the slog of these last two issues hard to swallow. In this issue, she is finally setting up meetings to hear offers of the lowlifes who would buy the Rur Crystal. The title of this arc suggests she's out to make as much as she can, but Aphra is also taking into consideration the intentions of each buyer.
If there's one thing I won't complain about in this issue, it's the look we get at one of the more colorful assortment of characters from the Star Wars underbelly. They've all assembled to make their pitch. You'll recognize some species and others are newcomers. This gentleman, Toov, is interested in using the Rur Crystal for immortality. Not only does he want it for himself, he wants to start an industry of immortality for profit. He, along with most of the others, all promise Aphra a piece of the action in whatever their schemes with this artifact are.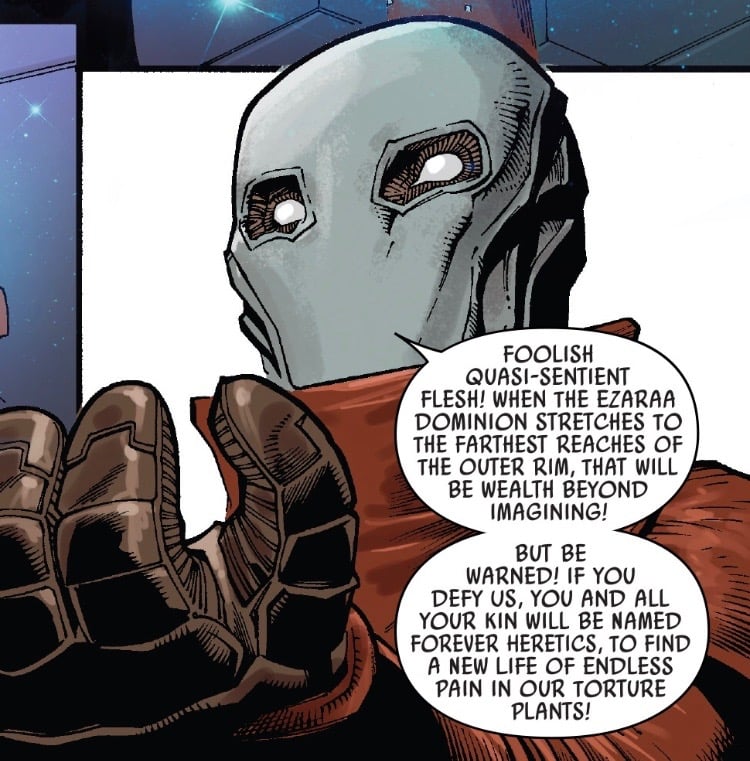 This was my favorite of the pitches. These guys, the Ezaraa, are an ambitious race with universal conquest on their mind. They offer Aphra a stake in the ground floor of their masterplan to take over the galaxy, something like .0001%, which they promise will be a fortune. In classic aspiring authoritarianism, they promise her she will be faced with a much more unpleasant fate if she rejects their offer. We find out that they have yet to conquer even the planet the hail from, and control only a continent on the planet. I respect the confidence, but their ambition seems to override their capabilities.
The most complex offer comes from these guys. They are from Shadow University and are well aware of who Doctor Aphra is, despite her minimal disguise. They make her a low offer, but present the prospect of allowing her continued access to the Rur Crystal, as well as the rest of their archaeological troves. There is also the prospect they can restore her doctorate. Aphra is intrigued but tries to throw the offer back in their face, insisting on self-deprecation, referring to herself as a "selfish monster". We see underneath all the snarky layers of Aphra she's got a lot of self-doubt.
Another thing that's annoyed me about the series is that we continue to have Black Krrasantan show up and pick fights. Yes, we all learned from the Chewbacca series there's really little you can do in terms of character development from a Wookie. This character seems like more of a set piece to me, and in my opinion, is becoming a waste of ink. I would have much preferred Aphra's father stick around.
By the end of the issue, Aphra decides to go with the Shadow University offer. Just as the transaction is complete, the Rur Crystal shows it has other plans.
At least we know there is something that will move the story forward in the next issue. Aphra sitting around, trying to figure out a way to make some cash, seems like a waste of time. I apologize for my negativity, but I hold this series and characters to a high standard because Aphra is definitely my favorite of new characters introduced in the Marvel Star Wars comics. Let's hope she breaks out of the claustrophobic, money-grubbing ways of the last two issues. There's a lot of exploring to do in this galaxy, a lot of mysteries we will hopefully get to uncover through her eyes. Those are the Doctor Aphra stories I want.
RATING: 4/10
Kyle Larson lives in Portland, Oregon. When he's not running trails, he's reading and writing.