More 'Star Wars: The Last Jedi' Product Codenames Leak.

A little over a month ago, we heard about some product names from a handful of sources – one of which was on Reddit. Now, that same source has returned with some new information. Here's what to make of it.
Redditor CM4Sci has left a new list of product names out for fans to see:
STAR WARS E8 BLACK SERIES FOXTROT 1 GREY
STAR WARS E8 CLASS A CREATURE AND DROID ASSORTI
STAR WARS E8 BL COOL BETA GREY
STAR WARS E8 30 CM TANGO WHITE
STAR WARS E8 30 CM BETA 2 BLACK
STAR WARS E8 30 CM VICTOR 1
STAR WARS E8 IP DELUXE DELTA 1
STAR WARS E8 SPINNING LIGHTSABER
STAR WARS E8 BLACK SERIES HELM
STAR WARS E8 CHOOSE YOUR PATH LIGHTSABER
STAR WARS E8 PROJECTILE FIRING LIGHTSABER
There are a few takeaways here. From the top…
At this point, it's difficult to imagine that "Foxtrot" refers to anyone but Rey.
"Beta" is strongly suggested to be Finn, with "Cool Beta Grey" and "Beta 2 Black" suggesting that he'll be getting different looks. EDIT: However, it's possible that this could refer to Luke, as we know that he'll be wearing grey and black outfits in the film.
"Tango White" is most likely tied to whomever "Tango Red" is, and they may even be the same character – see the above point.
"Victor" is likely to be the codename for Snoke. Though there's an off-chance that it could be for Kylo Ren, it doesn't seem incredibly likely as previous product listings mentioned a character designated "RP" that seems like an easy fit for Kylo Ren.
Given that "IP" has previously alluded to the denizens of Ahch-To, it's possible that the "IP Deluxe Delta" thing could refer to a staff-like object relating to these creatures – and possibly even something related to Luke.
The "Spinning Lightsaber" and "Projectile Firing Lightsaber" are likely repurposed toys from the Rebels line that are resold under new packaging. Before you even think about pushing the theory that "D. J." is somehow an older, wiser, and slimier Ezra Bridger, don't. Just don't.
The "Choose Your Path Lightsaber" is most likely the latest iteration of the Bladebuilders line.
In addition, there's also a little more information on the LEGO sets described in the previous article courtesy of Promo Bricks:
Sets

75176 ????? – 294 pieces
75177 ??????? – 554 pieces – 59,99 Euro
75179 Kylo Ren's TIE Fighter – 630 pieces – 79,99 Euro
75187 BB-8 – 1106 pieces – 99.99 euros
75188 Resistance Bomber – 778 pieces – 109,99 euros
75189 First Order Heavy Assault Walker – 1376 pieces – 139,99 Euro
75190 First Order Star Destroyer – 1416 pieces – 149,99 Euro

Action Figures

75526 ???? ??? – 94 pieces – 19,99 Euro
75528 ?????? – 85 pieces – 24,99 Euro
75529 ????? ?????- 92 pieces – 24,99 Euro
75530 ??????????? – 179 pieces – 34,99 Euro
The Bomber comes with Poe Dameron, Paige Tico, and Admiral Holdo, the Heavy Assault Walker comes with a different version of Poe Dameron and Rey, and the Star Destroyer comes with Snoke and BB-9E. Luke and Kylo Ren are said to come with Kylo Ren's TIE Fighter (along with, presumably, the Praetorian Guards and possibly a few others), so the following characters don't have corresponding minifigs that we know about yet as of yet: General Leia, Captain Phasma, Finn, Rose Tico, Maz Kanata, General Hux, Chewbacca, R2-D2 and C-3PO. That is, of course, presuming that every single character gets their own minifig this time around. It feels like a few of the less important characters might be on the cutting room floor. In the meantime, I believe that the last two sets are going to be based to the Canto Bight sequence and based on the speeder sequence on Crait – both of which would lend themselves well to a majority of the characters described.
That's all for now. Stay on target with Star Wars News Net as we cover more news about the The Last Jedi's merchandise and more of the other latest and greatest stories about the Galaxy Far, Far Away.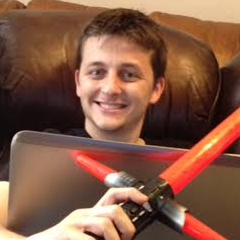 Grant has been a fan of Star Wars for as long as he can remember, having seen every movie on the big screen. When he's not hard at work with his college studies, he keeps himself busy by reporting on all kinds of Star Wars news for SWNN and general movie news on the sister site, Movie News Net. He served as a frequent commentator on SWNN's The Resistance Broadcast.