The Resistance Broadcast – Episode 66 – Execute Episode 66!!!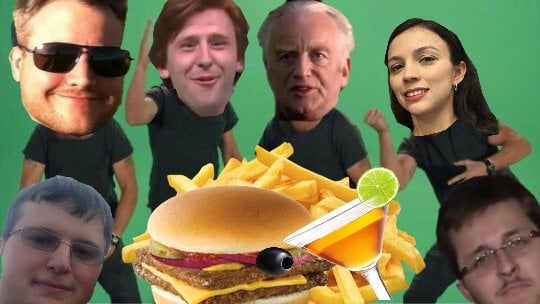 On this episode of The Resistance Broadcast, we talk about our All-Time Favorite Palpatine Moments; New Names Added to the Han Solo Cast; Rian Johnson Surprises Fans on May 4th with John Williams; Kylo Ren's Tie Fighter Unveiled; Mark Hamill is Giving A Chance To Have Lunch in L.A. plus a Private Screening of TLJ While Also Pranking Fans; Mark Hamill Crashes Jimmy Kimmel Live To Surprise Adam Scott; New Wave of Black Series Figures Tease What's To Come for TLJ; The Vintage Series Figure Votes Are In; Thoughts on Disney Animation Moving Forward (TCW, Rebels, Forces of Destiny, Future Animated Properties)
Host: Ganon136 (@Ganon136)
Guests: Pomojema, PrincessLeiaCB3 (@noorhal), Bill Sheehy (@thesheehyit), and John Hoey (@JohnnyHoey)
Pomojema made a special appearance on PopNerdTV recently:
Always a huge thanks to @realJBurns for his amazing concept art. This week's concept art discussion was on Kylo's Tie Fighter for The Last Jedi. Can't wait to see it in action this December!!
Finished up a quick painting of Kylo's starfighter w/ a B-29-style cockpit! #TheLastJedi pic.twitter.com/N306bLvlRs

— John Burns (@realJBurns) May 8, 2017

Rian Johnson made all fan boys cry by giving us John Williams on May 4!!
A #MayThe4thBeWithYou message from @RianJohnson for #StarWarsDay. pic.twitter.com/JlnWRZyn4g

— Star Wars (@starwars) May 4, 2017

We all want Mark to come to our birthday parties, but this one piece of retribution is so amazing for Adam Scott:
If you missed news earlier this week, Doctor Aphra won the Fan Poll on StarWars.com for the Vintage Series figurine in the 3.75″ lineup. Thanks to all fans who voted in this poll!
From the pages of @Marvel's Star Wars comics to a toy shelf near you, Doctor Aphra wins @HasbroNews' fan vote! https://t.co/77huYicMzq pic.twitter.com/KsXw7GBqAY

— Star Wars (@starwars) May 7, 2017
If you would like to submit questions for the show you can Tweet us @starwarsnewsnet using hashtag #starwarsnewsnet, #theresistancebroadcast, #trb, #swnn, message us on the Cantina Forum in the questions and comments thread, or send an email to viralhide@gmail.com.
Thanks for listening, and if you like this episode, don't forget to hit the like button on SoundCloud and subscribe to us on iTunes!
You can subscribe on iTunes, SoundCloud and Stitcher! (SoundcloudRSS)
Thanks to The Yavin 4 for our intro music.