Star Wars Weekly Buzz: New Rogue One Concept Art; Forest Whitaker Coming to Celebration and More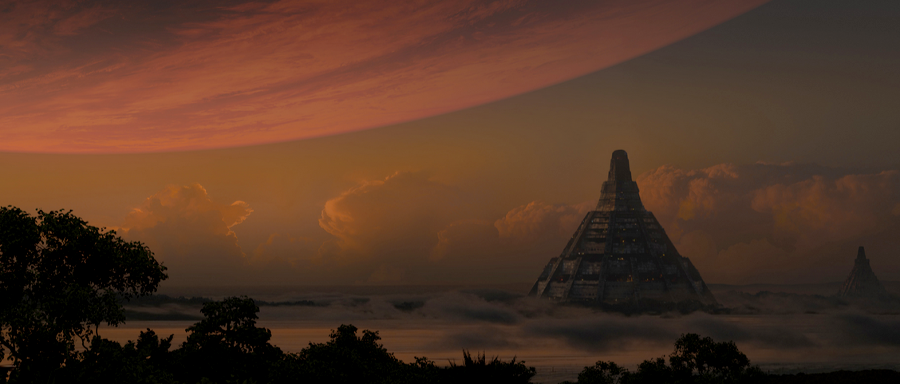 This week on our Star Wars Weekly Buzz: Rogue One: A Star Wars Story gets 2 MTV Movie Awards nominations; Forest Whitaker will be joining the rest of the already announced guests at Celebration Orlando; ILM takes a closer look at the Rogue One design; Dan Brooks speaks with Production Designer Doug Chiang; Del Rey shares the first two lines from the upcoming Trawn novel and more.
First we start with a very cool article posted by ILM about the Rogue One design, featuring multiple new concept art images and interesting info.
Much of the work in Post Visual Development is pure design. We design digital environments and sets, we alter designs from pre-production, we create ships, weapons, and creatures.

Designing digital environments after plate photography allows flexibility in storytelling. For example: the Citadel sequence. The modular design and concentric circles allowed Gareth visual cheats: a character can jump huge distances geographically as needed for the plot, but the audience is not lost visually because the symmetry of the design.
For the full article click here.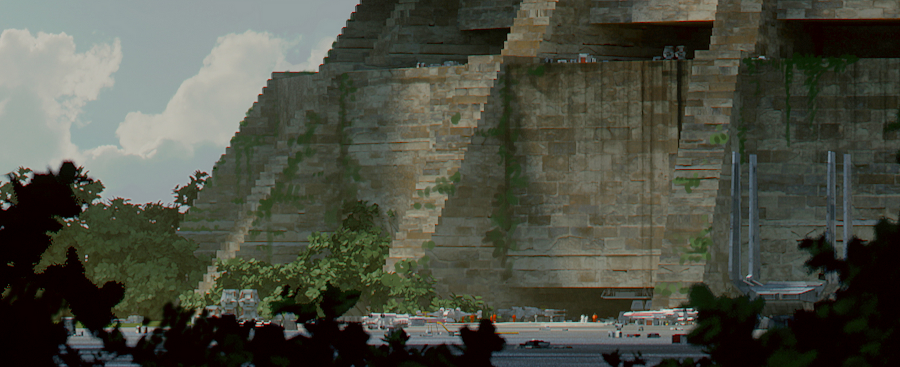 Rogue One got 2 nominations at the 2017 MTV Movie Awards. The first Star Wars spin-off movie was nominated for Movie of the Year and Best Hero (for Felicity Jones). Also Riz Ahmed got a nomination at the Next Generation award.
You can vote here.
Riz Ahmed shares his untold stories from playing pilot Bodhi Rook.
Hal Hickel and Alan Tudyk revealed the secret past for the droid K-2SO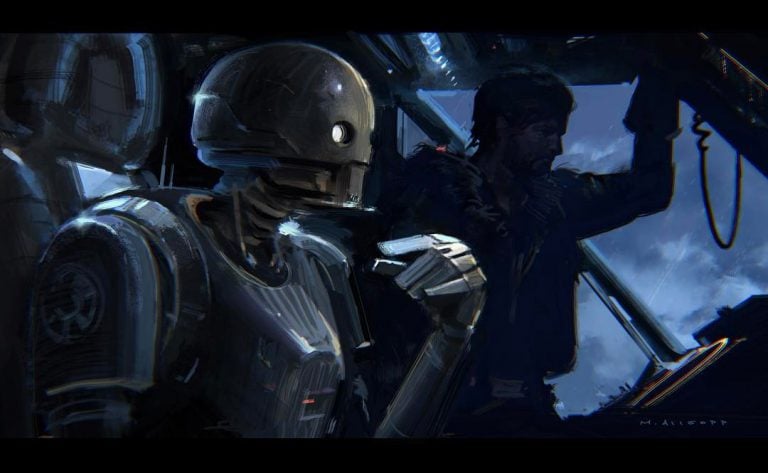 Comicbook.com recently caught up with animation supervisor Hal Hickel and actor Alan Tudyk ahead of this week's Blu-ray/DVD and Digital HD release of Rogue One. The two spoke briefly about how K2 was saved by the Rebellion and where he actually came from.
"The backstory was pretty limited. Knowing that he was in the Empire, he was sort of reborn when Cassian gave him his reprogramming. He was enslaved, in a way. He was more of a stoic character. He had to follow orders. Basically, he just scurried around. He did lots of security stuff. He had a big bunch of keys that hung off his belt."
Hickel also mentioned that they tried to create an historical backstory for K-2SO's:
"You glimpse another enforcer droid in the Imperial facility and we had him look really spotless. No paint chips or anything, whereas K-2 is all scratched up. We actually considered whether they [the Rebels] might even completely remove the Imperial insignia on his shoulder. We decided to keep it, it's kind of scratched up, but you can still see it. We figured the Rebels are kind of rough and tumble and they're not going to be too precious about it. But we did give it lots of history, scratches and dents, to really communicate that he had seen a lot of action with Cassian."
You can view the complete video interview at Comicbook.
But Wait. There's More on K2!
Asked by reporter Ryan J. Downey at Lucasfilm's San Francisco headquarters if K-2SO could return, Alan quipped to animation supervisor Hal Hickel:
"You're more in touch with the people that pull those triggers."
Hal replied:
"I would love to see that, because I love the character, I love being a part of bringing a new Star Wars droid into the Star Wars Universe.
New cool video about Luke's and Rey's Star Wars journey has been posted by our friends at Star Wars Alert. Check it out:
Also StarWars.com's Dan Brooks shared yet another great interview with Production Designer Doug Chiang. Make sure to follow the link and check it out:
Here's my interview with Doug Chiang on Imperial architecture in #RogueOne! https://t.co/RnA4jfAxcq

— Dan Brooks (@dan_brooks) April 6, 2017
And now some self explanatory tweets.
Forest Whitaker joins Felicity Jones for a conversation on the https://t.co/ggCRQjZn3H stage. #SWCO https://t.co/ilgt7oflvU pic.twitter.com/lnzsDY14yo

— StarWars Celebration (@SW_Celebration) April 6, 2017
Hayden Christensen is appearing Thursday and Friday at #SWCO! https://t.co/4UIkPSc3OG pic.twitter.com/c3ybbXpNAL

— StarWars Celebration (@SW_Celebration) April 7, 2017
Saturday tickets are sold out! Don't miss the ultimate Star Wars fan experience. #SWCO https://t.co/em3A1r4g4V pic.twitter.com/rnRCFIuLws

— StarWars Celebration (@SW_Celebration) April 6, 2017
All the power of Star Wars Celebration, in the palm of your hand! #SWCO https://t.co/B4r3qerdtd pic.twitter.com/sK01s223Ft

— StarWars Celebration (@SW_Celebration) April 7, 2017
One week until the release of Star Wars #Thrawn by Tim Zahn. Here are the first two lines of the book. Enjoy. #StarWars pic.twitter.com/lrc6DVFnKt

— Star Wars Books (@DelReyStarWars) April 4, 2017
Next week author Tim Zahn returns with #Thrawn. Today we share the book's dedication. Welcome back Tim. pic.twitter.com/KUzj4Kscef

— Star Wars Books (@DelReyStarWars) April 3, 2017
@TrueTanker No plans for new Legends books

— Star Wars Books (@DelReyStarWars) April 7, 2017
Blink and miss it. Jyn's tooka/Loth-cat toy. pic.twitter.com/td7fDQWtCk

— Pablo Hidalgo (@pablohidalgo) April 5, 2017
Just Announced! Here are the 2017 Disney Legends Award Honorees: https://t.co/XUFRKNoybP #D23Expo pic.twitter.com/TWzXZclFhu

— Disney D23 (@DisneyD23) April 6, 2017
Happy birthday to our favorite galactic entrepreneur, @realbdw! Make it a respectable one, you ol' smoothie. pic.twitter.com/E9tlsBVyDr

— Star Wars (@starwars) April 6, 2017
Happy Birthday, Ben Mendelsohn!#RogueOne pic.twitter.com/cJGJLai8kh

— Star Wars (@starwars) April 3, 2017
Orson Krennic: (Almost) Galactic Man of Mystery#RogueOne pic.twitter.com/GgIkg9nii8

— Star Wars (@starwars) April 3, 2017
We're nominated for a Webby Award in three categories! Vote Star Wars. Vote now.https://t.co/9kCHXf8tTd pic.twitter.com/4CvCYd20w3

— Star Wars (@starwars) April 5, 2017
Available in #comics stores: #StarWars 40th Anniversary Premiere Hardcover Collectors Boxset from @Marvel. https://t.co/3A2C02LZ1U pic.twitter.com/qCSULzwAPV

— Star Wars Books (@swbooks) April 5, 2017
It's time to settle this. Who among your friends is the biggest @StarWars expert? Take & share this quiz to find out https://t.co/6f1ePgZAxK pic.twitter.com/xBx3yOl8rm

— DK Books US (@dkpublishing) April 5, 2017
The stickers strike back in a new book.https://t.co/wiyjOqnGwU pic.twitter.com/G2atRKGJLF

— Star Wars (@starwars) April 4, 2017
Maul's menace continues in the pages of his monthly @Marvel comic series. Here's a preview of issue #3.https://t.co/93GH5rOYCk pic.twitter.com/ydGFx3AMVx

— Star Wars (@starwars) April 3, 2017
Rogue One: A Star Wars Story out now on Blu-ray, DVD, and Air Force One.https://t.co/x9PZutl1bt

— Matt Martin (@missingwords) April 7, 2017
Star Wars Rogue One: Series 2 from @topps hits shelves today! Here are my APs from that set. The vader is on hold for a buyer, but if inter… pic.twitter.com/2cnEQXUct7

— KateCarleton@C2E2-Q6 (@KeelHaulKate) April 6, 2017
KEN PLAYS – STAR WARS: BATTLEFRONT VR! Star Wars fan @KenNapzok finally gets to visit… A Galaxy Far Far Awayhttps://t.co/0Tx1hTYgLG pic.twitter.com/JlV6TlYHeZ

— JTE (@JTEmoviethinks) April 6, 2017
.@YouTube yanked @BadLipReading's 'StarWars: The Force Awakens' parody video over a bogus copyright claim https://t.co/phiKRrHcIG

— Variety (@Variety) April 7, 2017
Stay tuned for more next week.