Celebration Orlando 2017: Star Wars Authors Roundtable Discussion and Announcements
Well, as if the trailer for The Last Jedi was not exciting enough, a roundtable of Star Wars authors dropped some very exciting announcements. Star Wars readers have a lot to look forward to in the next couple of months leading up to The Last Jedi. One thing is certain: there will be no shortage of Star Wars reading material for anyone, any age, whether it's comics or novels.
First off, the panel included authors from child, young adult, novel, and comic mediums. It's pretty cool that Lucasfilm brought all of these folks together to talk about their process of adding to the Star Wars canon. Since the restart of the canon a few years ago, we've come to see just how interconnected all of these stories are. It's not uncommon now to hear a character from a novel or comic mentioned in Rebels, or vice versa. The authors on the panel included Charles Soule, Timothy Zahn, Delilah S. Dawson, Beth Revis, Jason Fry, Michael Kogge, and Ben Acker. That's a pretty stout panel covering all literary forms in the Star Wars scope.
The panel kicked off with a discussion of the processes each author undertakes when typing out stories in a galaxy far, far away. Timothy Zahn has an especially unique perspective, as his Thrawn Trilogy kicked off the first iteration of the Star Wars Extended Universe(now under the moniker 'Legends'). As much of a controversy as it was for fans when the reboot of the canon was announced, Zahn expressed his appreciation for the unified narrative.
Zahn had no trouble writing Thrawn in the new canon. This was a new era for him to write the Grand Admiral. #SWCO

— Bria @ SWCO (@chaosbria) April 14, 2017
Charles Soule mentioned playing with toys and also shared that he named a ship in the Marvel Poe Dameron series after his daughter, only finding out later the ship was to be destroyed. Other authors mentioned hearing John Williams' music or BB-8 sounds in their head, which Jason Fry indicates that he is doing something right during composition. Some authors also spoke about Star Wars books they would like to write in the universe. Zahn would jump at the chance to write an Obi-Wan Kenobi novel set between ROTS and ANH. Soule expressed interest in a ship builder story taking place on Mon Cala. Blacker would like to write a story about Admiral Ackbar's early days as a military officer. Dawson joked she would like to do a story about evil Ewoks called "The Murder Bears Tea Party".
After the discussion, we got some announcements. IDW announced a couple projects they were working on. Two volumes of assorted newspaper Star Wars comics will drop over the next year, the first to be released this May and the second in January 2018.  In addition to those volumes, they will also launch a monthly comic this September for kids called Star Wars Adventures. Adventures will cover heroes through all periods of the Star Wars Universe. IDW has been doing some great work with the micro-comics series of the retro Star Wars comics, so this should be pretty cool.
To compliment the recently announced Forces of Destiny cartoons, two children's book will arrive in August and October. They will feature stories including Sabine, Ahsoka, Rey, Padme, Leia, and Jyn.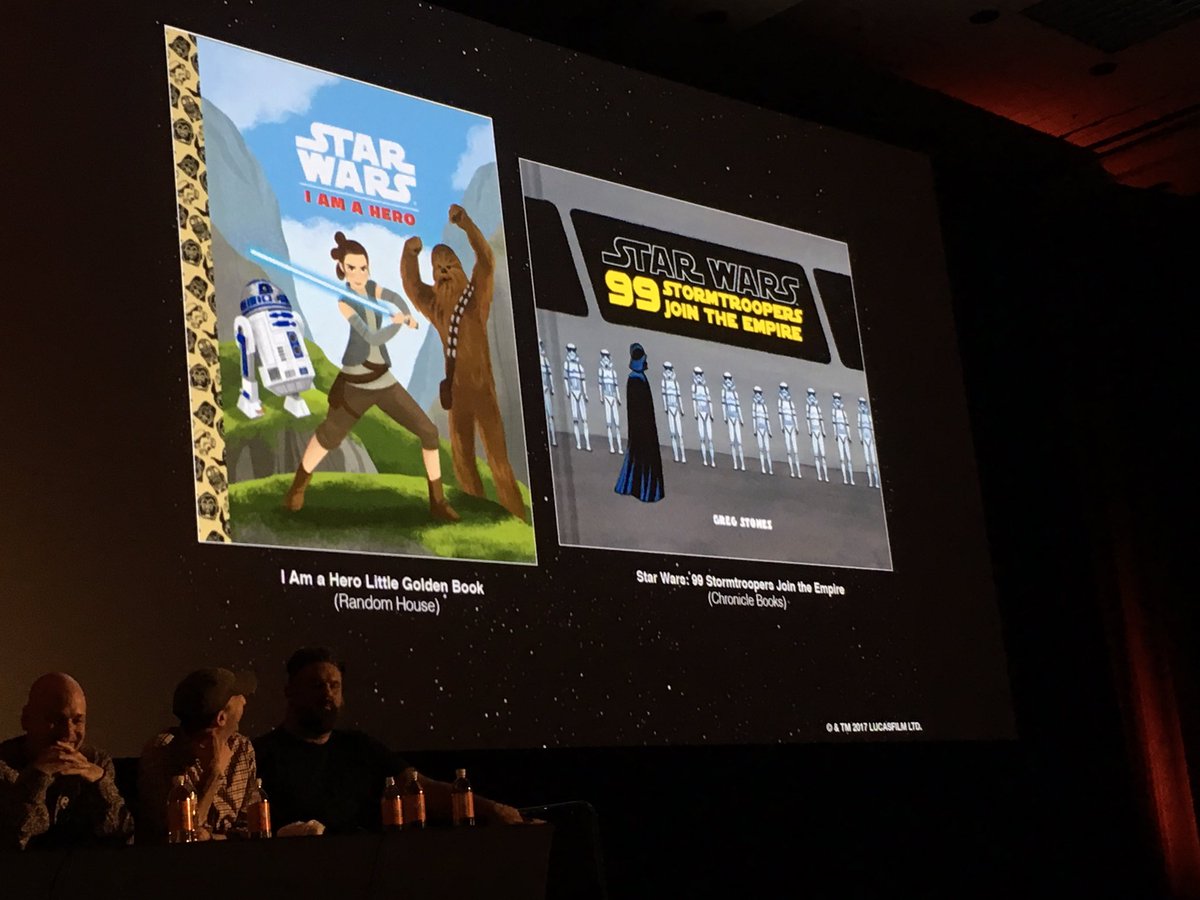 For the younger readers, a picture book about BB-8's adventures on Jakku, BB-8 On the Run; as well as Escape from Vodran, the second book of the Join the Resistance series.
Arguably the most exciting news was the announcement of The Journey to The Last Jedi. Because The Last Jedi begins immediately after the end of The Force Awakens, I wasn't so sure we were going to get this. The Journey to The Force Awakens gave us fans some great reading material, so I expect the books we get leading up to The Last Jedi will be no different.
Kicking off The Journey to The Last Jedi, Delilah S. Dawson will treat us to Phasma, a novel about the interesting and underused character in of The Force Awakens. Look for that novel in this fall. If the novel wasn't enough, we are also getting a 5-issue comic series under the same Journey-moniker called Captain Phasma. The story will be penned by Kelly Thompson, with art by the always excellent Marco Checchetto. Seriously, Checchetto has drawn some of the finest frames in these new Marvel Star Wars books.  Comic fans should be thrilled about this. Captain Phasma is getting a lot of coverage, no doubt to make up for her all too brief appearances in The Force Awakens.
Phasma's stories aren't the only things Journey will cover. Claudia Gray, who wrote SWNN staff favorites Lost Stars and Bloodline, will give us a young-adult novel simply titled Leia. Gray has proven herself to be an exceptional Star Wars storyteller and I don't think there is anyone better suited to write a story about Leia. I have a feeling Gray is going to blow us away with this novel.
Luke Skywalker is also getting a Journey book targeted at young readers titled The Legends of Luke Skywalker. As promising as this sounds, Jelena(Lady Musashi) and I were kind of scratching our heads as to why stories of this importance would be put in a young readers book. I think it's safe to assume that every Star Wars fan wants to know what Luke was up to between Return of the Jedi and The Force Awakens. The reason I'm puzzled this is a young readers book is because I assume from the cover there will be something about that time period. I had hoped when the Lucasfilm Story Group started to trickle stories from that period out about Luke they would do it similar to Claudia Gray's Bloodline. I mean no disrespect to young readers by this and I hope I'm completely wrong about my initial skepticism.
There you have it! Clear off some room on your book shelves and set aside some afternoons, because we Star Wars fans have a lot of reading to do until December. Bravo to the writers, publishers, and Lucasfilm for continuing to give us Star Wars fans some fantastic stories on the pages.
Special thank you to Bria of Tosche Station and White Hot Room for live tweeting the event and letting me use her tweets. Thank you to Star Wars Books & Comics and Jedi-Bibliothek for their coverage of the event as well. There was no live feed for this event, so the coverage these folks provided was extremely helpful in putting together this article.
Kyle Larson lives in Portland, Oregon. When he's not running trails, he's reading and writing.