Star Wars Weekly Buzz: New Rebels Clip Shows Maul's Search of Kenobi; New Thrawn Excerpt and More
This week on the Weekly Buzz: the excitement before tomorrow's episode of Star Wars: Rebels is rising; Check out a new clip from "Twin Suns", and read about the story how Darth Maul has been almost killed at the end of Season 2; A new excerpt from Timothy Zahn's novel Thrawn has been revealed; Rian Johnson praises actress Laura Dern; Norwegian actress Ingvild Deila talks about her experience becoming Princess Leia in Rogue One and more.
This week we start with a fresh new clip (an extended version of footage shown on last weekend's Rebels Recon) from tomorrow's episode of Star Wars Rebels titled "Twin Suns". The clip is an exclusive by IGN who also talked with voice actors Sam Witwer (Maul) and Stephen Stanton about the highly anticipated match up. Check it out:
For the interview make sure to go to IGN.
Our friend Germain Lussier from io9 promised some exciting Rebels content in the following days, starting with the very interesting revelation that at some point there was a plan Darth Maul to die at the end of season two by the hand of Darth Vader.
I've got a lot of cool Rebels content in the next few days, and here's the first piece – https://t.co/p3sYmaUcW5

— Germain Lussier (@GermainLussier) March 16, 2017
Dave Filoni explains:
Originally Maul perished in the season two finale where he returned. It was a one-off appearance. So originally in that episode you were gonna get Vader fighting Maul, Vader would have killed Maul, and then fought Ahsoka. It just became unwieldy. There were too many storylines, and there isn't enough emotional material between Vader and Maul. It's more of a fan fiction fun thought that they fought. The emotional drama was really between Vader and Ahsoka. So we decided to let Maul live.
Tomorrow we will know if Maul will survive this season of Rebels as well. This time he is facing Obi-Wan, the master Jedi who failed to kill him in The Phantom Menace. Stay tuned for our review tomorrow and later today we will post an expansive article on the Star Wars history of Darth Maul.
Next we have a new excerpt from Timothy Zahn's novel Thrawn, due to release on April 11.
From Express.co.uk:
After all the trouble the castaway had created on the planet surface, Eli had expected him to put up a terrific fight against his captors. To his surprise, he apparently surrendered to the stormtroopers without any resistance at all.

Perhaps he was taken by surprise. More likely, he knew when resistance was futile.

At least Eli understood now why Parck wanted him along. The prisoner's cargo crates were labeled with a Sy Bisti variant. If he spoke the language itself—and if it was the only language he spoke—the Imperials would need a translator.

The group was halfway to the hatchway where Parck, Barris, Eli, and their stormtrooper escort waited when the hangar bay lights came back up.

The prisoner, as Eli had already noted, was of human shape and dimensions. But there the resemblance to normal humans ended. His skin was blue, his eyes a glowing red, and his hair a shimmering blue-black.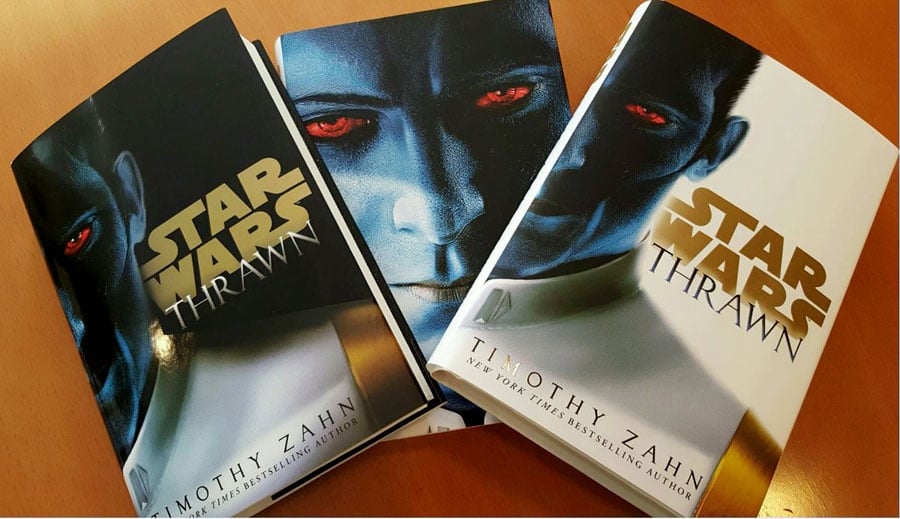 Eli stiffened. Back home on Lysatra, there were myths about beings like that. Proud, deadly warriors that the stories named Chiss.

With an effort, he tore his eyes away from the face and his mind away from the old myths. The prisoner was dressed in what appeared to be skins and furs, apparently sewn together from the indigenous animals of the forest where he'd been living. Even marching in the center of a rectangle of armed stormtroopers, he had an air of almost regal confidence about him.

Confidence. That was definitely part of the stories.

The stormtroopers brought him to within a few meters of Parck and nudged him to a halt. "Welcome aboard the Venator Star Destroyer Strikefast," the captain said. "Do you speak Basic?"

For a moment the alien seemed to be studying him. "Or would Sy Bisti be better?" Eli added in that language.
You can read the full excerpt at Express.co.uk.
Director Rian Johnson had some really nice things to say about actress Laura Dern, who will appear in The Last Jedi.
Everyone needs more Laura Dern in their lives. https://t.co/nMofmpkI3s

— Rian Johnson (@rianjohnson) March 14, 2017
And he added more:
When you're around her, it's like sunlight. She's a force. She definitely has the Force. Working with Dern on the upcoming Star Wars: The Last Jedi was like two indie kids getting away with something. We kept catching eyes, like, 'Are they really letting us do this?'

When you're around her, it's like sunlight. I'm sure you're getting a lot of people who've worked with her struggling to put it into words. I'm trying to describe it without being too cheesy. She's a force. She definitely has the Force.

Johnson even calls casting Dern in Star Wars a "selfish move" on his part. "I just thought she was the coolest person on the planet since I saw Blue Velvet. It hit me right between the eyes, that shot of her coming out of the shadows — oh my God, that film."
For the whole interview with Dern (with no Star Wars info) go to LA Weekly.
Rogue One writer Gary Whitta spoke with ComingSoon, sharing his understanding and guesses where the Star Wars galaxy will be heading in the future.
From ComingSoon:
ComingSoon.net: Something I grappled with after "The Force Awakens" is the question, "What is a Star Wars movie?" Right now Lucasfilm seems very focused on mining the Original Trilogy characters and iconography while also introducing new characters and ideas. Do you think there will ever come a day where there will be a Star Wars movie with no Vaders or Yodas or Boba Fetts or Stormtroopers? A story that is a wholly new thing divorced from all the stuff George originated but still very much in the spirit of that universe?

Gary Whitta: I think you've already seen us get 90% of the way there with "Rogue One." Yes you see Leia, yes you see the Death Star and Vader, because those are elements of that story and they belong there, you can't tell that story without those characters. But for the most part, 90% of that story is completely new characters. Completely new planets and places you've never seen before. It's a Star Wars movie with no Jedi! You don't see a lightsaber once until Vader pops it out at the end. It doesn't have any spirituality or mysticism… a little bit through Donnie's character, but it's very different DNA to the Star Wars films that have come before it. I really like the fact that we tried to do something different. The next spin-off is 'Han Solo,' that's another familiar character, but I think increasingly you're going to see… One of the thing things we really want to do at Lucasfilm is create a universe and not keep relying on old legacy characters. We've got Rey and Finn and Kylo Ren, they've already introduced a new generation of characters. Whatever kind of Star Wars films they're making 10 or 20 years from now, I don't think they're going to be relying on the same legacy story elements as we have in the past.

CS: It would be cool to see something totally new, without the baggage of, "Should Vader do this or should Vader do that?"

Whitta: Yeah, I quite agree. I'm speaking purely as a fan. I obviously have no idea what their plans are for the franchise. I did my small piece of it, but it makes sense to me that you don't want to keep telling the same story over and over again. You want to tell new stories.
We intentionally bolded the text in the last reply. Whitta's words are just a guess. This is something that he thinks might happen.
Jamie Stangroom sat down with Norwegian actress Ingvild Deila who played Princess Leia in Rogue One, and talked about her involvement in bringing Leia back to the big screen, using a CGI version of Carrie Fisher's face laid over her own.
Speaking of Carrie Fisher, the public memorial for the actress and her mother Debbie Reynolds will be held on March 25 at Forest Lawn, where they are buried.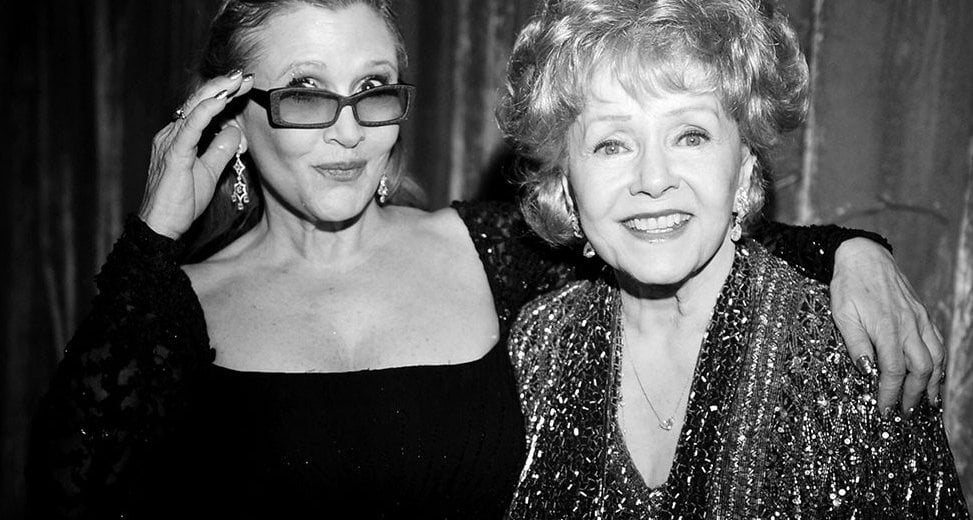 Here are more details on the ceremony (via TMZ):
The ceremony will be held in a 1,200 seat theater at the cemetery. One of the highlights will be the unveiling of a tribute song from James Blunt. James and Carrie were tight … she was the godmother to his child. Blunt won't be performing, but Fisher's brother, Todd, tells us the track will debut over a photo montage.

Also on the program … the Gay Men's Chorus of Los Angeles, a dance tribute from the Debbie Reynolds dance school, and tons of costumes and memorabilia will be on display.

Fisher's daughter, Billie, will be present but won't make any speeches. She says it's just too emotional to address a crowd. Carrie's beloved dog, Gary, will be front and center.

The event will be streamed live on Carrie and Debbie's website.
Several random but interesting tweets:
Sitting at home reading the 1st script for an unannounced Star Wars project. Sometimes I have to sit back & revel in how amazing my life is.

— Heather Antos (@HeatherAntos) March 14, 2017
(Heather Antos is a Marvel Comic Editor)
@StarWarsNewsNet the Star Wars twitter only ever seems to follow actors associated with or who appear in the films… so who are these 3. pic.twitter.com/9EZlb5BasX

— Hayden Burke (@haydenburke) March 17, 2017
BOR GULLET. from Cinefex pic.twitter.com/6l6lFMEamG

— Andy (@IndianaJedi) March 14, 2017
For true Star Wars fans, it was totally worth it pic.twitter.com/YIOWwtp8ZQ

— WIRED (@WIRED) March 15, 2017
☕️ Gareth Edwards director of Star Wars Rogue One reveals how he got the name Scarif #StarWars #SXSW @starwars pic.twitter.com/kdrNiVNSpG

— Digital LA (@DigitalLA) March 13, 2017
We're just one month away from Celebration!!!
Only one month to go until @SW_Celebration! Who was at Celebration last year? Share your favourite memory pic.twitter.com/qhHmPWElt7

— Star Wars UK (@StarWarsUK) March 13, 2017
No comment.  🙂
Some people are happy to go digital. Really! pic.twitter.com/BA87mg47Kj

— Anthony Daniels (@ADaniels3PO) March 17, 2017
Artist John Burns did two mockups based on the The Last Jedi scenes shown at Disney's shareholders meeting.
TFW your screen's color settings are funky and you forget to correct the painting but ppl like it anyway 👌👌👌 pic.twitter.com/lfOeTOWyMV

— John Burns (@realJBurns) March 14, 2017
Finished this concept for @MSW_France, based on the shareholder meeting!

Cc: @SW_ArtGallery pic.twitter.com/CZYJjyB9lX

— John Burns (@realJBurns) March 16, 2017
Disney shared a video with the progress of the construction at Walt Disney World, where they are building AT-ATs.
With so much activity across our 14-acre construction sites at Disneyland and Walt Disney World Resort as this new world is created, we wanted to show you how things are shaping up in this exclusive video – and you may not believe what you're looking AT-AT.
Take a look AT-AT how construction is progressing on our Stars Wars-themed land. pic.twitter.com/As3OhYvLNF

— Walt Disney World (@WaltDisneyWorld) March 16, 2017
And a very good point from Germain:
The AT-ATs for the new Star Wars land are awesome but let's not pretend that, like, for the past 20 years, this wasn't at Disney World. pic.twitter.com/cIWzCDLbTj

— Germain Lussier (@GermainLussier) March 16, 2017
Legoland California finally officially opened their new Star Wars section. Check it out:
The Force remains strong at LEGOLAND California Resort as guests of the family theme park in Carlsbad will now get to experience a new exciting installment in LEGO Star Wars Miniland with the LEGO Star Wars: The Force Awakens Miniland Model Display! The latest major model addition includes the 16-foot-long Star Destroyer Finalizer, made of more than 350,000 LEGO bricks. The Finalizer is installed more than 6 feet in the air above guests and is now the longest LEGO Star Wars Miniland model ever created!LEGO® Star Wars: The Force Awakens Miniland Model Display in the center of LEGO Star Wars Miniland and includes six exciting scenes set on the planet of Jakku, from Star Wars: The Force Awakens which include: Kylo Ren's capture of Poe; Rey's rescue of BB-8; Poe and Finn's escape from the Star Destroyer Finalizer; The wreck of Finn and Poe's TIE Fighter; Rey, Finn and BB-8's escape from Niima Outpost; and the escape from the Starship Graveyard. Lights, sound effects and animation will further bring the scenes and characters to life from this blockbuster film.
Happy birthday "Big Deal", we can't way to see you in The Last Jedi and Pacific Rim 2.
Happy birthday John Boyega AKA Finn AKA FN-2187 AKA Big Deal AKA Traitor… pic.twitter.com/oMDVeG7kqg

— Star Wars UK (@StarWarsUK) March 17, 2017
Pleasant surprise !Turning 25 on set with the Pacific Rim family is an absolute joy ! Thank you all for the surprise ❤️❤️#pacificrimuprising pic.twitter.com/sDT7zqiY8k

— John Boyega (@JohnBoyega) March 17, 2017
The latest from Pablo Hidalgo:
You: Repeatedly asking me about bathrooms in Star Wars.
Me: Vacationing in the Caribbean. pic.twitter.com/VCGzrk80Xd

— Pablo Hidalgo (@pablohidalgo) March 14, 2017
🙂
Stay tuned for more next week.